First of all – big thanks to all of you for being both patient AND supportive these last few crazy weeks. With uni assignments, launching my own cooking classes, increased work hours, oh and not to mention moving house!!! Plus all the other stuff life likes to throw at you along the way…
We still can't move for boxes. We're about as settled as you can call it, with probably less than a quarter of our possessions unpacked. But we're making headway! And I have some exciting moving-house-related stuff coming your way in the next few weeks.
A round up of some great ideas from some other amazing bloggers. A post on what we want to do with our courtyard space (all grow-your-own type stuff). And I'll take you on a journey as we go from an empty brick-paved courtyard to something both productive and heartwarmingly OURS. I'm pretty excited.
But for now, I just wanted to post a suuuper quick, super delayed book club announcement. I did already announce this month's book over on the Book Club Facebook page, but I don't want to get all the way through May without announcing it here too.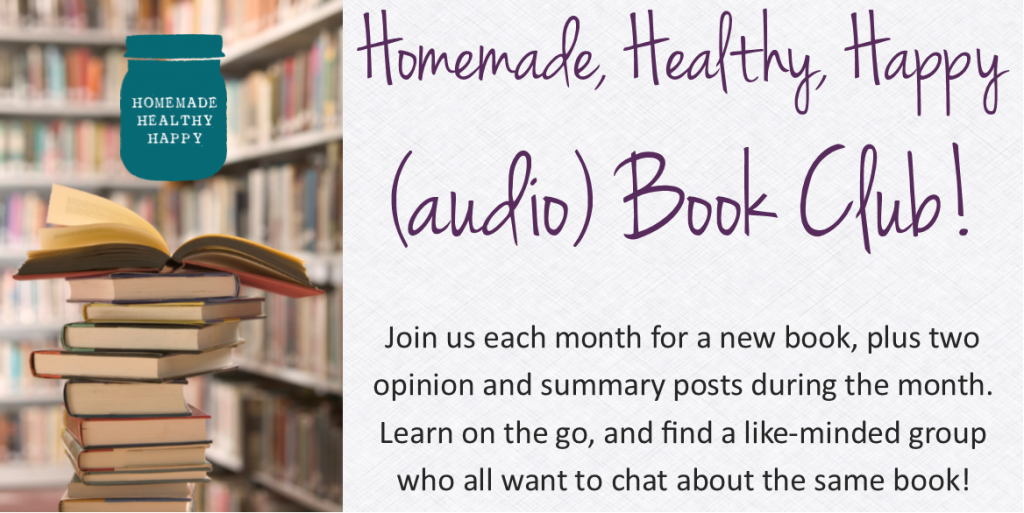 So, for this month's book in our online real food book club, I chose something with a little more of a storytelling nature. Still arguing for change, just like the last two. But in a softer way. By introducing us to a town which has done remarkable things, telling us how and why all these things happened, in the hopes that maybe we'll try something.
Now, because I still have plenty of boxes to unpack, let's get a wriggle on.
Sooooo, this month we'll be reading/listening to:
This book introduces us to the small town of Hardwick, Vermont, and we follow along with Ben as he learns the intricate details of the Hardwick food economy, and figures out how he personally defines right from wrong, how big is too big, and how local is local enough.
I like to listen to the book club books from Audible.com – click here for the Audible link. If you'd rather go to the library – by all means, do. If you want to order a physical paper copy, click here for the Amazon link (if you want it on your Kindle or tablet/smartphone, click that Amazon link and make sure you click the Kindle price), or click here for the Book Depository link. It's not important if you read this book or listen to it, it's not important if you buy it or borrow it from the library. What's important is that we live and learn together, expand our horizons and form a like-minded community by devouring and discussing inspirational books. And have a lot of fun along the way!
Why do I love Audible though? I can listen while I drive. While I walk. While I hang out the washing or wash the dishes. I've even been known to listen in the bathtub! It's the convenience that appeals to me. And, because money is always important, I like it because it usually works out much cheaper than buying the paper copy (not to mention more sustainable). The individual audio books are kinda pricey, but if you sign up for the one or two year membership then the credits are built in and the books end up costing you around $10 less each! Bonus.
Oh, and you get your first book free. That doesn't hurt either!
I digress. Get the book (any method will do), read or listen, and come talk to us about it on facebook!
If you're just hearing of the book club for the first time, head over to my Lifestyle page for links to previous book club posts. Let's get learning!
 (This post contains affiliate links. An affiliate link is a link to a product that I love and that I think you will love too. I don't endorse products unless I believe they are fantastic. Affiliate links don't hurt, they're not scary or spammy, they don't try to sell you enlargements of certain body parts, and they don't cost you anything. If you click an affiliate link and you like what you see and decide to buy something, I get a tiny little bonus at no extra cost to you. Affiliate links keep food on my table so that I can keep posting awesome stuff for you.)