I'll keep this short and sweet, just like the recipe.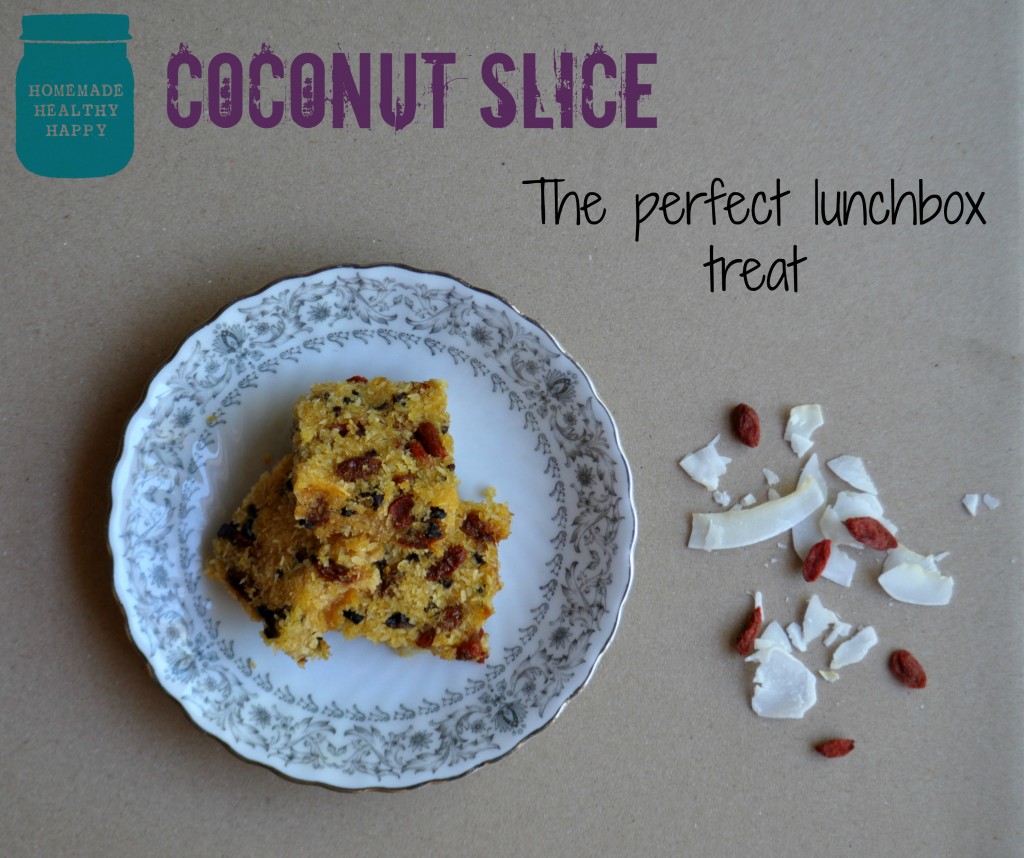 This little treat has been the absolute winner of all the lunchbox foods I've cooked this year. Not just because Tyler loves it so much, or because it's pretty benign as far as treats go. Although that's true, I'm calling it the winner because it is just so easy for me to make.
I make most of Tyler's lunchbox food on a Sunday, getting ready for the week ahead. That forward planning has made a huge difference to our morning routine, and a very important one now that he has started big school. All I need to do in the morning is throw a few pre-made bits and pieces into the lunchbox, cut up some fresh fruit, and some veggie sticks (because there's usually a dip to dip them in).
And, now that Tyler is getting a liiiiittle better at remembering to eat his lunch at school, I'm packing an extra treat each day. Coconut slice is one of his favourites, and mine too, so it features in the treat box pretty often.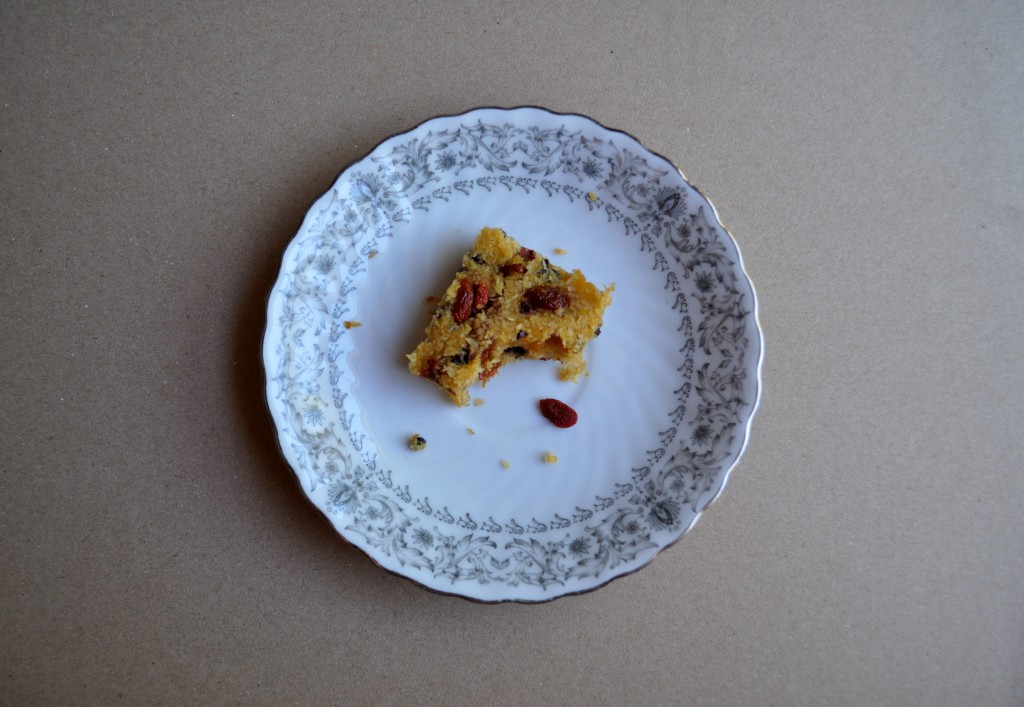 When coconut slice is on the Sunday Lunchbox Plans, it's the one I start with. It takes no time at all to get into the oven, and while it bakes for around 30 mins, I start on the next items on the list. Easy peasy.
With just a handful of ingredients and a sprinkle of time on a Sunday, you can have this grain free & dairy free treat baked and ready to pop into your kids lunches for the week, too! Oh, and it's nut free as well – safe for school!
It's also fantastic for a bring a plate event, kids party, you name it. Quite a few people have been hanging out for this recipe, so here you go!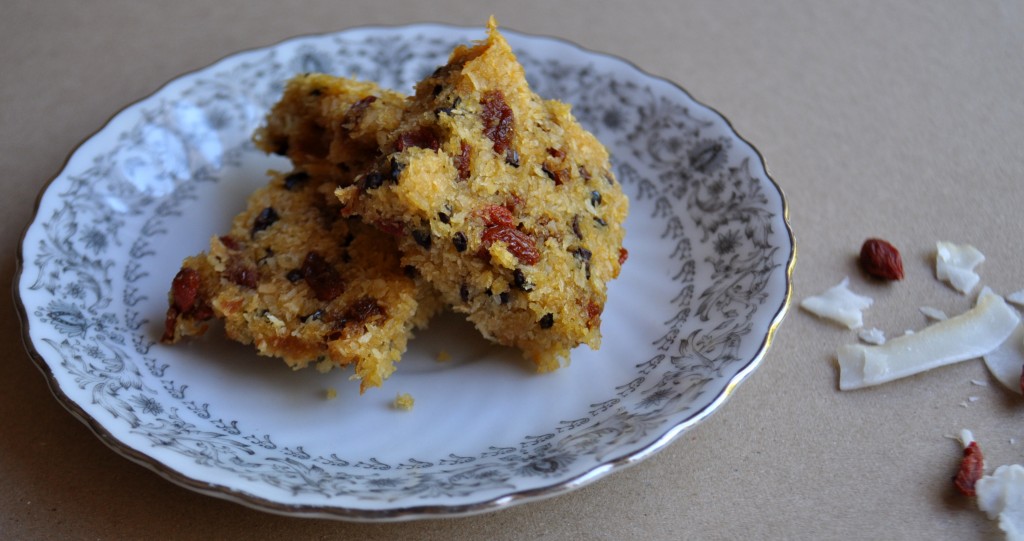 Coconut Slice, The Perfect Lunchbox Treat
Prep time:
Cook time:
Total time:
Ingredients
coconut oil, for greasing the dish
150g desiccated coconut (make sure you get unsulphured, as coconut often has preservative 220 added)
30-60g maple syrup (50g is our 'sweet spot')
50g [url:4]sultanas
[/url]
30g goji berries (or, truly decadent, skip the sultanas and up it to 80g goji berries)
50g cacao nibs
3 eggs
1 tsp vanilla essence (optional)
Instructions
Preheat oven to 190 degrees Celsius and grease a 9 inch or 20cm round pie dish (I like to use coconut oil in keeping with the coconutiness of this recipe).
Place all ingredients in your Thermomix bowl and mix for 10 seconds on reverse, speed 3.
Empty the mix into your pie dish and squoosh it down with the palm of your hand - try to keep it at an even height throughout the dish.
Bake for 25-30mins until the edges are browned and the top if slightly firm to the touch.
Allow to cool for 10 minutes before cutting into squares, leaving it in the tin until completely cooled.
Notes
Stored in a sealed container in the fridge, these will last at least through the week.
Enjoy!
What's your favourite treat to pack in a lunchbox?
Comment below and we can all trade ideas and inspire others!
(This post contains affiliate links. I don't endorse products unless I believe they are fantastic, and I will always link to the actual brand of that ingredient that I buy and use myself. If I can find an affiliate link to a product that I use and love, I will use that link. If I can't find an affiliate link to a product that I use and love from a company that I support, I WILL NOT choose to promote another brand or company instead just so I can make some money. Rather, I'll find a regular old link to the brand that I love. It's nice to earn a tiny bit of money for what I do, but integrity and honesty is more important to me. Affiliate links don't hurt, they're not scary or spammy, they don't try to sell you enlargements of certain body parts, and they don't cost you anything. If you click an affiliate link and you like what you see and decide to buy something, I get a tiny little bonus at no extra cost to you. Affiliate links keep food on my table so that I can keep posting awesome recipes for you.)