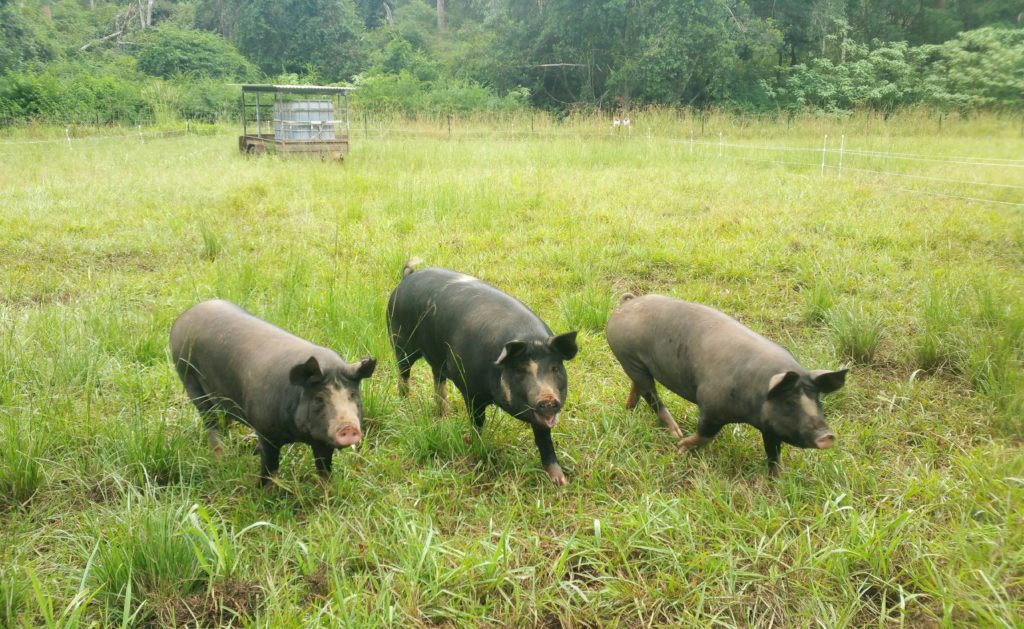 Homemade Healthy Happy Farm & Farmstay is a small-scale ethical pork farm near Port Macquarie on the Mid-North Coast of NSW. We raise organic-fed pigs on pasture, selling our ethical pasture-raised pork direct to customers in the local area. We have a beautiful little farmstay, and we love to open the world of farming and homesteading to inquisitive adults and children. For more information on our farmstay, click here. For more information on our farm, keep reading…

At our farm, we believe in connection.
We believe in an unconditional and unbreakable deep connection between the farmer, the animals, and the land. We believe there should be the same deep connection between the farmer and the consumer, between the consumer and their food. We believe in nourishing this land-animal-farmer-consumer connectedness with ethics & compassion, traditional organics & regenerative agriculture, and transparency & education.
At our farm, we believe in animal ethics and compassion above all else.
The key question we ask ourselves many times a day on the farm is, "is this the best decision for the animal?" We buck many conventional animal management methods and 'smart business decisions' in favour of simply what is best for our animals. For example, we allow our sows to birth naturally outdoors, we allow our sows to wean their piglets in their own time, and we don't castrate male piglets. Often these decisions cost us time and money – but that's not what drives us. Above all else, we just want our animals to be healthy and happy. We seek to truly care for and honour every life raised on this farm, and we believe ethical meat is possible.
At our farm, we believe in traditional organics and regenerative agriculture.
We recognise that we are not the first people to caretake this little farm, nor will we be the last. We seek to improve this patch of land in our care through well-managed rotational grazing, always considering soil and pasture health in our management decisions. We are committed to going beyond organic, respecting and improving the soil structure and the life within using natural systems and without relying on organic replacements for conventional farming products. We feed our animals 100% certified organic feed, we don't use antibiotics or any other conventional medicines, and we don't use any chemicals in the management of our farm. We are wholly committed to providing clean, nutritious, truly chemical-free food that gives back to the land it is raised on.
At our farm, we believe in transparency and education.
We believe all consumers have a right to know how their food is raised, to be able to ask a farmer questions and receive an honest and thoughtful answer. We believe in transparency and connection from paddock to plate. We see educating and inspiring consumers to make ethical food choices as our duty, another way of honouring the life that becomes our sustenance. We yearn for this to go beyond our own customers, to inspire all consumers to make more ethical and environmentally-conscious decisions. We believe that children should spend time on farms and learn where their food comes from, so they carry that knowledge and compassion through to the future, for a better future.
Click here for information on our farmstay, or email us on sarah@homemadehealthyhappy.com to organise a private farm tour or school excursion.
To read more about our pigs & our pork, please click here…