So, I'm calling this a frappe instead of a smoothie, because really – there are just so many smoothie recipes out there (and who needs a recipe for a smoothie?!).
We're all about being different here. Or, you know, doing the same thing but just calling it something else so we feel better about it. You say tomato, I say frappe.
Anyway. Whatever you call it, it's delicious and nutritious. A perfectly cold and refreshing summertime drink.
We have kefir every morning. Most often as a smoothie frappe, but sometimes just plain with a tiny bit of maple syrup/vanilla/cinnamon all up in there. Usually it's the first thing that happens in my kitchen in the morning after I have de-zombied with a cup of tea, but sometimes it doesn't happen until after breakfast when we're about to walk out the door.
In any case, at least two or three days a week, our daily kefir comes in the car with us. I blame this on 1) busy lifestyle and 2) the fact that I am completely insane and sit in peak hour traffic for an hour to get Tyler to his incredible school. (Not for long, we'll be moving this year, and victory-over-Sydney-traffic will be mine!!)
Much whinging ("you forgot to tell me we were at a red light and I could driiiiiiiiink!"), and just a couple of spills later… I've found a solution to the smoothie on the go issue!
One of my amazing readers, Kathy, runs a website and online store called The Mindful Trader – click here to check it out. Loads of organic goodies and pantry staples and one pretty incredible invention… the Sili Squeeze.
And…. drum roll please……. Kathy has offered YOU the chance to win a Sili Squeeze!
This bad boy is not a drink bottle, but is designed to replace all those throw-away pouches of yoghurt and baby food. It's flexible, so little ones can squeeeeze to their tummies content. And it comes in free flow (for big boys like mine) and spillproof for babies & young toddlers.
These would be great to fill with your own homemade purees for bub, or homemade yoghurt for quick snacks at the park. And, luckily for me, perfect for the morning smoothie on the run. I love that they're silicon and reusable – not only does this mean that they are made with food safe materials (no BPA or Phthalates), but they are much more sturdy and durable than the other 'reusable' squeezie replacements on the market. The others look tired after just a couple of washes, and they certainly don't withstand the force of children like the Sili Squeeze does.
Tyler was so excited when it came in the mail, and now he wants his daily smoothie frappe in his Sili Squeeze even when we're not rushing out the door! (Thankfully it's easy to clean!)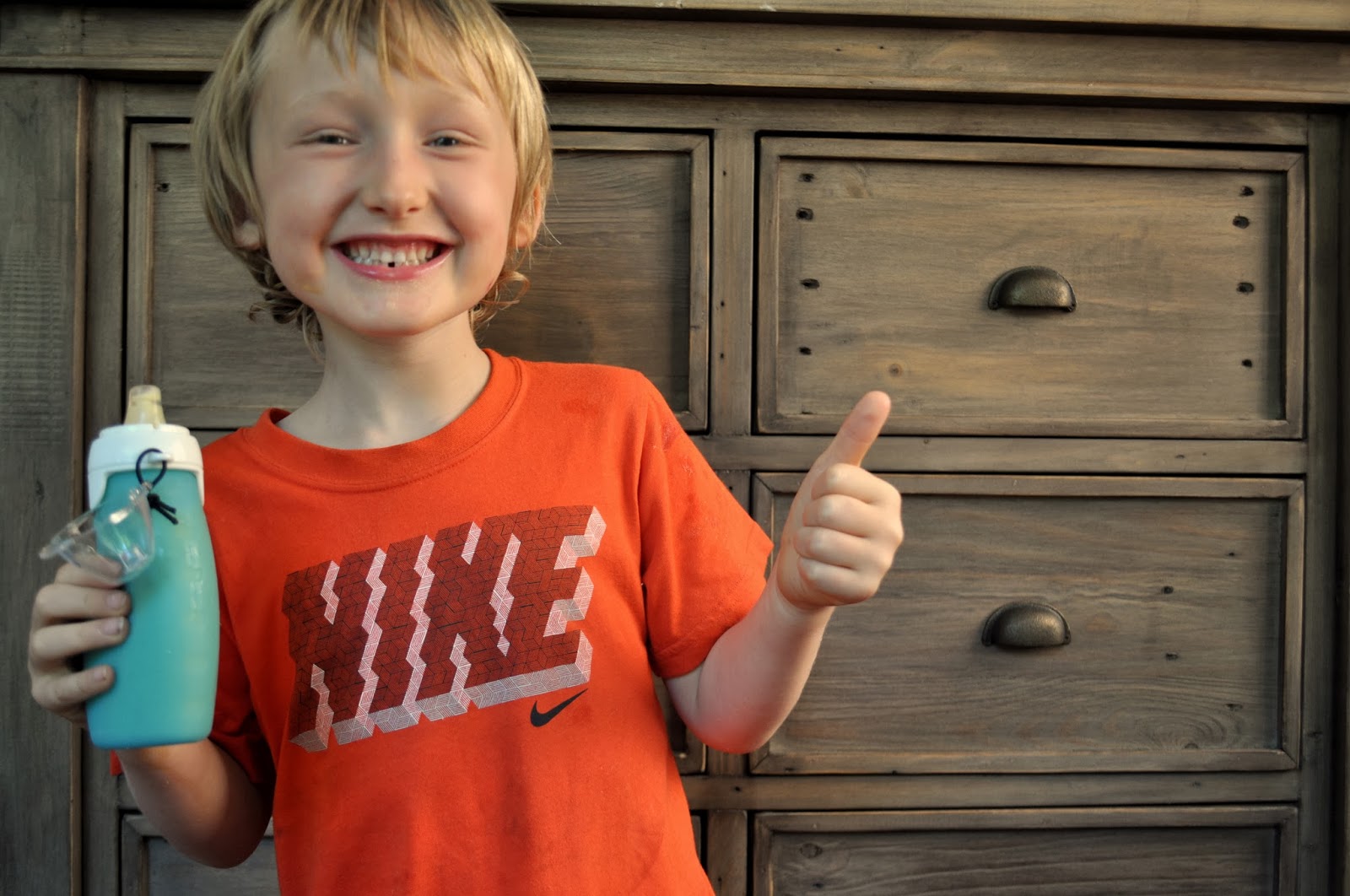 Here's the recipe for the first frappe we whipped up to be poured into the Sili Squeeze. It went down a treat on a very hot day.
And, for the record, I'm totally kidding about posting a smoothie recipe and calling it a frappe. There is a HUGE difference between the two, and this is DEFINITELY a frappe and NOT a smoothie. Frappes have way more ice. Duh, totally different species of beverage.
Peach & Mango Frappe and a Giveaway!
Peach and Mango Frappe
Ingredients
1 peach
1 mango
200g of ice cubes (roughly a tray)
200g kefir or yoghurt (or 100g milk or milk substitute plus one large or two small bananas)
Instructions
Halve your peach, remove the stone, and place it in the Thermomix bowl. Add the flesh of one mango, the ice, and the kefir/yoghurt/milk&banana. Blitz on speed 10 for 40 seconds, and serve.
And now, the important business – how do we get free stuff? Simply check out the rafflecopter-dude-thingy below, and start entering the giveaway!
I've made it really easy for you guys to enter, AND given you loads of opportunities to get bonus entries. All you need to do is tell me in the comments below what you would make to put in your Sili Squeeze, then tell the rafflecopter-dude-thingy that you've commented on the blog. And if you want bonus entries, check out all the other things you can do – like visiting us on facebook, subscribing to our newsletter lists, all that cool stuff.
Legal mumbo-jumbo: Australian residents only; Entries close at midnight on Thursday the 23rd of January (Sydney time); Winner will be drawn on Friday January 24th, 2014 (Sydney time) and the winner will be announced in this blog post and in the comments (NOT on facebook due to FB's rules and regulations around giveaways); this competition is not sponsored/endorsed/associated with Facebook, etc etc blah blah blah.
Ready, Set, GO!
Oh, and by the way – if you leave out the ice in that frappe recipe you would definitely not be left with a smoothie recipe, because this in no way resembles a smoothie recipe. 😉