I have been so excited for this month's giveaway.
(Just to clarify – when I say 'this month' I am not implying there will be a giveaway every month, although I would love to make that happen for you all. Don't take it as gospel, though!)
Anyway. Back to my excitement. SO MUCH excitement.
I first got to thinking about fish sauce when I saw this amazing post on a blog I love called Nourishing Joy, about how to make your own fish sauce.
I thought – hey, super cool! Buuuut… most of my (amazing) readers would probably not make it. Kudos to those of you that would! I also thought that I would love to make it myself, but realistically… yeah, probably not. At least not regularly. If there was a good option already available, anyway.
So then I got to hunting. Tracking down THE fish sauce. The one with no MSG. No preservatives. No sugar. Something that was REAL and AUTHENTIC. Something that was made for the love of fish sauce, rather than for the love of money.
And then I found Rachael's Organics and Red Boat Fish Sauce.
Perfect!
This stuff is legit. Pure. Traditional. Perfect.
It isn't watered down after brewing; the ingredients list reads only anchovies and salt.
AND it's in a glass bottle. You can't get more right-up-my-alley than that.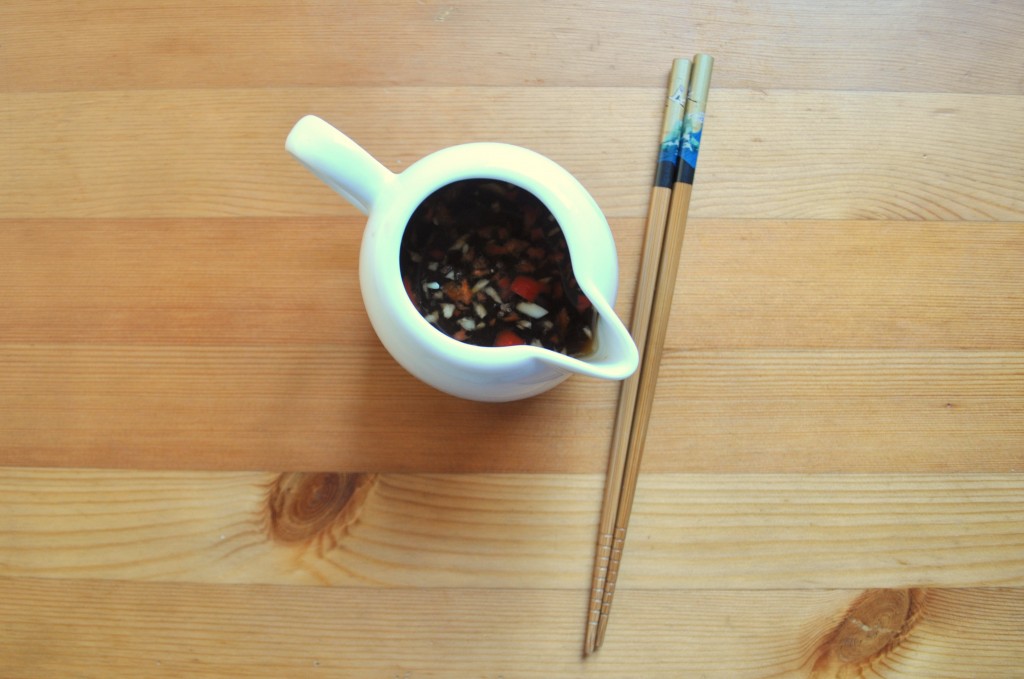 I've been tinkering with this fish sauce for a little while now. Trying to find the perfect recipe to show off the amazingness that is Red Boat Fish Sauce.
My first instinct was a stir fry of some kind. I made a few. They were great, don't get me wrong. But they had all kinds of other ingredients; kaffir lime, ginger, lemongrass, tamari, all these really strong flavours… that made it just not about the fish sauce anymore. I love all those ingredients, but I wanted something simple. Something fish-saucey. Something delicious and versatile, that really showcased the incredible fishy flavour.
So, I settled on perhaps the simplest recipe of all. A humble little Vietnamese sauce. A sauce to showcase the fish sauce. Perfectly fitting. A sauce that takes even the most ordinary of foods to new heights. Nuoc mam cham, the perfect sauce to drizzle over vermicelli noodles and fresh veggies. The perfect sauce in which to dunk spring rolls or, well, just about anything.
But, of course, made REAL. No fake fish sauce, and no refined sugar. That's how we roll (see what I did there?!).
And YOU, my ever-supportive readers, have the chance to WIN a bottle of Red Boat Fish Sauce. Big thanks to Rachael from Rachael's Organics for her generosity in offering this opportunity to you. Head over to her site to see what other products she stocks; grass fed gelatin and other awesome things.
Recipe first. Scroll down to the bottom for the giveaway if you're only here for the free stuff. 😉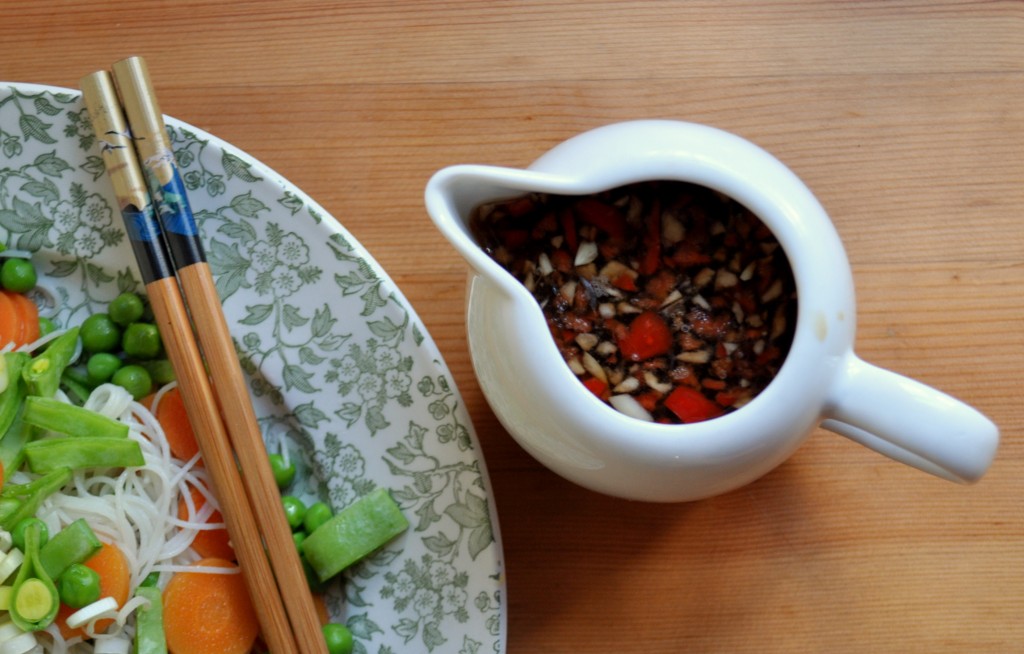 Real Food Nuoc Mam Cham
Prep time:
Cook time:
Total time:
I love this sauce poured over a simple vermicelli noodle salad. It's also amazing to dip Vietnamese chicken skewers into.
Ingredients
2 cloves of garlic, peeled
1 long red chilli, stem removed
2 Tbsp rapadura sugar (25g)
100g water
1 lime
Instructions
Place garlic and chilli in your Thermomix bowl and chop for 2-3 seconds on speed 8. Set aside.
To your unwashed Thermomix bowl, add fish sauce, vinegar, rapadura and water. Cook for 3 minutes, 100 degrees, speed 2. Set aside in a serving bowl or jug for a good 10 minutes to cool slightly.
Once cooled, add your pre-chopped garlic and chilli to the sauce along with the juice from 1 lime. Give it a stir, and serve!
Aaaaand to enter the giveaway, check out the little widget-guy-thingy below!
Don't forget to comment below so you can enter the giveaway!
What's your favourite Vietnamese dish?
What would you make with your fish sauce?
Enjoy! And happy giveaway-entering. 🙂
(This post contains affiliate links. I don't endorse products unless I believe they are fantastic, and I will always link to the actual brand of that ingredient that I buy and use myself. If I can find an affiliate link to a product that I use and love, I will use that link. If I can't find an affiliate link to a product that I use and love from a company that I support, I WILL NOT choose to promote another brand or company instead just so I can make some money. Rather, I'll find a regular old link to the brand that I love. It's nice to earn a tiny bit of money for what I do, but integrity and honesty is more important to me. Affiliate links don't hurt, they're not scary or spammy, they don't try to sell you enlargements of certain body parts, and they don't cost you anything. If you click an affiliate link and you like what you see and decide to buy something, I get a tiny little bonus at no extra cost to you. Affiliate links keep food on my table so that I can keep posting awesome recipes for you.)