A quick post today, announcing our second book for the Homemade, Healthy, Happy Real Food Book Club!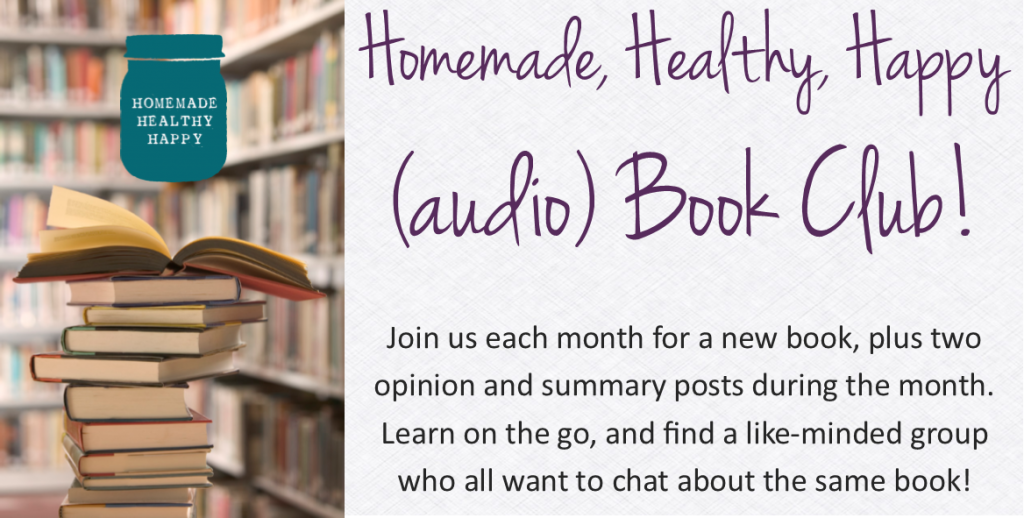 It'll be hard to top Michael Pollan's Cooked, I think. I deliberated over book 2 for quite a while because of this. And I actually ended up choosing something quite similar! Similar in the sense that, like Cooked, it is a plea for change.
But I'm hoping that Joel Salatin goes beyond merely food. It sounds like he will discuss families and other interpersonal relationships, and of course he couldn't write a book without talking about the environment! I have high expectations for Salatin, because I think he's fantastic. I don't think he'll let us down!
Sooooo, let's get reading/listening to:
I like to listen to the book club books from Audible.com – click here for the Audible link.
If you'd rather go to the library – by all means, do.
If you want to order a physical paper copy, click here for the Amazon link (if you want it on your Kindle or tablet/smartphone, click that Amazon link and make sure you click the Kindle price), or click here for the Book Depository link.
It's not important if you read this book or listen to it, it's not important if you buy it or borrow it from the library.
What's important is that we live and learn together, expand our horizons and form a like-minded community by devouring and discussing inspirational books. And have a lot of fun along the way!
Why do I love Audible?
I can listen while I drive. While I walk. While I hang out the washing or wash the dishes. I've even been known to listen in the bathtub! It's the convenience that appeals to me. And both this book and the previous one are narrated by the authors – which adds a special touch to the tone of the narration that no one else could achieve. I like that.
And, because money is always important, I like it because it's cheaper than buying the paper copy (not to mention more sustainable). The individual audio books are kinda pricey, but if you sign up for the one or two year membership then the credits are built in and the books end up costing you around $10 less! Bonus.
Oh, and you get your first book free.
I digress. Get the book (any method will do), read or listen, and come talk to us about it on facebook!
If you're just hearing of the book club for the first time, head over to my Lifestyle page for links to all the previous posts.
I'll post my thoughts so far on book 2 mid-month. Let's get learning!
 (This post contains affiliate links. An affiliate link is a link to a product that I love and that I think you will love too. I don't endorse products unless I believe they are fantastic. Affiliate links don't hurt, they're not scary or spammy, they don't try to sell you enlargements of certain body parts, and they don't cost you anything. If you click an affiliate link and you like what you see and decide to buy something, I get a tiny little bonus at no extra cost to you. Affiliate links keep food on my table so that I can keep posting awesome stuff for you.)