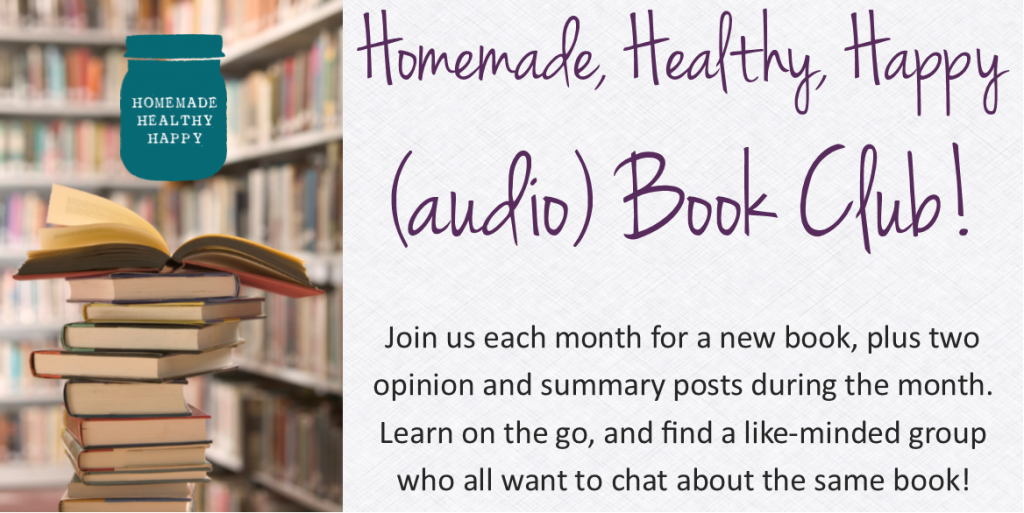 That's right – I'm starting up a book club!
With a twist, because, you know… I can't do anything the normal way.
I'm going to be listening to my books, rather than reading them! And you can too. And then we'll talk about them, discuss the things we liked/didn't like, agreed/disagreed with, and everything else in between. And it will be amazing.
Of course, all the books I set will have somewhat of a food focus (particularly a real food focus, and sometimes a look at traditions and sustainability and other amazing things). I'm SO excited about this that I've already chosen enough books to last us a whole year – but I'm not going to set the program yet, because I know even more amazingness will be released between now and then. The list will probably change more times than there are months in the year.
So here's how it will work…
1) Beginning of the month: I announce that month's book, and we all toddle over to Audible to download our copy.
2) Mid-month: I post a little spiel about my thoughts so far. You guys comment with your thoughts so far. We discuss.
3) End of month: I post my final thoughts after listening to the whole book. You guys comment with your final thoughts. We discuss.
4) Beginning of the next month: I announce the next book. Hooray, new stuff to learn!
Why did I choose audio books over print books?
Basically, because I spend a good chunk of time in the car. That, to me, is useless time. Time I could be spending doing something. Anything. Although I do love rocking out to Missy Higgins or the McClymonts (or, dare I say it, any of the Glee soundtracks) in the car – karaoke party at the red light, no shame. My time at home is always filled with being a mum, housework, real work, more real work, and more real work. My time at work is, obviously, filled with real work. I just don't get time to read. I wish I did. I LOVE books, and I do love reading. But, in an effort to read more without having the time to actually read, I am gung-ho embracing the audio book as a compromise. I want to learn. I want to read all these amazing books. But I want to be able to do it anytime, anywhere, and while I am getting myself from A to B. Even while I'm washing the dishes! And I want to share that with others; to learn together and discuss awesome topics with awesome people.
Also, although I love the feel of a real book, and I love curling under a blanket holding a cup of tea and a real book… there's also a lot to be said for not owning hundreds of books (from a sustainability perspective as well as a space-in-my-tiny-apartment perspective).
So, without further ado, I bring you the very first book for the Homemade, Healthy, Happy book club…..
Click here to go and check it out.
This one has been on my to-read list for quite some time now. In this book, Michael Pollan explores food via four essential elements – fire, water, air and earth. Pollan learns some very traditional cooking techniques from the masters, and laments the loss of these in favour of convenience by corporations. Great subject matter, and I think it will be a great read!
So, head over to Audible and grab your copy of the audio book ' Cooked'. Let's get reading listening!
For those of you who don't know how Audible works, let me explain as briefly as possible…
There are a few options – you can just buy the books outright one by one, or you can buy a membership. One book per month, two books per month, or get 12 books or 24 books all at once. Click here to see the membership options.
OR Click here to get a free trial, including one free e-book! You can start off your HHH book club journey with a free book – not too shabby!
If you prefer real paper books and don't need the convenience of an audio book, click here for Amazon or click here for Book Depository.
If e-readers are your thing, click here and make sure you select 'kindle'.
Oh, and BONUS! I made a HHH book club facebook group for us.
Come on over, and we'll chat books and food and stuff! Click here to join in the Facebooky fun!
 (This post contains affiliate links. An affiliate link is a link to a product that I love and that I think you will love too. I don't endorse products unless I believe they are fantastic. Affiliate links don't hurt, they're not scary or spammy, they don't try to sell you enlargements of certain body parts, and they don't cost you anything. If you click an affiliate link and you like what you see and decide to buy something, I get a tiny little bonus at no extra cost to you. Affiliate links keep food on my table so that I can keep posting awesome stuff for you.)