Phew! Who feels awesome to have made it through Christmas Day?!
Don't get me wrong – I love Christmas. December is my favourite month of the year for that reason, and I think if I could get away with it, I would listen to Christmas carols all year long.
Nevertheless, Christmas day is an insane blur of present-opening, cooking, eating, present-opening, eating, obligatory-play-with-every-single-new-toy, eating…. And usually on very limited sleep if you're a parent/Santa. It's really nice to get to the end of the day (having had a really nice time with your loved ones) and just.sit.down.
After our Christmas day celebrations were finished, I sat down with a cocktail. Oh, the dreary life of a food blogger. Yep, I had a fraction of steam left in me at the end of the day. Just enough to whip up a festively-red post-Christmas cocktail and sit down to a glass (or two) while I wrote the recipe up for you all.
Now that we've made it past December 25th, we have almost made it all the way through another year. Anyone else think that's crazy? Here's to that!
2013 for me may have been the shortest year in my short life thus far. I mean, obviously, it was no shorter than your average year… but it sure felt so! I am well and truly ready to put 2013 to bed and welcome in 2014. Tyler starts big school soon (wow!), and I have some really exciting things planned. Lots of changes. All the changes. I can't wait!
This cocktail is the perfect way to ring in the new year, so make sure you have the ingredients on hand for the big night! I'm not a big drinker, but when a special occasion calls for it, I'll have a sip or so. I'm not one for mixed drinks usually, because of the other things that end up mixed in with the alcohol. I usually stick to a good German beer (regulations on German beers mean they will have less ingredients and you're pretty much guaranteed they won't contain additives). But I do appreciate a good cocktail now and then, and I love creating them at home with no fuss and minimal ingredients – I even sneak in some extra goodies where I can.
Enter, the kombucha cocktail. More kombucha than alcohol (but be warned – it still packs a punch!), this might be the only kind of cocktail you don't have to feel guilty about drinking.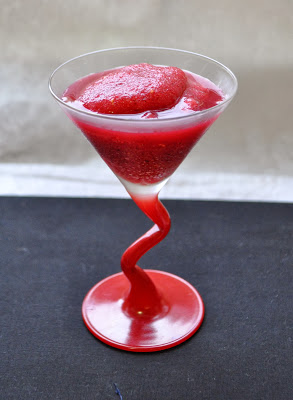 Kombucha Kocktail (The Strawberry Daiquiri Edition)
Ingredients
350g ice cubes (about three or four trays of ice cubes)
100g mixed frozen berries
15-20g honey (or to taste)
130g Bacardi rum
160g kombucha
Instructions
Place all ingredients in the Thermomix jug, and blend for 1 minute on speed 8. Serve and enjoy!
(If using a high speed blender instead of a Thermomix, simply blend on high until smooth.)
Stay tuned for an exciting list of probiotic-filled cocktail and mocktail recipes in the coming days… Let's ring in 2014 in the healthiest way possible, and wake up on January 1st with no regrets!
Do you have a favourite cocktail?
I fully intend to further the Kombucha Kocktail series, so name your favourite cocktail in the comments below!
(This post contains affiliate links. I don't endorse products unless I believe they are fantastic, and I will always link to the actual brand of that ingredient that I buy and use myself. If I can find an affiliate link to a product that I use and love, I will use that link. If I can't find an affiliate link to a product that I use and love from a company that I support, I WILL NOT choose to promote another brand or company instead just so I can make some money. Rather, I'll find a regular old link to the brand that I love. It's nice to earn a tiny bit of money for what I do, but integrity and honesty is more important to me. Affiliate links don't hurt, they're not scary or spammy, they don't try to sell you enlargements of certain body parts, and they don't cost you anything. If you click an affiliate link and you like what you see and decide to buy something, I get a tiny little bonus at no extra cost to you. Affiliate links keep food on my table so that I can keep posting awesome recipes for you.)