I had an awesome discussion at the markets on Sunday.
…Well, I had lots of awesome discussions, because I was there to talk to people about Thermomix!
But at the end of the day, I got talking to the guy a couple of stalls down from us who makes and sells raw coconut butters. He was talking about his very slow stone grinder that he shipped out from India, and the Vitamix he has sitting on his bench at home. We talked raw food, coconut oil, melting points and enzyme-killing-points, as well as geared motors vs reluctance motors.
For a quick synopsis on some of those points:
– Coconut oil melts at around 25 degrees celsius
– Enzymes die between 40 and 45 degrees celsius (depending on who you're talking to – everyone's view seems to differ on this one); but this hard-to-pin-down temperature is considered the cut off for raw vs. cooked foods
– the Vitamix has a tendency to overheat (this is not based on my experience, I have never used one before – but I have heard many stories from Vitamix owners, and seen recipes for cooking soup in the Vitamix by intentionally overheating the motor – say what?!?!?!?!)
– the Thermomix does not, thanks to our amazingly wonderful reluctance motor with no moving parts to cause the crazy friction-induced-overheating that Vitamix owners experience
He told me that a lot of people go home and try to recreate his coconut butters, then come back the next week disappointed because their mixture separated when the motor of their high powered blender started to overheat (it doesn't take much to melt coconut oil!).
Separation happens when the coconut oil melts, it just doesn't combine with everything in a nice, smooth, homogeneous fashion. You get a lump of chocolatey goodness sitting in a pool of chocolate-coloured but pretty bland-tasting melted coconut oil. Not so pretty, and not so yummy either. Obviously the two parts of the mixture don't set evenly, and it's just not a joy to eat. And that's what food should be – a joyful celebration of health.
And in his opinion, their attempts might not even have been raw, depending on how hot their motor got.
So, when he told me that so many people failed trying to recreate his coconut butter – well, that was a challenge I just couldn't resist.
I would like to take this moment to
scream from the rooftops
proudly declare that Tyler and I nailed it on the first attempt!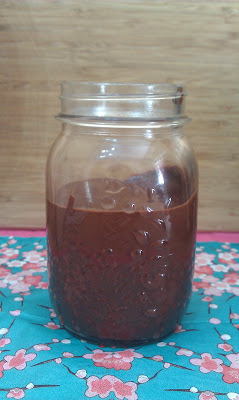 Raw Chocolate Coconut Butter

Ingredients:
150g dessicated coconut (unsulphured!!)
80g unrefined coconut oil
45g raw cacao powder
80g raw honey (or maple syrup)
Method:
1) Weigh the dessicated coconut in the TM bowl. Set the timer for 1 minute and blitz on speed 9, stopping every 15 seconds to scrape down the sides.
2) Add remaining ingredients and mix on speed 6 for 5 seconds. Scrape down the sides and repeat. Store in the pantry, not in the fridge. It should last at least a week, but it won't because it's so delicious!When you first make it, it will be like runny nutella. It will harden a bit in the cupboard, but not solid enough that you can't sneak a sneaky spoonful every now and then. 😉
This would make a delicious icing for a cake. Just ice your cake as soon as you have made the chocolate coconut butter, while it is still runny enough to spread or pipe. It will set after an hour or so on the bench (or in the fridge if it's a hot day).
It's also divine with apple slices. Enjoy! 🙂