Well, I had a fun afternoon in the kitchen this arvo! I love just getting in there, experimenting with different combinations, surrounding myself with beautiful smells that draw others to the kitchen, and just going through the motions of making a yummy meal for your loved ones. This evening we had tapas (the ultimate experimenting-with-different-combinations fun), and I ended up doing six dishes and two sauces – phew! The Thermomix took a bit of a step back, but was still heavily involved in preparation, and made both sauces plus the soup for me. And one extra sauce I had made in the TM earlier in the week. One of the dishes in which the Thermomix played quite a big preparation role was the delicious Broccoli and Cauliflower Fritters with Tzatziki. These are great little fritters, and they really pack a flavour-punch!
I have adapted this recipe from Free Range in the City by Annabel Langbein. Her cookbooks have some stunning photos of both scenery and food! Lots of fresh produce featured throughout, which I love. These fritters are very tasty, thanks to the strong flavour of curry powder and turmeric. My almost 4 yr old loves them, but then again, he also loves oysters and blue vein cheese… So if you're feeding little mouths, you may want to try it with less of the spices and increase each time to find the amount that they like.
Broccoli and Cauliflower Fritters
Ingredients:
110g brown rice
1/2 tsp fennel seeds
1cm piece of ginger, peeled and cut in half
150g broccoli
150g cauliflower
1/4 tsp bicarb soda
1 tsp curry powder
1 tsp turmeric
3 eggs
1/4 cup water
1 tsp veg stock paste
oil, for frying (I used coconut oil)
Method:
1) Place brown rice fennel seeds into TM bowl. Mill for 1 minute on speed 9. Set aside.
2) Place ginger in TM bowl and chop for 2-3 seconds on speed 7.
3) Add broccoli and cauliflower, chop on speed 6 for 1 second. Give it another second only if it needs it. Set aside.
4) Return flour to bowl. Add bicarb soda, curry powder, turmeric, eggs, water and stock paste. Mix on speed 3 for 20 seconds or until well mixed into a thick batter.
5) Add chopped broccoli and cauliflower, mix on reverse, speed 3 for 20 seconds or until well mixed.
6) Heat oil on medium heat and fry in batches until cooked through (approximately 1.5-2mins each side). I make my fritters using about a tablespoon of the mixture. You will likely need to add extra oil between batches. If there are leftovers, they make great lunchbox food – just wrap them individually and freeze. Pop them in a lunchbox in the morning, and they will defrost by lunchtime!
Annabel suggests serving these with a mango dip. I have tried this, and it is certainly very yummy, but I actually prefer them with a simple and plain tzatziki. I chopped a handful of mint leaves in the TM (speed 7 for approx 5 seconds), added a cucumber and chopped again (speed 7 for just 1 or 2 seconds), then added a few good dollops of yoghurt and mixed on reverse, speed 3 for about 10 secs. Easy, fresh and delicious.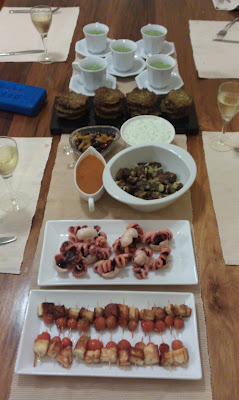 Here is the rest of the meal tonight, from bottom to top we have:
Haloumi cheese and tomato skewers
Baby octopus with citrus and chilli sauce (sauce can be seen in the gravy boat, above the octopus on the left)
Patatas Bravas with gouda and tomato sauce (potatoes on the right above the octopus; tomato sauce not pictured, but you can see it slathered on the potatoes in the picture below – sauce was made in the TM to go with my roast pork belly earlier in the week)
Preserved lemons and olives (left hand side)
Tzatziki (right hand side)
Broccoli and Cauliflower fritters
Pea and mint soup
And there's my plate! We started with a mug of the soup each, then helped ourselves to the rest of the dishes. I'm pleased to say that my little monster enjoyed each and every one!
I hope you've all had a yummy dinner tonight, and I hope you have a wonderful weekend! 🙂