Back to school! How is everyone coping? I had all the intentions of posting a plethora of lunchbox ideas and recipes for you all – where did January go?!? T started at his preschool toda, so I finally get to pack his lunch! I'm really relieved about this, which everyone seems to be shocked about. If you don't have a kid in daycare, you should see the kind of food they get fed. At least at T's old centre, anyhow. We're talking white bread (yes, complete with around 17 additives), slathered with butter and sprinkled with cinnamon sugar for morning tea. Oh, and two teeny slices of orange. So many things wrong here, and I'd love to rant about it, but I think you all get the point. Now I know what he's eating, hooray!
So, I shipped him off to preschool today with:
Grapes
1 Apricot
1 Apple
1  Banana (to be cut up for the shared fruit plate)
a handful of Cherry Tomatoes (red and yellow)
some capsicum (red and green), cut into strips
half a cucumber
and T's favourite (the very first thing he ate, he tells me)… a spinach-mint triangle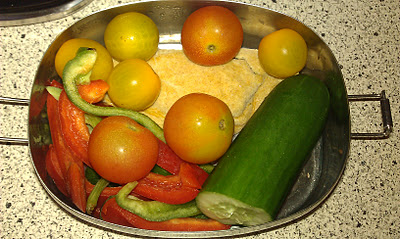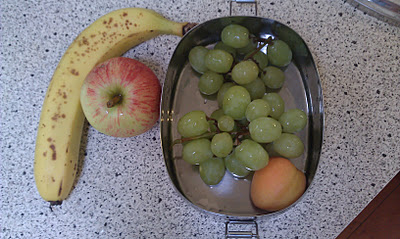 And yes, my 3.5 yr old will EASILY eat that much food, often more (and this is not counting breakfast or dinner!). Not looking forward to the food bill when he reaches his teens (actually, probably much earlier, knowing him!). I was surprised though, he actually didn't eat it all today – I think he was just too busy playing with all the new toys and new friends!
Anyway. These spinach-mint triangles are yuuuummy. I made them a couple of weeks ago, wrapped them individually, and stuck 'em in the freezer. With the intention that they'd go into T's lunchbox. First day of preschool today… I put the last triangle in his lunchbox. That's the dangerous thing; you'll make them, freeze them, and they will disappear. It's pure magic! 🙂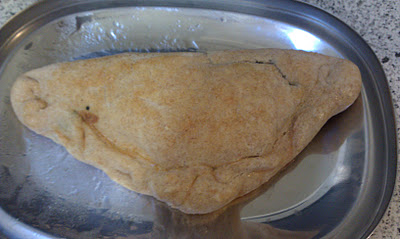 Spinach-Mint Triangles
Ingredients
Pastry:
50g wholemeal spelt flour (I use spelt grains that I've ground in a bigger batch earlier)
200g white unbleached spelt flour
pinch of fine sea salt
130g unsalted butter, really cold, cubed
75g cold water (fridge-cold, not tap-cold)
Filling:
200g spinach, thick stalks removed
50g mint leaves (less if preferred – I love the mint; I used vietnamese mint from the garden, but any variety will work)
1 tablespoon oil (I used cold-pressed macadamia oil; cold-pressed olive oil is good too)
1 onion, quartered
2 cloves garlic, peeled
130g chevre (soft goat's cheese; you could substitute a soft cows milk cheese like ricotta or cottage cheese to make it cheaper)
50g parmesan or hard goat's cheese
a couple of generous pinches of ground nutmeg
1 egg, lightly beaten with a fork
Method
Pastry:
1) Put flour and salt in TM bowl. Mix on speed 6 for 5 seconds.
2) Add butter, mix on speed 7 until mixture resembles breadcrumbs.
3) Add water, mix on speed 7 until it comes together in a dough. You want to do this as quickly as possible so as not to let the butter warm up too much – but also be careful not to underdo it. Once you see it form a good dough, give it 5-10 more seconds; this is plenty.
4) Tip the dough out onto a thermomat or your clean bench top and shape it into a ball (again, very quickly). Wrap it and put it in the fridge while you make the filling.
Filling:
1) Wash the spinach and mint thoroughly. I like to put it in a sink full of cold water, swish it around, and then rinse it again in a colander (especially if you've pulled straight from the garden – you want to get rid of all the dirt as well as the germies!).
2) Put parmesan or hard goats cheese in the TM bowl. Grate on speed 9 for 10 seconds. SET ASIDE.
3) Put the spinach and mint in the TM bowl (DON'T dry it first). Cook for about 10 minutes on 100 degrees, speed 1 (check it with a couple of minutes to go – cooking time will depend on the type of spinach/greens you use).
4) Chop the cooked spinach just quickly; speed 7 for 5 seconds.
5) Set the chopped spinach/mint in a colander over the sink to cool and drain.
6) Tip any remaining spinach water out. Add onion and garlic to TM bowl, chop for 10 seconds on speed 5. Cook on 100 degrees, speed 1 for 10 minutes. Set aside.
7) Put soft goats cheese or cows cheese in TM bowl with nutmeg, parmesan, and about half of the beaten egg. Mix on speed 4 for 15-20 seconds.
8) Take a paper towel/tea towel, set it on top of the spinach mixture (still in the colander), and push down hard to squeeze any moisture out. Add spinach mix to TM bowl and mix on speed 4 for 20-30 seconds.
Putting it all together:
1) Preheat the oven to 180 degrees celsius.
2) Take your dough out of the fridge and split it into 10-12 equal portions. Work with one portion of dough at a time, keeping the rest in the fridge. Split the filling into as many portions of dough as you have (10-12). You can keep the filling in or out of the fridge while you work, it doesn't much matter.
3) Roll a single portion of dough into a rectangle; practise makes perfect here, as you don't want the pastry too thick but you want it thick enough to fold over and hold together.
4) Blop some filling in the middle of the rectangle, fold diagonally (to make a triangle), and pinch the edges. Set it on a baking tray. Repeat with remaining dough and filling.
5) Brush the triangles with the remaining beaten egg, and pop them in the oven for 30 minutes until golden brown and delicious!
6) Eat immediately, or cool then wrap individually and freeze for lunches or snacks on the go!
Good luck saving them all for lunchboxes. 😉