We had such a lazy start this morning. I love (and crave) lazy starts. Any day when Mr T's first sentence is NOT "I'm hungry, what's for breakfast?" is pure joy. We just fluffed around for a while, took a long shower, eventually threw together some pancakes. Mango and cashew pancakes, yummy!
I pureed some mango and finely chopped some cashews and added them in to our normal pancake recipe. Plopped some raspberries on the top of the finished stack, and poured a bit of delicious organic maple syrup on top. Pancakes are always scrumptious and exciting, but you can make them even more exciting by adding different flavours (by using different fruits, grains, nuts, etc) each time.
We also whizzed up some fresh orange, peach and passionfruit juice to accompany the pancakes. What a great way to start the day!
Yesterday I was reading the River Cottage cookbook (Hugh Fearnley-Whittingstall is one of my chef crushes). The intro to the breakfast section particularly grabbed my attention. Hugh said, "Breakfast is simply an unmissable opportunity to start the day well."
I couldn't agree more! I am a reformed breakfast-skipper. I used to be completely unable to eat breakfast without feeling ill. I'm sure now that it was purely psychosomatic, but anyhow, it was what it was and I never ate breakfast. These days, I eat breakfast every single day. Sure, sometimes I only eat fresh fruit. That's fine. And that's actually how I eased myself into eating breakfast again; only fresh fruit, one piece of fruit at a time. There's nothing wrong with occasionally grabbing a mixture of fresh fruits to eat on a hectic morning. MUCH better than a frankenfood muesli bar – or worse, one of those "breakfast shakes". How are you going to make it through the day if you don't even give yourself the chance? Start the day well, with real food that your body can process and use. Don't miss the opportunity that is breakfast. Get your body off to a strong start each day rather than having to rev it up when you start fading halfway through.
Anyway, we happily polished off our stack of pancakes and all the juice. Apart from grabbing the occasional piece of fruit from the fruit bowl, putting together a sandwich and salad lunch, and pouring the odd glass of water, we stayed out of the kitchen until about… 2pm. We're never gone for long, are we??
We made a roasted tomato pasta sauce. Mr T happily counted the tomatoes out for me, then happily counted how many wedges of tomato, capsicum and onion I cut. That, plus some garlic, a couple of pureed tomatoes, a bit of sugar, veggie stock and oil all went in the oven to roast for a couple of hours, and eventually became the most delicious pasta sauce. I really do have a soft spot for roasted tomatoes, so I'm destined to love any sauce made from sweet, gooey roasted tomatoes.
I've posted the thermomix recipe for it here. It would be easy enough to do without a thermomix, but you do need a food processor of some decription. At a stretch, you could even use a stick blender (but if you do this, make sure you let the veggies cool completely so you don't burn yourself with hot splatter). Substitute the 2 extra (pureed) tomatoes for a scant 1/4 cup of tomato paste (if you're in the US or use US cup measures, do a full 1/4 cup as the US measures are slightly smaller). It should last about a week in the fridge, maybe just shy. If you want to pot it so it lasts longer but don't have a thermomix, you'll have to cook it on the stovetop after pureeing. If you want to serve it straight away, you don't need to cook it at all after pureeing.
But we can't just eat pasta sauce for dinner! So we braved gluten free spinach and ricotta gnocchi. Scrum-diddly-umptious! I used tapioca flour instead of regular flour, and threw in a sprinkling of xanthan gum for good measure. No potatoes in this gnocchi. It's mostly ricotta, with some eggs and the tapioca flour to hold it together.
My thermomix recipe for it is here. It should be easy enough to do without a thermomix though. And boy, was it yuuuuuummy! Definitely doing that one again. I have always hated gnocchi – growing up, we always had the packs of "fresh" potato gnocchi (including preservatives and thickeners and who knows what else). Funnily enough, I always used to feel sick on the stomach after eating them… Same with hot dogs, frozen packs of dim sim/dumplings…. But no nasty queasy feeling from these all natural bundles of yum!
Earlier in the day, we went to the shops to pick up some essentials: bicarb soda and more glass jars. Naturally, we also came home with a whole tray of mangoes. Smells like summer! While the tomatoes were roasting for the sauce, we also got some jam going in the thermomix. Today we made mango and passionfruit. Obviously we tried some before it was really cool enough to eat, and it is scrumptious. But I am always making new jams, so we constantly have more jam than we can eat. I decided to offer them up for sale, and they were claimed in under half an hour! Not bad at all!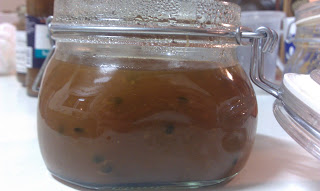 We now have frozen mango flesh in the freezer, a mango in the fridge, and 8 more mangoes still in their tray on the kitchen bench (am I making you jealous, big sis?)! Obviously there will be more jam on the way soon. Perhaps some chutney too, or a cake or tart of some decription. Or we'll just scoop the flesh straight out of the skin and into our wide open mouths! Probably some combination of the aforementioned options.
I hope everyone else in this part of the world is enjoying the mangoes at the moment, and looking forward to summer fruits! Plus, it's the holiday season – what more could you want? 🙂