It's been far too long since I posted (only a week, does this mean I'm addicted already??). This week was my sister's last week in Australia – she leaves tomorrow to go back to Berlin, which I am still in denial about. Anyway, we have spent many a night not in our own beds this week in an effort to spend more time with her. We also had a night in the hospital so Mr T could have the sleep study that took six months to get into. With all this, sadly I have not done as much cooking as I like to! So this post is a little bit of a "highlights from the last week" kind of post.
Featuring: toasted muesli, spaetzle (with beef stroganoff), plus beetroot and fennel puree.
It was my Nanna's birthday on Tuesday, so we had lots of rellies over to celebrate on Monday for brunch. I made a scrumptious toasted muesli, and everyone loved it. I just melted butter, sugar (I use rapadura), and cinnamon together then tossed some rolled oats and chopped nuts in the butter mixture to coat (I sometimes add sultanas or finely diced apricots or dates, but didn't bother this time). Cover a baking tray with baking paper, spread the muesli out evenly on the tray, and bake in the oven for about 40 minutes at 180 celsius (350 fahrenheit), stirring/turning the muesli every ten minutes or so. When the muesli has completely dried and cooled, store it in an airtight container (preferably glass!).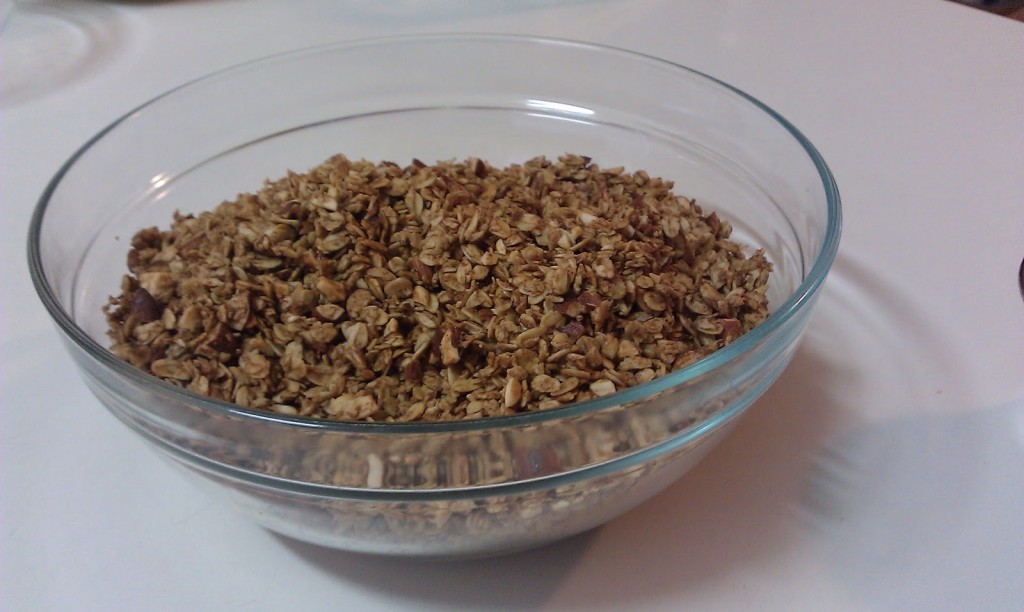 We make this muesli regularly. I don't buy muesli mixes anymore – too many numbers (if you buy a mix with coconut or dried apricots it will always have at least one preservative) and I just hate not knowing exactly what's gone in there and the quality of the ingredients in the first place. Another thing that stops me is that our bodies can't digest uncooked grains as well as it can digest cooked grains, so I just don't bother with bircher muesli and other uncooked mueslis. I really think that once you make this one, you won't turn back. It's just that yummy!
To keep the German spirit going, we cooked spaetzle for my sister when she stayed at our place one night last week. Spaetzle are little tiny dumplings made of a floury-eggy mixture. They're best eaten with a saucy kind of dish – goulash, stroganoff, even just a casserole. They make a delicious and exciting alternative to rice or pasta, and I think they are well worth the extra effort. To make this recipe, it's best if you have a spaetzle maker (this is the one I have); but you can make it using a colander, provided the holes are not too big or too small. The proper technique is to spread the dough on a cutting board and slice strips to plop into the pot, so you could also do that but it does take a lot of practice. I'll give the spaetzle maker method here. Here is my thermomix spaetzle recipe.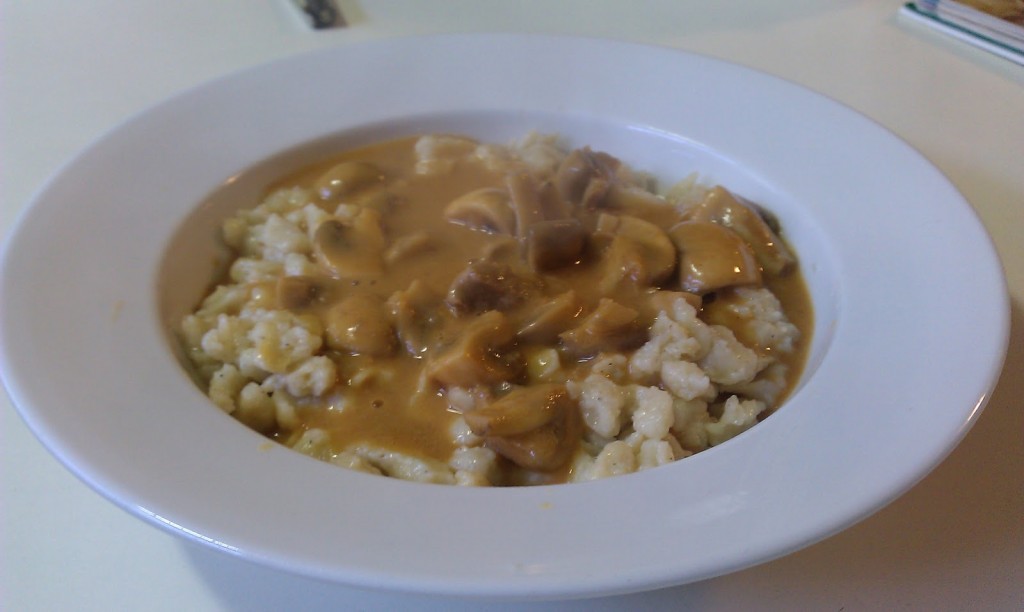 Spaetzle
Ingredients:
2 cups plain flour
1 tsp ground nutmeg
1 tsp salt
couple of pinches of ground pepper
1/2 cup milk
4 eggs, lightly beaten
4 tablespoons of butter
Method:
1) Combine dry ingredients in a large bowl.
2) Add milk and eggs alternately, mixing well between each addition.
3) Let the dough sit for half an hour (it will be quite runny – the resting time won't make it that much thicker, but it should start getting quite a few air bubbles rising to the surface).
4) When 30mins is almost up, put a very large pot of water on high heat to get it boiling.
5) When water is boiling, ladle a scoop of dough onto the spaetzle maker (use a spoon to get the dough out quickly, otherwise the dough will start to cook before you can get it through the spaetzle maker). Use the scraper to scrape the dough along the spaetzle maker – the dough will drop through the holes into the boiling water. Do a quarter to a third of the dough at once, you don't want to overload the saucepan.
6) Let the spaetzle boil for a few minutes, then scoop them out with a skimmer and put them in a strainer to let the water drip off while you do the next batch.
7) Once all the spaetzle are boiled, melt 2 tablespoons of butter in a large frying pan and fry half the spaetzle in a frying pan for a couple of minutes. Melt another 2 tablespoons of butter and fry the last of the spaetzle.
8) Serve with the main – we had beef stroganoff.
9) ENJOY!!!
Tonight we're spending another night away from home, but this time I brought the thermomix along. I made a beetroot and fennel puree (pink mush, according to Mr T) and a Bill Granger chicken recipe, as well as corn on the cob. It was yummier than even I thought it would be. Very pleased!
Here is my thermomix beetroot and fennel puree recipe.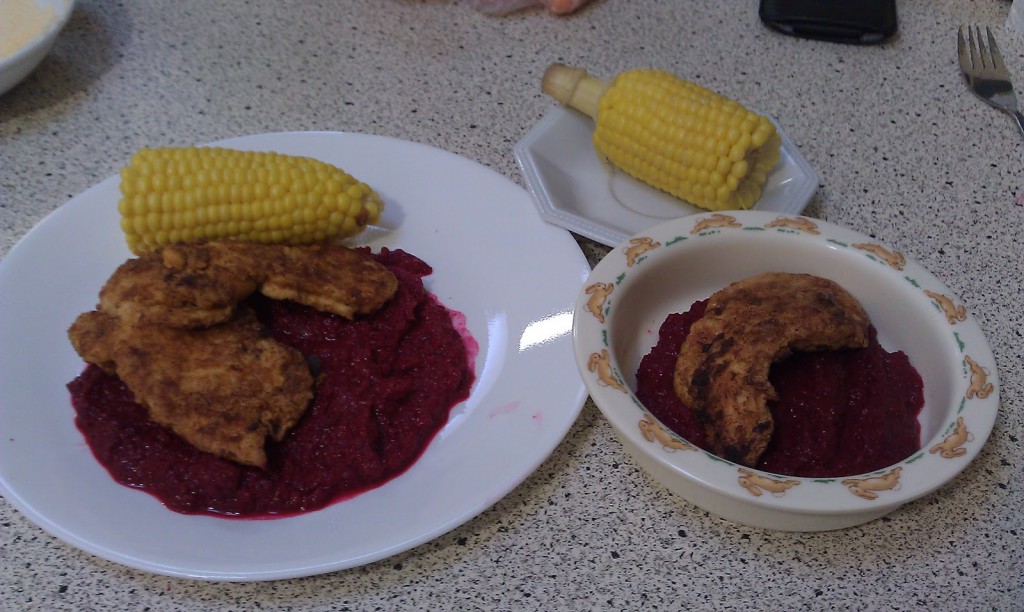 Beetroot and Fennel Puree
Ingredients:
200g beetroot (fresh, not canned) – cut into 1cm pieces
200g fennel – roughly chopped
180g water
dollop of greek yoghurt or dash of cream
some grated parmesan cheese
Method:
1) Bring water to the boil, add beetroot and fennel and simmer for 30-45mins partially covered until beetroot is cooked through.
2) Puree beetroot and fennel in a food processor until it reaches desired consistency.
3) Stir in yoghurt (or cream) and parmesan cheese.
4) Devour!!!
I hope your tummy is rumbling and you're drooling all over your keyboard now! 🙂