What a day, what a day! Our kitchen got a good workout this afternoon. We came home from a nice picnic lunch at the park with friends (Brie wrapped in Salami, yummmmmm!) and went straight to the kitchen.
First we whipped up some bread dough and put it aside to rise. While that was rising, we made some lemon and parsley juice. This juice is DELICIOUS and so good for you. We both have coughs that we can't seem to shake since having bad colds a couple of weeks ago, so I've been making this juice a lot lately. I also happened to receive a wonderful donation of some beautiful lemons from the backyard lemon tree of a wonderful woman I have known since I was a kid (thank you so much!!!!). So one of those went in the juice, of course. The recipe is from the EDC (for those with a thermomix). You could probably do it in a blender if you don't have a thermomix, it just wouldn't be as smooth. Just chuck a small bunch of parsely, one lemon (peeled, and pith removed), some sugar (I usually do about 80g of rapadura sugar) and 1 or 2 trays of ice in and puree it for about a minute until smooth. I added the zest of half the lemon too, just for a little more zing! Add a couple of cups of water (500g, up to 800g if you want it to quench the thirsts of more people) and whizz it up again for a minute or two. It is especially wonderful on a hot summer day!
My goofball decided to dip his strawberries in the juice! 🙂
I don't like to waste things, so I kept the other half of the rind (minus the pith, of course) of the lemon that we used in the juice, to use in the dinner.
But first, while we were drinking bucketloads of the juice, we made some playdough! I'm not going to include the recipe here, it's fairly standard and easily googled. Mr T was so excited, as our old stuff had definitely seen better days. We made pink of course – pink being Mr T's favourite colour. When it was all ready to be banged and rolled and squashed, Mr T helped me make it into a heart shape and I left it with him on his "craft mat". Mr T floated between the playdough and the kitchen, as he always wants to know what's going on and what I'm making if he's not helping – he loves to see every step and watch something be made from nothing.
While Mr T was making me playdough birthday cakes, I peeled some potatoes and cut them into long chip (french fry) shapes. Then I tossed them in flour, then tossed them in olive oil, and put them on a baking tray covered in baking paper. They went into the oven at 200 degrees celsius for an hour. Then I threw the leftover lemon zest (zest of half a lemon, no pith), 2 cloves of garlic, and some sea salt (about a teaspoon) into the TM and grated it all up. You could do this without a TM just by grating the lemon zest and crushing the garlic, then mixing them together with the salt. I rubbed a spatchcock with this mixture, and put it in a small roasting tray. I put zucchini fingers around the spatchcock and drizzled both the zucchini and the bird with a tablespoon or two of olive oil. Then I put some slices of pancetta on top of the zucchini, and topped it all off with some freshly-picked sprigs of thyme. It went in the oven underneath the chippies – the chips had been in for about 15 mins, so the spatchcock cooked for about 45 mins.
The spatchcock was lovely and moist, the lemon/garlic/thyme flavour combo was awesome, the pancetta crisped up perfectly and the zucchini were wonderful too (not over or undercooked). If you haven't tried zucchini with thyme and pancetta, you absolutely must!!! The chips were perfect, too. I drizzled a bit of white vinegar over mine, mmmmmmmmmm! It was the kind of meal that you just don't want to stop eating – the best kind!
While the dinner was roasting away in the oven, the bread had finished it's first rise. So I rolled it out into a rectangle, cut it into 3 even bits, rolled each bit into a rope-shape, and plaited the bread.
Then I set the bread on the stovetop (covered with a tea towel) so the heat from the oven would give it a great second rise. The dinner came out, and the bread went in (brushed with a beaten egg first). Half an hour later, perfection!!!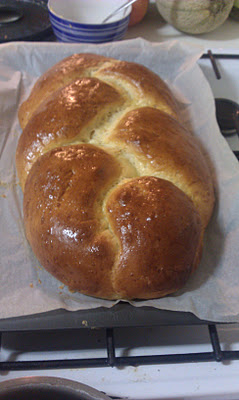 I've just had a slice of it, and it is deeeeeeelicious!
And last but not least, while we were eating dinner and the bread was baking in the oven, I had jam cooking itself in the thermomix. Strawberry, mango and passionfruit jam – my most raved-about jam yet! I've put the recipe up on the thermomix community here.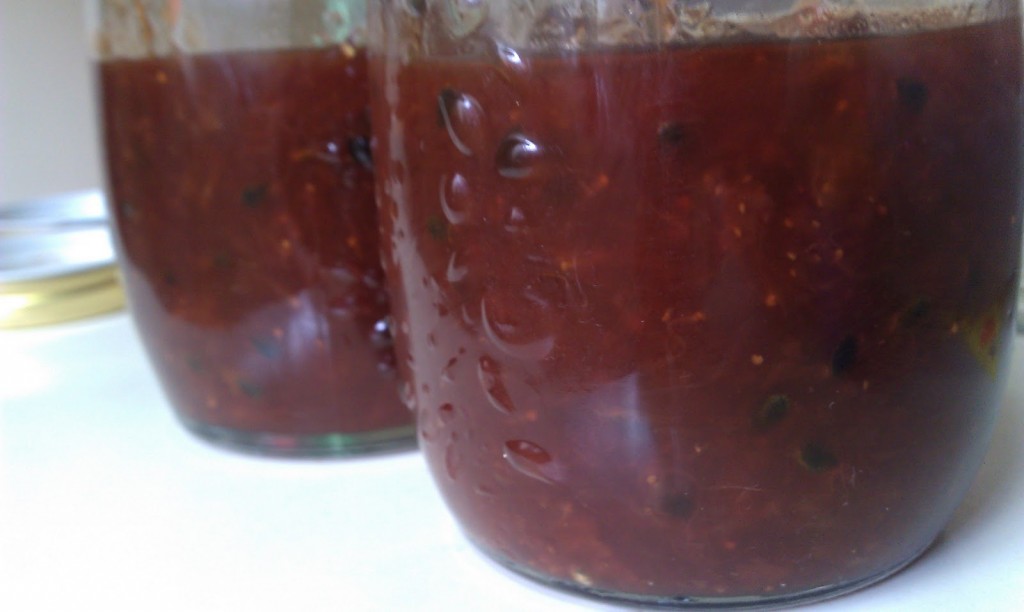 I hope you're all cooking up a storm today too, and reaping the benefits of healthy, homemade food! 🙂