If there's one thing I love, it is discovering amazing places to eat.
Sydney has no shortage of amazing places to eat; we are rather spoilt here, I think. However, what Sydney does have a shortage of is certified organic restaurants – restaurants committed to using only certified organic ingredients and to a plethora of other principles that tend to go along with the word organic (sustainable, local, ethical, and then some).
Luckily for us, we have Simon Lawson and his restaurant – Agape Organic Restaurant.
I went there with some friends earlier this year, and we were very impressed! Simon's mission is to show that organic food doesn't have to be expensive, but it is delicious and sustainable. That mission certainly came through on the night, and we were left both satisfied and convinced.
We started our meal with a starter, of course! A herb, garlic & chilli pizza – on a spelt base. My belly definitely liked that nod to ancient grains. Ancient grains tend to feature heavily on the Agape menu, a testament to Simon's view that we should be eating a much wider variety of grains, rather than just wheat at meal after meal after meal (hear, hear!). And, Simon tells me, he just really loves quinoa.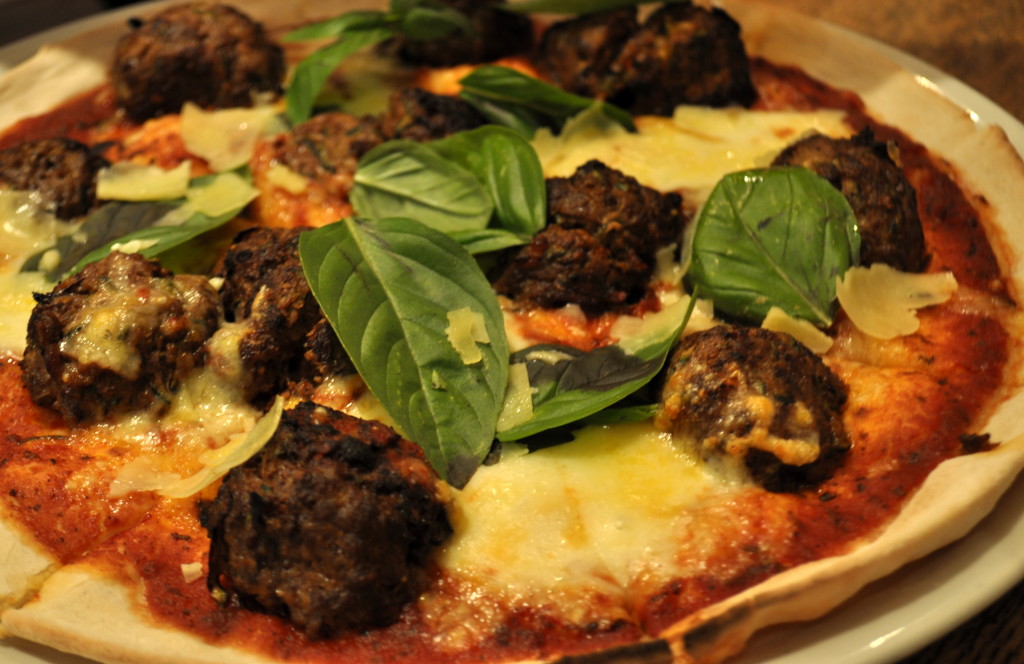 For our main meals, my friends both ordered a pizza each – one grass fed wagyu meatball pizza and one pumpkin, pesto, feta & caramelised onion vegetarian pizza. Of course, I snuck a bite (or two, or three) of each – delicious! Simon started his career as a chef 20 years ago, but found his passion for organic food difficult to see through under anyone else. And just over 5 years ago, he decided to go out on his own to fulfil his organic dreams. Blame his mother for this dream, perhaps – Mrs Lawson, equally passionate about organics, grew everything she possibly could in their garden at home, in order to feed her kids the best chemical free fruit and vegetables in a time where organic wasn't nearly so accessible. Simon grew up around food – both in the kitchen and out. It is little wonder that his guiding principle is that, "Organic should be for everybody."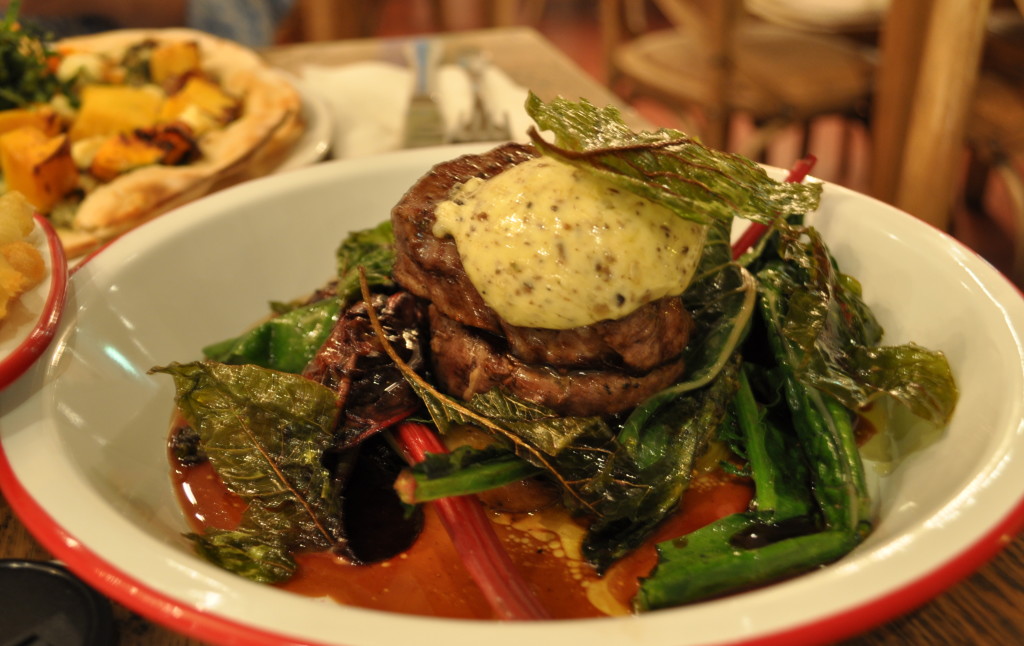 After a long deliberation, I ordered a wonderfully tender grass fed wagyu fillet with braised leeks, kale, quinoa & truffle butter, and crispy little chard leaves perched on top. Perfection. Although 'organic' seems to have become a bit of a trendy buzzword, with many losing sight of the deeper implications behind organic farming, rest assured that this is not happening at Agape. Simon is committed to practising sustainability and ethics at Agape. They purchase all ingredients as locally as possible, and they prefer to buy in whole animals and break down the carcasses themselves, making use of the 'other bits' of the animal so that they can still serve the steak and call it sustainable.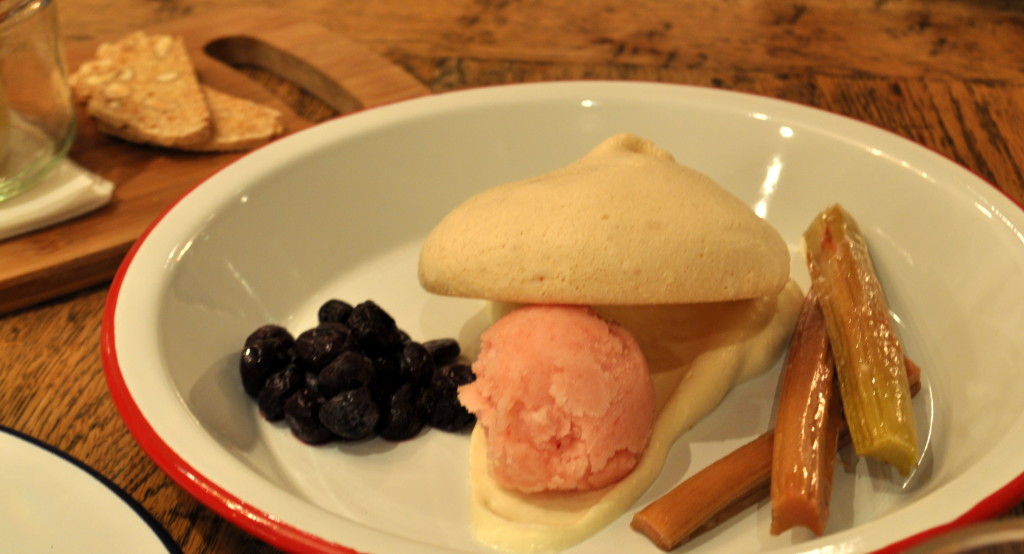 I am a firm believer in ordering dessert when out for dinner. Lucky for me, my friends are too. We ordered three desserts and made a big mess trying to share them all! We had a simple but incredible trio of ice cream & sorbet with a spelt biscotti. And this deliciousness pictured here – a rosewater meringue with cream, sorbet, blueberries, and poached rhubarb. And of course, the infamous Agape spelt brownie. When I questioned Simon if he follows a specific 'diet' or whether he tries to stick to a specific diet with his menu, he answered exactly as I would myself; stating that people should listen to their own bodies and find the way of eating that is right for them. Refreshing to hear, in what has become a rather polarised industry.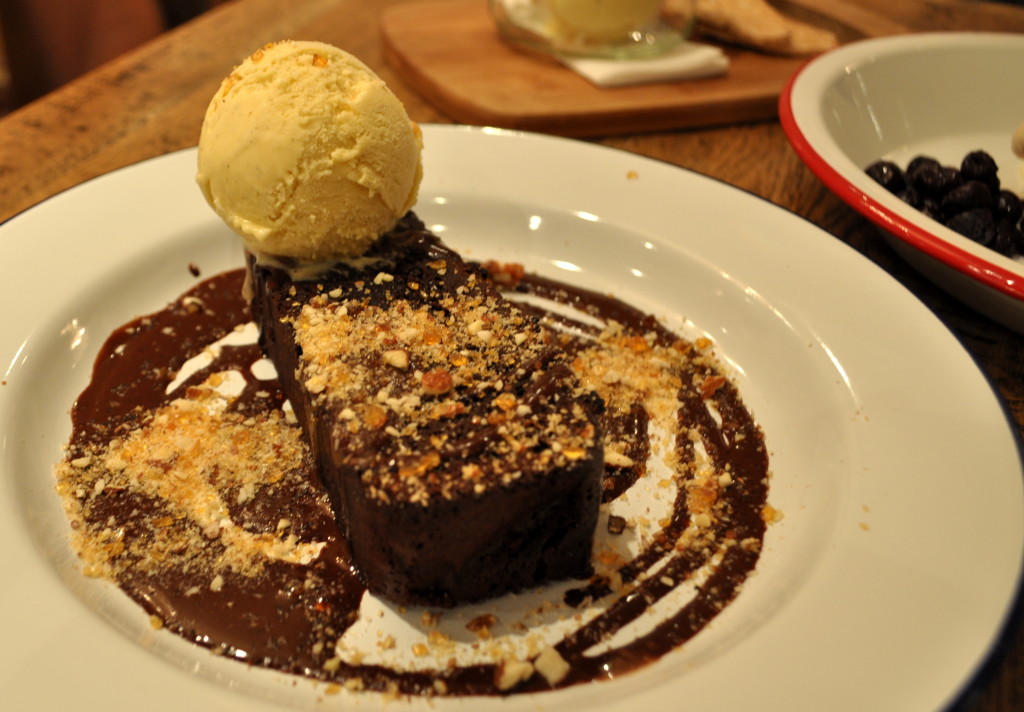 That brownie is life-changing, I swear. Of course we all loved every dish that was served. But we were all equally impressed by the cost of it all, how reasonable it was! This is largely thanks to Simon's mission to show that organics is delicious, sustainable, and affordable. I asked Simon what other projects he has up his sleeve, and I quickly got the impression that he doesn't like to stay still! Agape is continuing on with their spectacular themed Love Feasts (it sounds like there are some very exciting themes planned for this year!), they had plans to launch the Agape Brunch & Market (which have since started, on Saturdays), and Agape are also making organics accessible all around Sydney with a second food truck!
Where you can find Agape:
Agapé Organic Restaurant & Bar
1385 Botany Road
Botany NSW 2019
(corner of Botany Road and Bay Street)
Website: www.agaperestaurant.com
Facebook: www.facebook.com/agaperestaurant
And you can find their Food Truck wandering all around Sydney – keep an eye on their food truck facebook page for updates on the Food Truck location! (I highly recommend the Agape Food Truck's spelt rollers.)