Last Saturday, Sydney gained it's first (and only) real food restaurant and I was lucky enough to score a table on opening night. Chic Pea, a joint effort between chef and food wizard Fouad Kassab and the always smiling and ever-so-welcoming hospitality guru Hesham El Masry, is a Middle Eastern permanent-pop-up-restaurant of sorts with a strong basis in the philosophies of the Weston Price Foundation.
This means that the food served up at Chic Pea is pure. Unprocessed. Local. Seasonal. Traditional (and traditionally prepared). Sustainable. Nourishing. It leaves you feeling blissfully satisfied (tummy and soul). It means that virtually everyone can find something suitably delicious on the menu. The entire menu is gluten free, but you wouldn't know unless you already knew. That flatbread, those pancakes (fried in coconut oil, no less!)… perfection.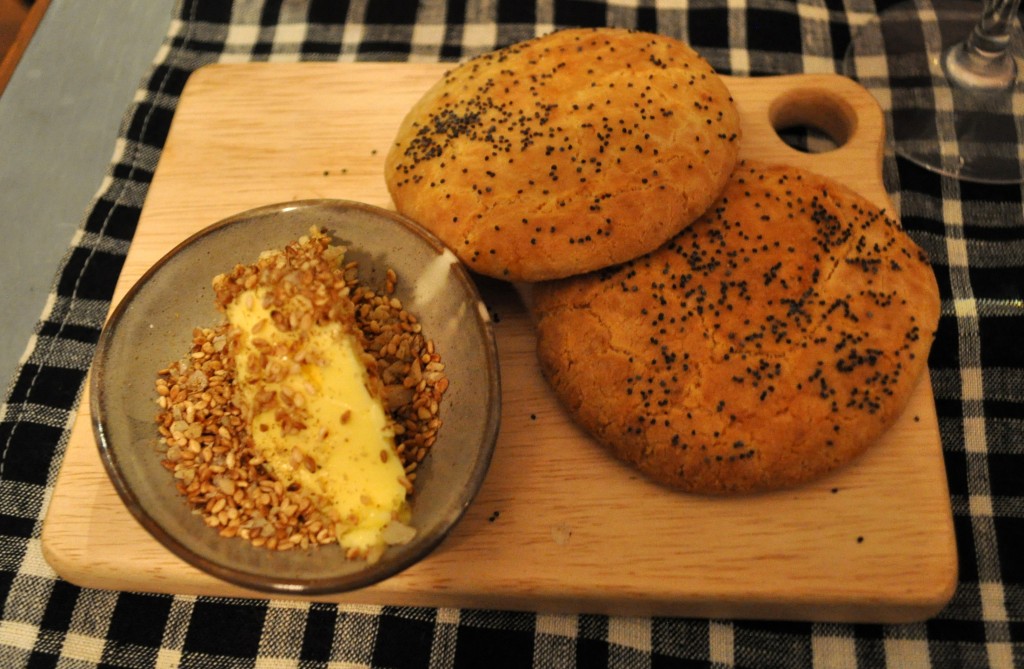 Almond and Potato Bread with Pepe Saya Dukkah Butter
Let's face it; I knew I was going to like Chic Pea. I had high expectations, knowing a little bit about chef Fouad before heading out there. Fouad, Hesham, and the rest of the team at Chic Pea took my high expectations and knocked them out of the park.
The food was incredible. The atmosphere was fantastic. The staff were fun and happy. All of which adds up to a superb dining experience. Perfect, I'd even call it.
Every dish was so well thought out, and the flavours played together in all the right ways. They all arrived on our intimate little table in the most well executed order. And always with a smile.
Roast Beetroot, Labna, Maple, Black Sesame
My dining partner (Yvonne) and I were blown away, dish after dish after dish. At the end of the meal, very full and happy, we had a good chat with Fouad. His story is absolutely amazing. Fouad came to Australia in 2001 and dove headfirst into the food scene, enjoying the enormous variety Sydney had to offer. He started a food blog, The Food Blog, back in 2006. A few years later, he found himself overweight and looking for a cure, which he found in a low carb diet. This led him to discover the philosophies of the Weston Price foundation, and a passion for real food as it should be. Fast forward to, well, now… Fouad's passion for real food has led him to this new venture, where he gets to live out his desire to feed people real food and to show them that it is delicious and no more expensive or difficult. He wants to show people how fantastic they can feel after eating a real food meal. But he admits, "it's really a very sad thing when a restaurant has to advertise that they serve real food." Indeed. It's about time a restaurant like Chic Pea came on to the Sydney dining scene.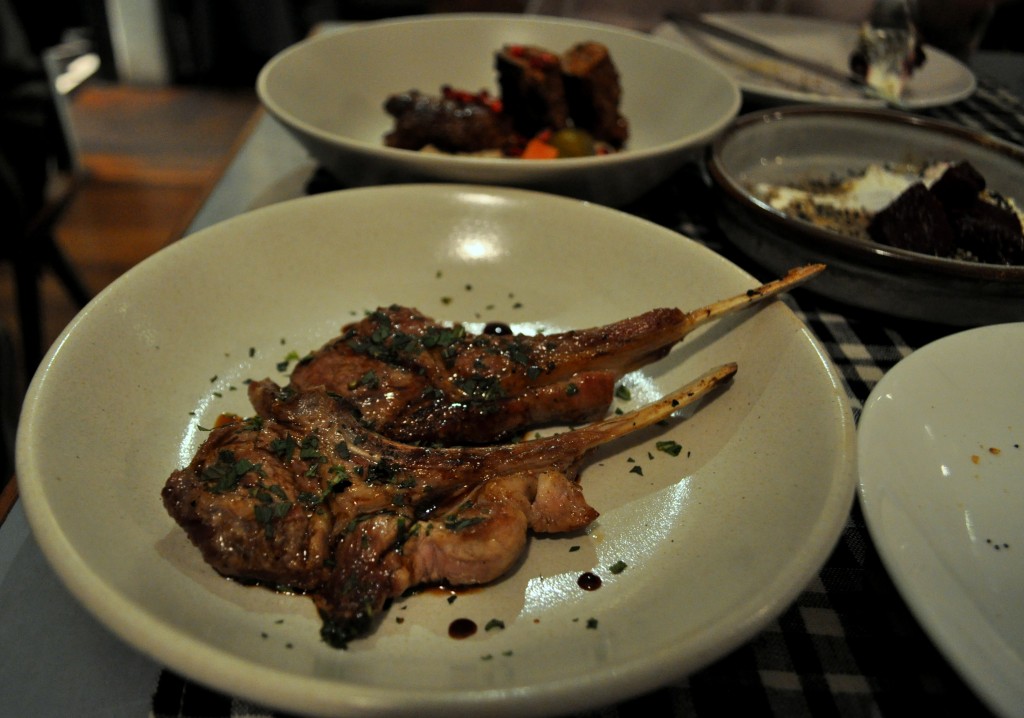 Perfectly cooked Lamb cutlets
This is Middle Eastern real food done fancy. It pays homage to Fouad's roots, as well as supporting local producers. As the menu stands at the moment, the Persimmons hail from Galston and the Figs from Glenorie. The clotted cream is made the old fashioned way; no industrial shortcuts. It shows real authenticity on a personal, traditional, and cultural level.
Fouad says himself, he is not a trained chef. I don't think anybody told his food that though, because the food seems to be under the impression that he is.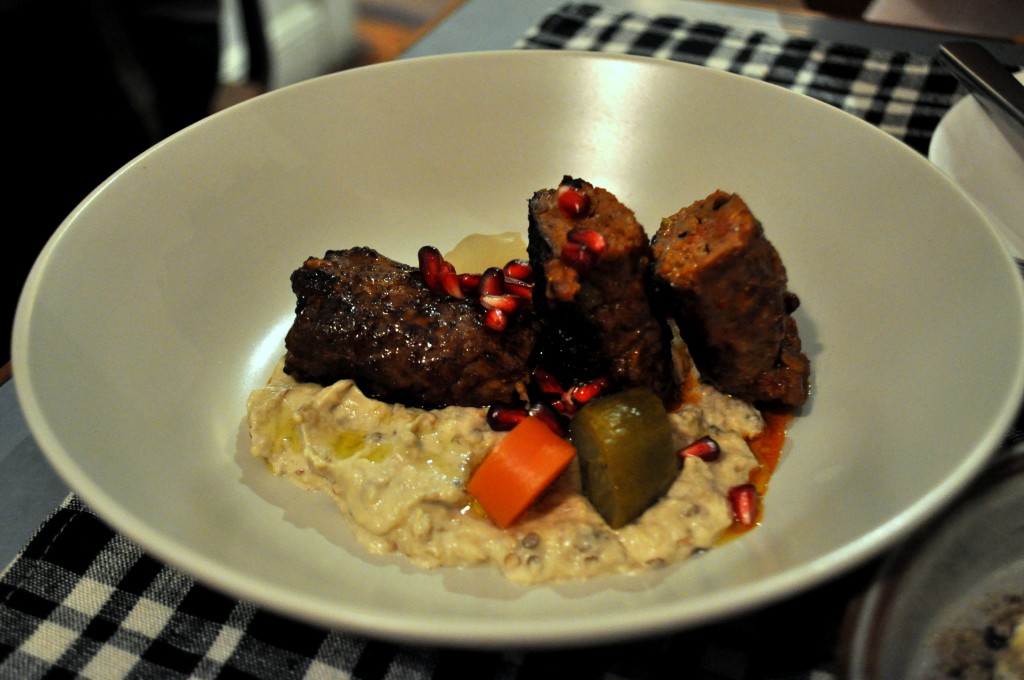 Our favourite dish of the evening: Beef & Lamb Kofta on Baba Ghanouj with Pickles and Pomegranate
Vital stats:
Real foodability: 5 out of 5
Flavour: 5 out of 5
Service: 5 out of 5
Cost: pretty good for a night out in Sydney! Mains hover around the $20 mark, but you'll want to order at least one side to share. Or two to share, because you'd have trouble choosing just one anyway!
Favourite starter: Yvonne and I agree, the beetroot on labna with maple and black sesame. Although we both really struggled to choose a favourite starter – the almond and potato bread with dukkah butter was amaaaaazing too.
Favourite main: We agree again, it had to be the kofta. This was the favourite dish of the evening, for both of us.
Favourite dessert: Yvonne – the cheese atayef with date molasses and walnuts. Me  – the rosewater ice cream, fig, persimmon, currants, and ashta with pistachios and local Summer Hill honey.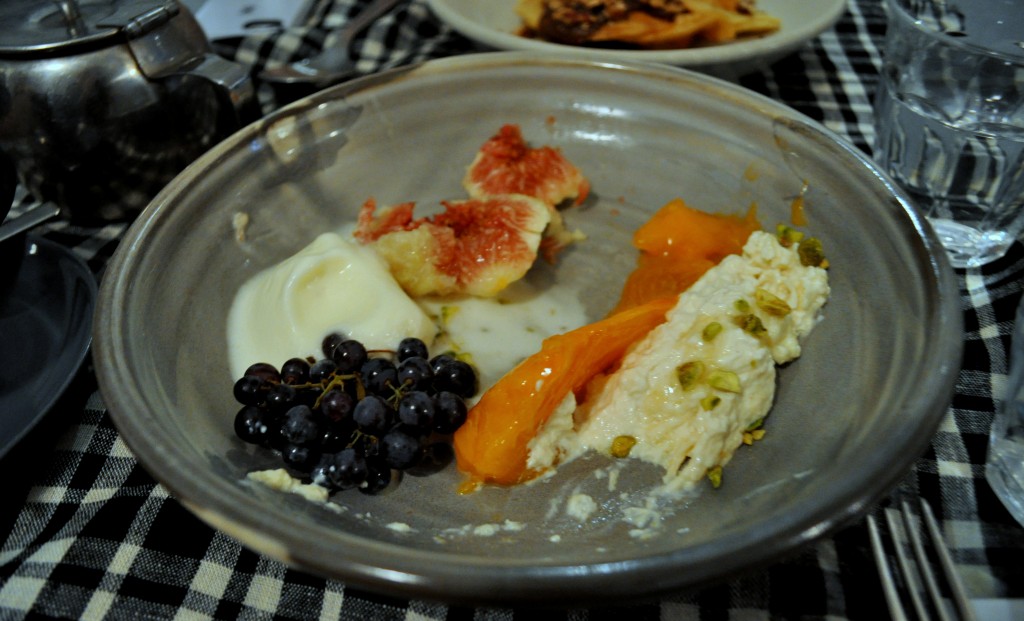 We got a little excited and forgot to take a photo! Rosewater ice cream, Fig, Currants, Persimmon, Ashta (Middle Eastern traditional clotted cream) with Pistachios and local Summer Hill Honey.
Big statement, but I'm making it: the new real food restaurant on the block, Chic Pea, is my new favourite place to eat in Sydney.
Chic Pea is operating out of a café in Summer Hill (called Plunge), and they are open on Friday and Saturday evenings. Café by day, restaurant by night. An awesome concept!
Chic Pea @ Plunge
46 Lackey St, Summer Hill NSW 2130
bookings@chicpea.com.au
(02) 9799 9666
Open Fridays & Saturdays, from 6:30pm
Find the details and menu on their website by clicking here and keep up with Chic Pea on facebook by clicking here.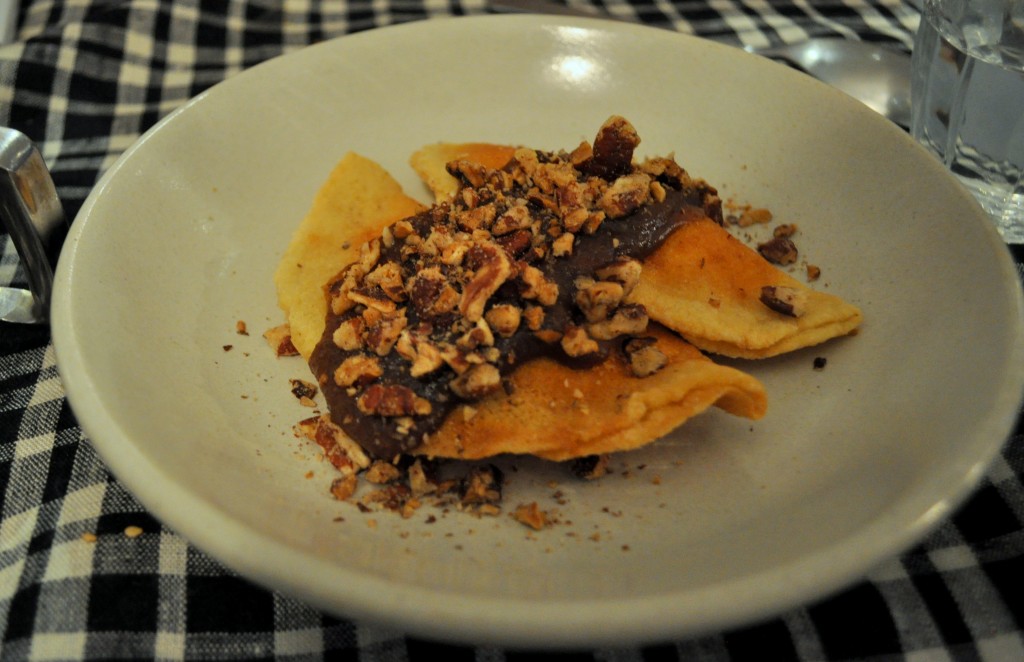 Cheese Atayef (fried in coconut oil!) with Date Mollasses and Walnuts