One weekend, not too long ago, I had a glut of kale and potatoes that were just crying out to be turned into something delightful.
We love kale, and we love potatoes. There are about a million ways to use both, but I wanted to do something new and exciting. Something that fused the two in a marriage of crunch and saltiness. Mashed potato with kale just wasn't going to fit the bill.
We love kale chips. The flavour and texture that kale takes on after roasting is amazing. It goes from just-another-green-leaf into a sure-fire-hit with a little bit of oil and heat. I wanted to combine that magic with the often misunderstood and misrepresented potato.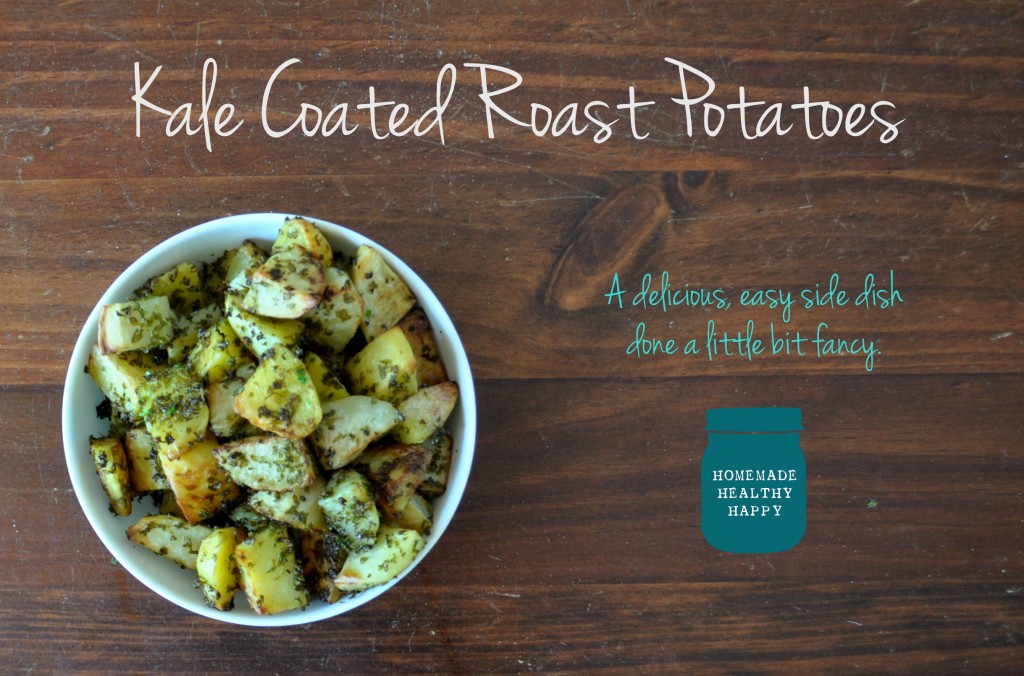 I don't judge. I love vegetables. All of them. I don't necessarily buy into the whole potato-is-empty-carbs or oh-my-goodness-all-that-starch that some 'health experts' spout. A vegetable is a vegetable, and they're all awesome. And besides, add a dollop of butter or cream and your potato becomes something completely different. Just like eating grains with fat or sugar with fat/fibre, these complementary nutrients work together in a way that not only tastes awesome but is more beneficial for your body, too. It's the difference between a low GI and a high GI food, for example. Add a dollop of fat to your potato, and it changes the way your body digests it. It will sustain you for longer. And did I mention it's delicious?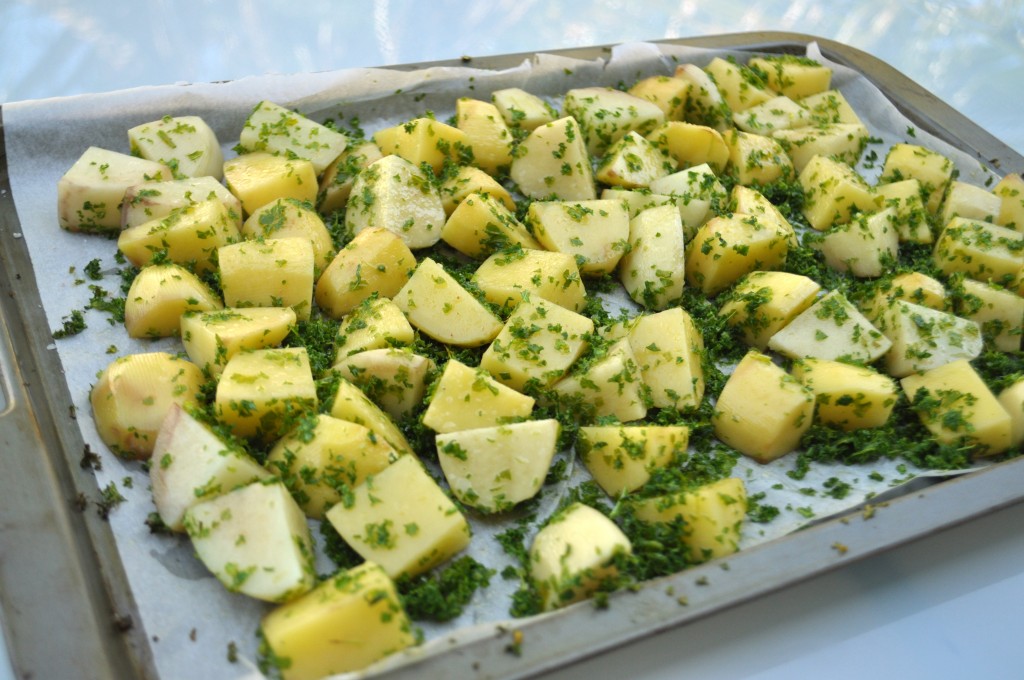 Anyway, I digress. Potatoes = still awesome. Kale = also awesome, especially when roasted.
This is a fantastic, easy, simple, low maintenance side dish. It is one of those dishes that is just so much more than the sum of its parts. Kale and potato together are so much more awesome than either of them are alone. And bonus extra serving of veg into the kids, too!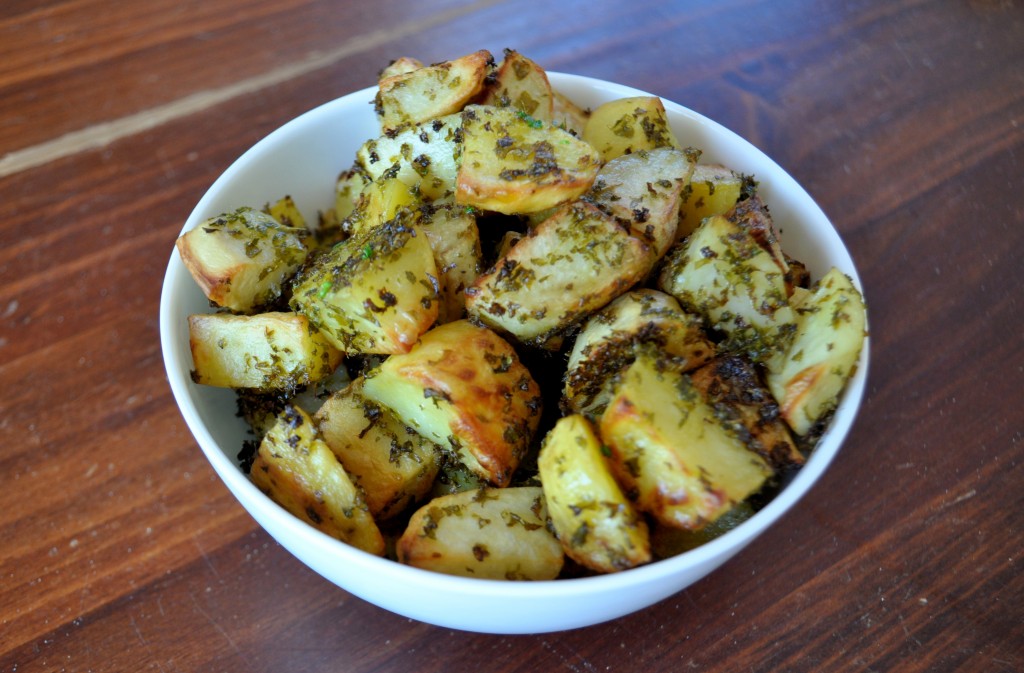 Yuuummmmm. I love how the kale gets dark and crispy right along with the potatoes. The perfect match. We always have a little battle over the leftover crunchy bits of kale on the tray once I have served these up on the plates.

Kale Coated Roast Potatoes
Prep time:
Cook time:
Total time:
Ingredients
1kg potatoes
40g kale leaves (weight after removing leaves form stem)
2 Tbsp olive oil
sprinkle of salt, to taste
Instructions
Preheat oven to 200 degrees Celsius.
Peel potatoes and chop into 2cm cubes.
Place kale leaves (thick middle stems removed) in TM bowl and chop for 10 seconds on speed 7.
Place potatoes on baking tray, tip chopped kale on top, drizzle with oil and mix to coat potatoes.
Add a sprinkle of salt and bake on 200 degrees Celsius for 50 minutes, until cooked through and lightly browned.
Enjoy!!
(This post contains affiliate links. I don't endorse products unless I believe they are fantastic, and I will always link to the actual brand of that ingredient that I buy and use myself. If I can find an affiliate link to a product that I use and love, I will use that link. If I can't find an affiliate link to a product that I use and love from a company that I support, I WILL NOT choose to promote another brand or company instead just so I can make some money. Rather, I'll find a regular old link to the brand that I love. It's nice to earn a tiny bit of money for what I do, but integrity and honesty is more important to me. Affiliate links don't hurt, they're not scary or spammy, they don't try to sell you enlargements of certain body parts, and they don't cost you anything. If you click an affiliate link and you like what you see and decide to buy something, I get a tiny little bonus at no extra cost to you. Affiliate links keep food on my table so that I can keep posting awesome recipes for you.)