I have been on the hunt for the perfect choc chip substitute for… well, a long time. Last time we were in the US, I came across these ones which use my 'sugar' of choice – rapadura sugar. Rapadura sugar is essentially the unrefined and evaporated juice of the sugar cane plant. Sure, it is still sugar cane… but it's so much less refined, heat treated, etc (not to mention it isn't bleached!) AND there's much more nutritional value when compared to the empty calories of white sugar. Honey or maple syrup are even better, but I don't take issue with rapadura on the odd occasion.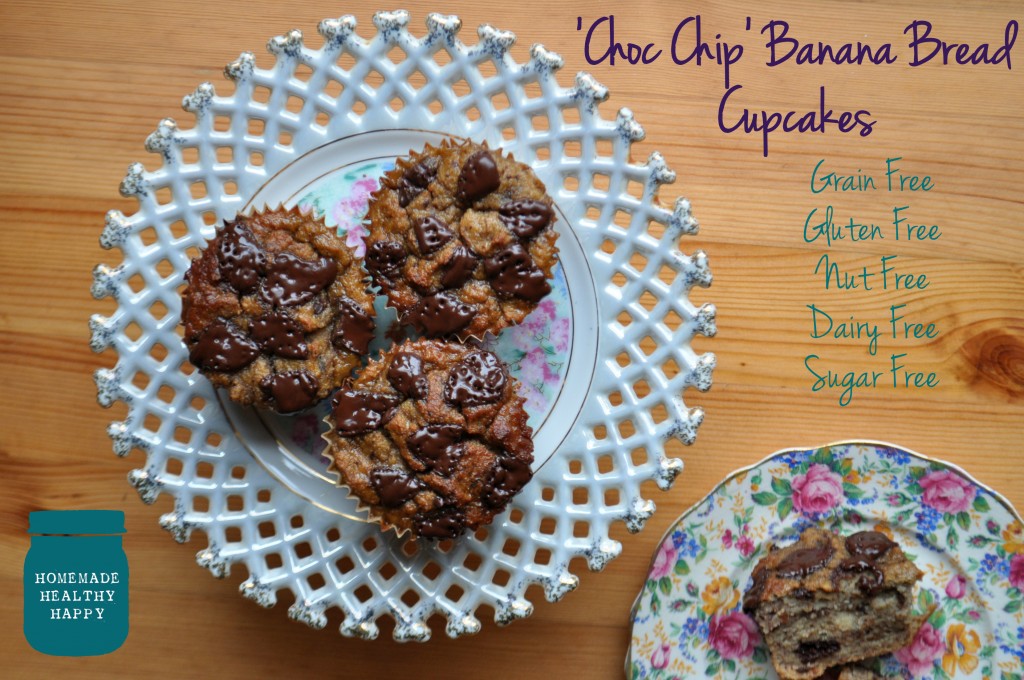 So naturally, when I found those rapadura-sweetened, gluten free, soy free choc chips I was overjoyed… and then we came home from our holiday and couldn't find them in Australia. Amazon won't ship them here. Booooo. And they'd probably melt into a block on their way here anyway! [NOTE: You can now buy these in Australia!!! Click here to get them.]
But then. Then I found these ones. NO SUGAR AT ALL (and no nasty, overprocessed  sugar substitute either). JUST cocoa butter & cocoa powder. Conveniently pre-shaped into big buttons, that can be easily quartered to make sugar-free choc chips. Sugar-free perfection.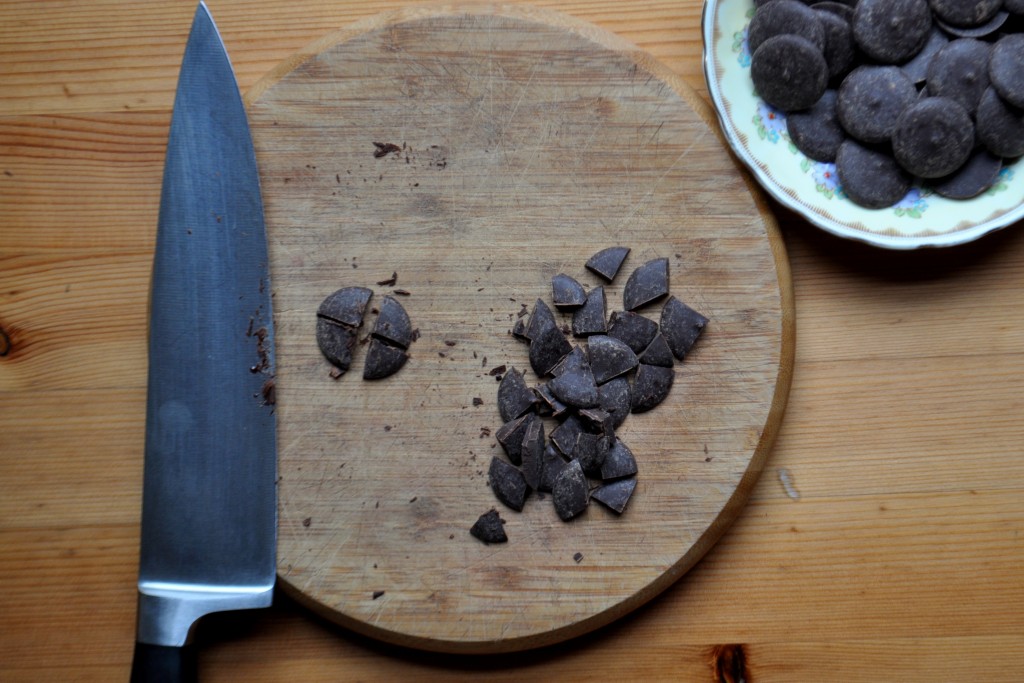 Now, if you're not a dark chocolate fan, then these aren't for you (at least not as a choc chip replacement, but you could still use them to DIY homemade chocolate). There's no sweetener in them, so obviously they're going to be bitter. I love that. So does my 5 yr old. We compensate a little by upping the sweetener in recipes that we add them to. Good enough for us. Actually, way better than just 'good enough'. They're fantastic.
Before finding these, I used to kid myself that cacao nibs made an okay choc chip replacement. But… obviously… yeah, they're fine. But they're not fantastic. These sugar-free cacao wafers are fantastic. You should get yourself some by clicking here, but you should also scroll down and you might win yourself a pack of them!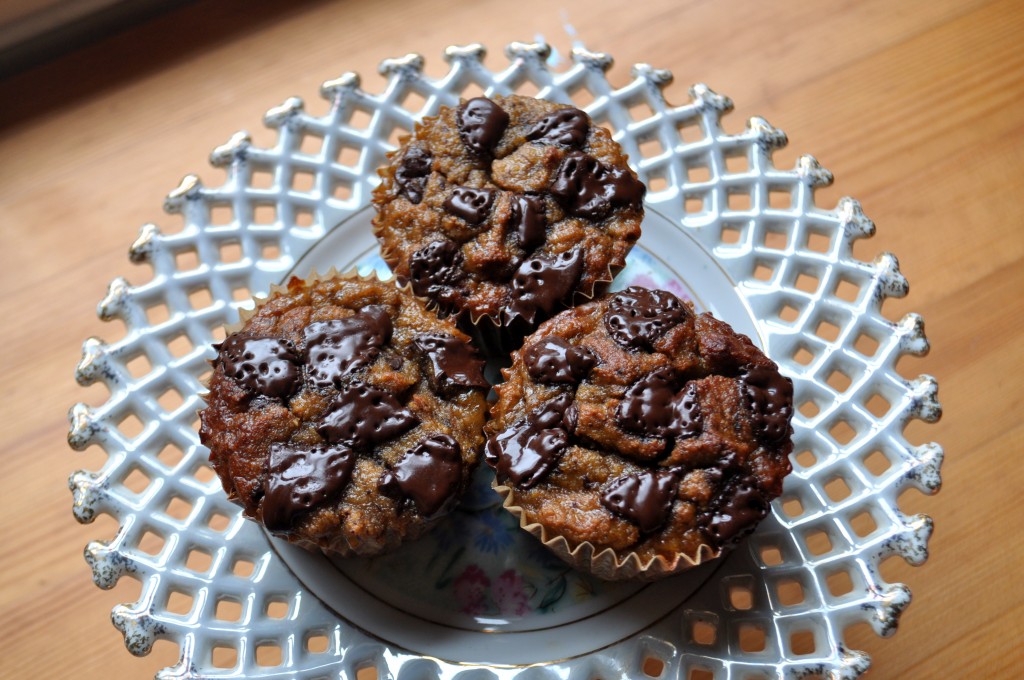 When I was a kid, my dad used to make an amaaaaazing choc chip banana bread. I loved it. I always ate the whole thing, as early in the day as I could. Apparently it was prime trading material for my sisters; they say they could get anything from another kid's lunchbox with that banana bread. Yes, it was that good. When I fiiiinally found a suitable choc chip replacement, I just had to try my hand at recreating them. The problem is, dad's recipe is all wheat. Wheat doesn't work for us. No gluten flour does, really – unless it's been sourdoughed first (yes, sourdough is now a verb). And I didn't have any active sourdough starter. Besides, we're kind of having a little break from gluten-containing grains. Just a temporary fling, I assure you. I really wanted to try my hand at a grain free choc chip banana bread that rivalled the gluteny, sugary one of my childhood.
Until recently, I haven't really been a fan of coconut flour. The first recipe that I ever tried using coconut flour was a coconut flour brownie. No. Just no. Noooooo.
Coconut flour doesn't crisp up. You won't get that fudgy inside and crusty top. Thus, not a brownie. It was cake pretending to be brownies. The liiiies. And, to be honest, it wasn't even good cake anyway. Dry, crumbly… Not good cake, and definitely not a brownie. Coconut flour quickly fell out of favour with me when a couple of other things just didn't work out right either.
And that was a shame. I wanted to like coconut flour, I really did. So I decided that if how other people cook with coconut flour wasn't pleasing me, I had to wade into the deep end and figure out this fandangled new coconut flour thing on my own.
Not gonna lie… A few first attempts were pretty terrible. We had a cake which was light and fluffy on top, but total thing layer of sweet and eggy almost-quiche on the bottom. Uh-uh. We had all kinds of too-wet or too-dry or too-coconutty baked goods. Lumpy stuff that should have been good. And so it goes… Until one day, I figured it out.
And these Grain Free Choc Chip Banana Bread Cupcakes were born. Coconut flour is back in my good books, thanks to this recipe. YOU should try it.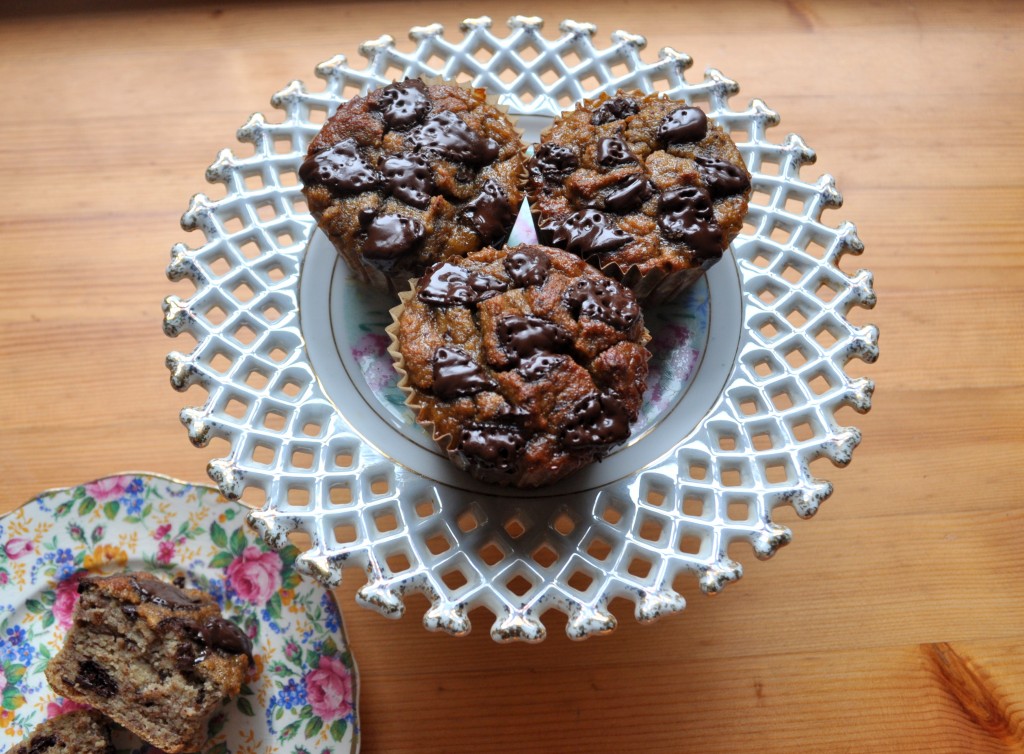 Choc Chip Banana Bread Cupcakes (Grain Free)
Prep time:
Cook time:
Total time:
Instructions
Preheat oven to 180 degrees Celsius.
Place bananas in your Thermomix bowl and mash for 4 seconds on speed 4.
Add remaining ingredients (except cacao wafers!) and mix for 8 seconds on speed 4.
Let cake mix rest for a few minutes to thicken. Meanwhile, use a sharp knife to quarter your cacao wafers.
Add cacao wafers to Thermomix bowl and mix through on reverse, speed 3 for 5 seconds.
Scoop mix into a lined cupcake tray, filling all the way to the top as they won't rise all that much. Bake for 45-50 minutes, or until cooked through (skewer inserted in middle of cupcake comes out clean) and lightly golden on top.
Allow to cool in muffin tin for 10 minutes before removing to a cake rack and cooling completely.
Now, I KNOW you all want a free pack of cacao wafers now, so you can give this a whirl. The great news is, the Changing Habits team has donated a pack to one of my wonderful readers! Wahooo! SO, enter below for your chance to score a free 500g bag o' wafers.
Giveaway closes Friday the 25th of April, 2014, at midnight. Aussie residents only. Go forth and enter!
Good luck!
Don't forget to comment below AND click the button in the rafflecopter entry gadget thingo above, to enter the draw.
Your question: What would you make if you won the pack of Cacao Wafers?
(This post contains affiliate links. I don't endorse products unless I believe they are fantastic, and I will always link to the actual brand of that ingredient that I buy and use myself. If I can find an affiliate link to a product that I use and love, I will use that link. If I can't find an affiliate link to a product that I use and love from a company that I support, I WILL NOT choose to promote another brand or company instead just so I can make some money. Rather, I'll find a regular old link to the brand that I love. It's nice to earn a tiny bit of money for what I do, but integrity and honesty is more important to me. Affiliate links don't hurt, they're not scary or spammy, they don't try to sell you enlargements of certain body parts, and they don't cost you anything. If you click an affiliate link and you like what you see and decide to buy something, I get a tiny little bonus at no extra cost to you. Affiliate links keep food on my table so that I can keep posting awesome recipes for you.)