The end of the passionfruit season in Sydney is almost upon us. Some vines aren't so crash hot right now, others are still producing that last lot of fruit before it gets too cold. So, if you have a vine and some passionfruit to spare, I'm giving you a most delicious way to use the last of the crop!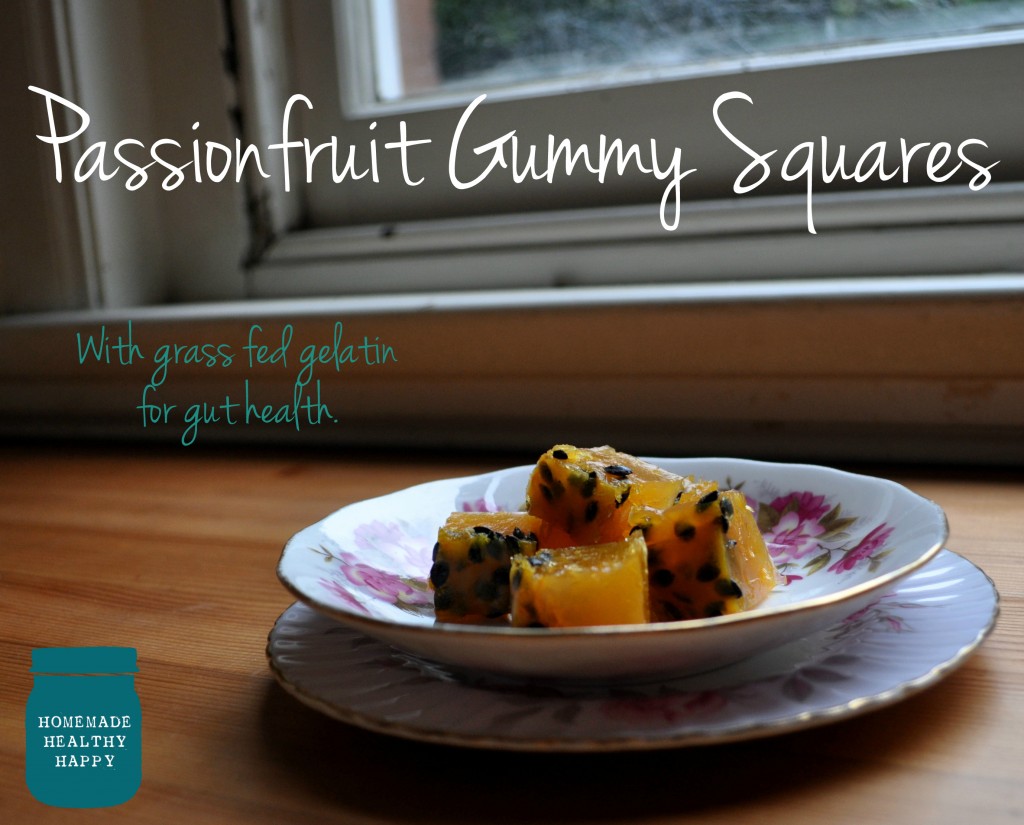 And not only that, but it gives you and the kids a gut-healing boost, by way of grass fed gelatin. Since moving away from a traditional diet, our society just doesn't eat enough gelatin. Gummies are certainly the most delicious way to up your gelatin intake, but you'll get even bigger benefits in sourcing it straight from the horse's mouth… or, the beef/lamb/pork/chicken bones, rather. Bone broth is by far the best way to get this all-important collagen and gelatin into your body, but even slow roasting meat on the bone and serving the whole thing up is much better than the all too common quick-seared bone-free steak or chicken breast. Don't forget to serve up the melty connective tissues and delicious pan juices – these are the hot spots for gelatin and collagen. And get a narrow fork or a knife to scoop out that bone marrow, too. Waste not, want not.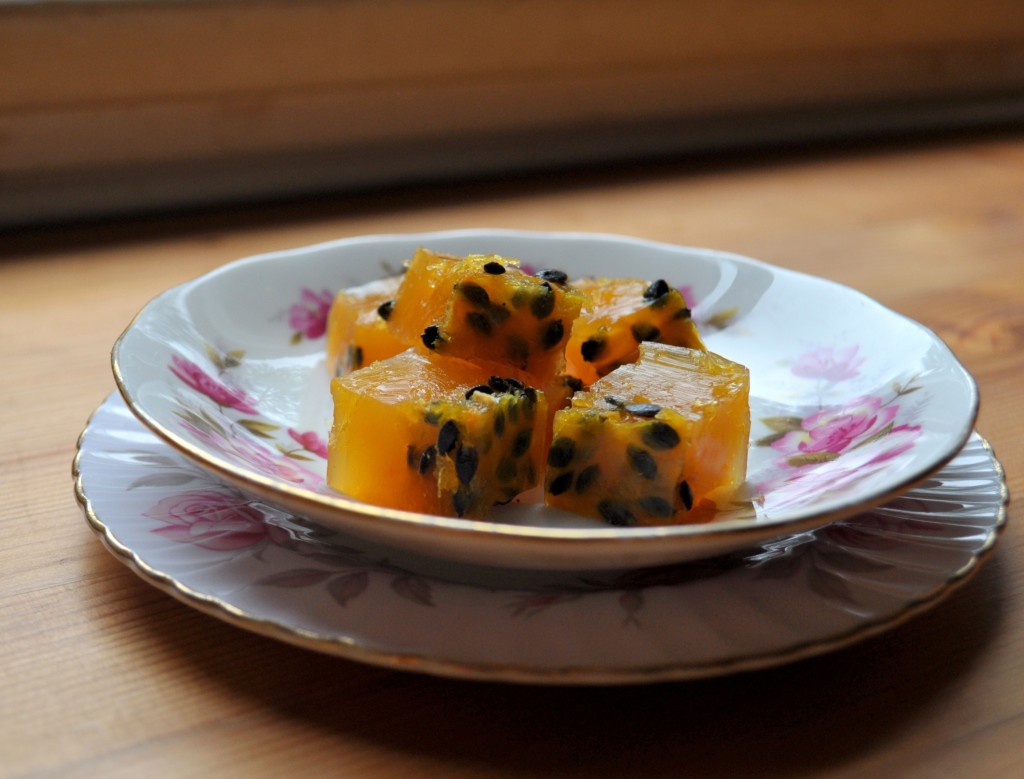 For those who like a side of scientific study with their roast dinner – here's just one recent study you may like to have a look at, in which gelatin is suggested to reinvigorate the mucus lining in the intestines, thus decreasing intestinal permeability and managing gut microflora. The research on gelatin coming out now is fascinating. There's plenty out there, and more to come as the nutrition world wakes up to our traditional food cultures.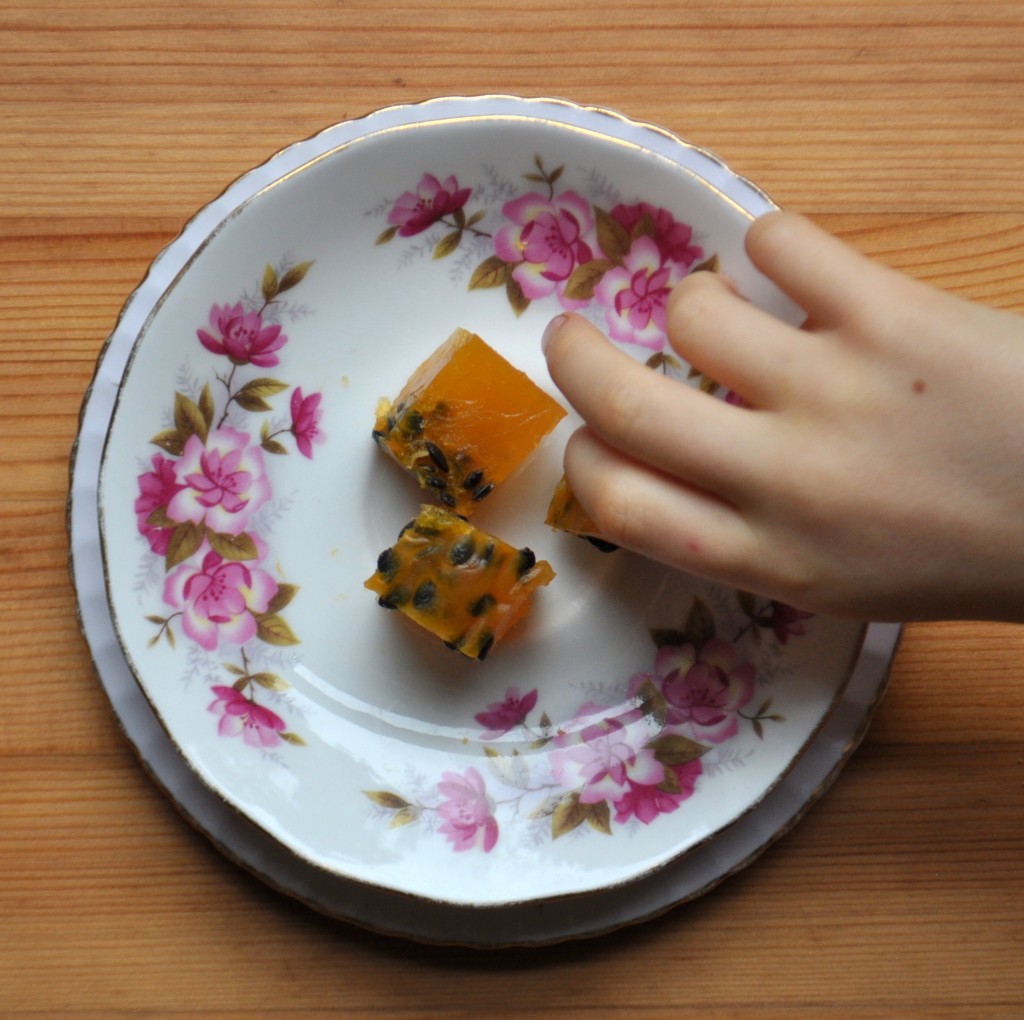 But for now – get yourself some grass fed gelatin and eat more gummies!!

Passionfruit Gummies
Prep time:
Cook time:
Total time:
Ingredients
2.5 Tbsp powdered gelatin - I use this brand as it is grass-fed and contains no preservatives
250g passionfruit pulp (approx. 10 large passionfruit)
50g maple syrup
1 tsp vanilla extract
200g water plus extra to bloom the gelatin
Instructions
Measure out 160ml water into a small bowl. Sprinkle 2.5 Tbsp powdered gelatin over the top and let it sit while you cook up the passionfruit mix.
Line a loaf tin with baking paper.
Place passionfruit pulp, maple syrup, vanilla extract, and 200g water in your Thermomix bowl. Cook for 5 minutes on 100 degrees, reverse, speed 1.
Add gelatin and water to passionfruit syrup and mix for 30 seconds, reverse, speed 3.
Pour mix into lined loaf tin and place in the fridge for 2-3 hours, or until set.
With a sharp knife, slice your gummy loaf into small cubes and store in an airtight container in the fridge.
Notes
If you don't own a Thermomix, simply use a saucepan on the stovetop for the syrup - simmer gently on low for 5 minutes, stirring. Then mix your gelatin mix and syrup together in a mixing bowl with a spoon - mix well!

These will melt if left out in the sun, as there are no stabilisers or anything nasty added. Best eaten shortly after you take them out of the fridge - trust me, this will NOT be an issue!
For more gelatin-inspired recipes and ideas (including notes on how to make your own bone broth!)
check out this round up of gelatin recipes
I put together a while back.
Enjoy!!
(This post contains affiliate links. I don't endorse products unless I believe they are fantastic, and I will always link to the actual brand of that ingredient that I buy and use myself. If I can find an affiliate link to a product that I use and love, I will use that link. If I can't find an affiliate link to a product that I use and love from a company that I support, I WILL NOT choose to promote another brand or company instead just so I can make some money. Rather, I'll find a regular old link to the brand that I love. It's nice to earn a tiny bit of money for what I do, but integrity and honesty is more important to me. Affiliate links don't hurt, they're not scary or spammy, they don't try to sell you enlargements of certain body parts, and they don't cost you anything. If you click an affiliate link and you like what you see and decide to buy something, I get a tiny little bonus at no extra cost to you. Affiliate links keep food on my table so that I can keep posting awesome recipes for you.)