Okay, so maybe you already know this. But then again, maybe you don't.
After I posted my recipe for Nuoc mam cham (my real food version, that is, of a well known Vietnamese dipping sauce), a few people messaged me to ask – just how do you cook vermicelli so that they don't stick together?!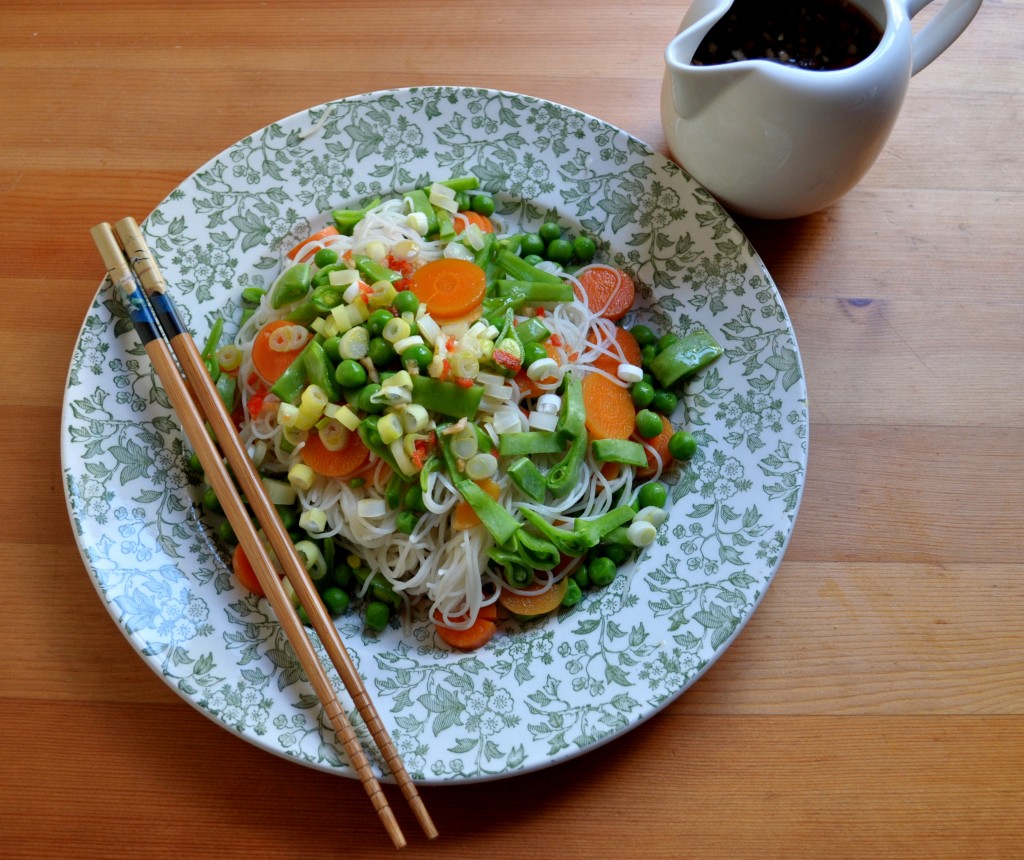 Oh, friends. I've been there. I've had undercooked, overcooked, and stuck-together-to-form-a-cooked-vermicelli-slab noodles before I figured out a few tricks to get it just right.
A few things that DON'T matter when you cook vermicelli:
1) It doesn't matter if you stir them or not. They won't stick. Put down the spoon! (Because, really, when you can get away with not… why would you?)
2) It doesn't matter if you put other stuff in with the noodles – and why not add extra stuff in?! Save on energy by boiling your veg with your noodles rather than cooking them separately.
3) It doesn't matter if you can't eat gluten. Rice vermicelli are… made of rice. Duh. Safe for most people. You can even get brown rice vermicelli these days, if you're into that sort of thing (but click here to find out why I'm not).
4) It doesn't reeeeeally matter what you put with them. They go with almost anything. They're awesome with almost anything.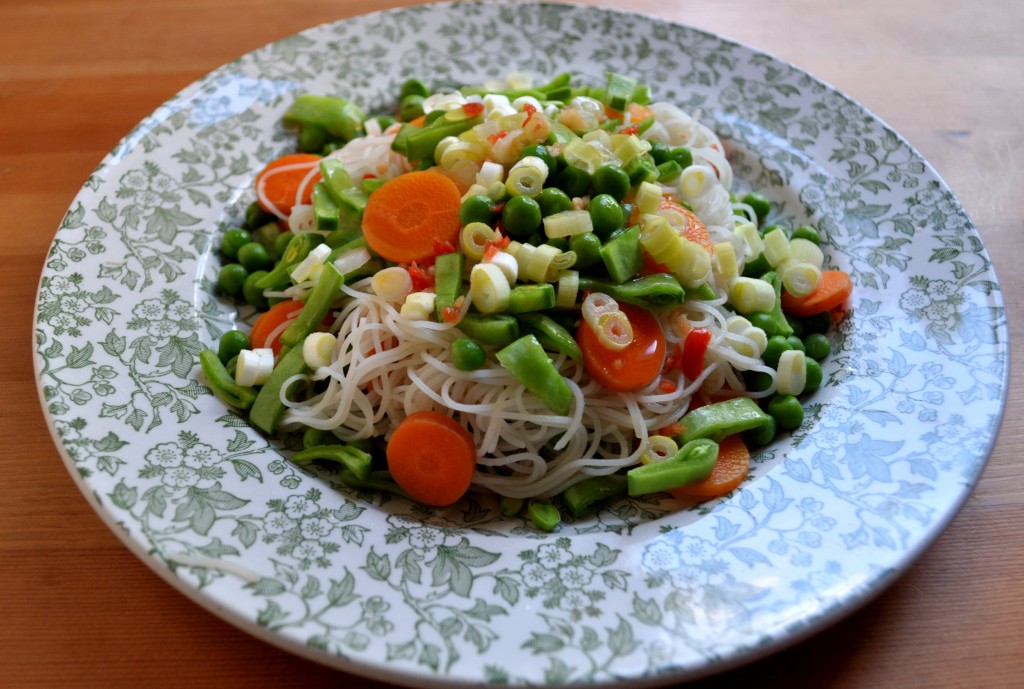 And now for the important bits. The bits that DO matter. The hard-and-fast rules of perfect rice vermicelli.
1) DON'T overcook them. This will encourage the starch to make its way out of the noodles. They will stick together.
2) Don't undercook them either, obviously, because that's just not nice.
3) As soon as your vermicelli finish cooking, get them out of the water and rinse well with cold water. If you're boiling them on the stovetop, just tip them into a strainer (over the sink!) and rinse under the cold tap. I like to cook mine in the rice basket in the Thermomix rather than directly in the bowl (refer to point 1 in the list of things that don't matter; you don't need to stir them!). Then, when they're done, I just lift the rice basket out and rinse them straight away. Super easy. This cold-water-rinse prevents them from continuing to cook as you finish up dinner prep; therefore they won't overcook and the starch won't start sticking.
4) As soon as you have rinsed them, tip them into a bowl and drizzle with oil (a good couple of tablespoons), and stir well.. This further helps to prevent them from sticking.
5) Pop a plate on top of your bowl (or get reeeeally classy and use a dish with a lid!). This keeps the noodles moist while they wait for everything else to happen.
6) And then eat them.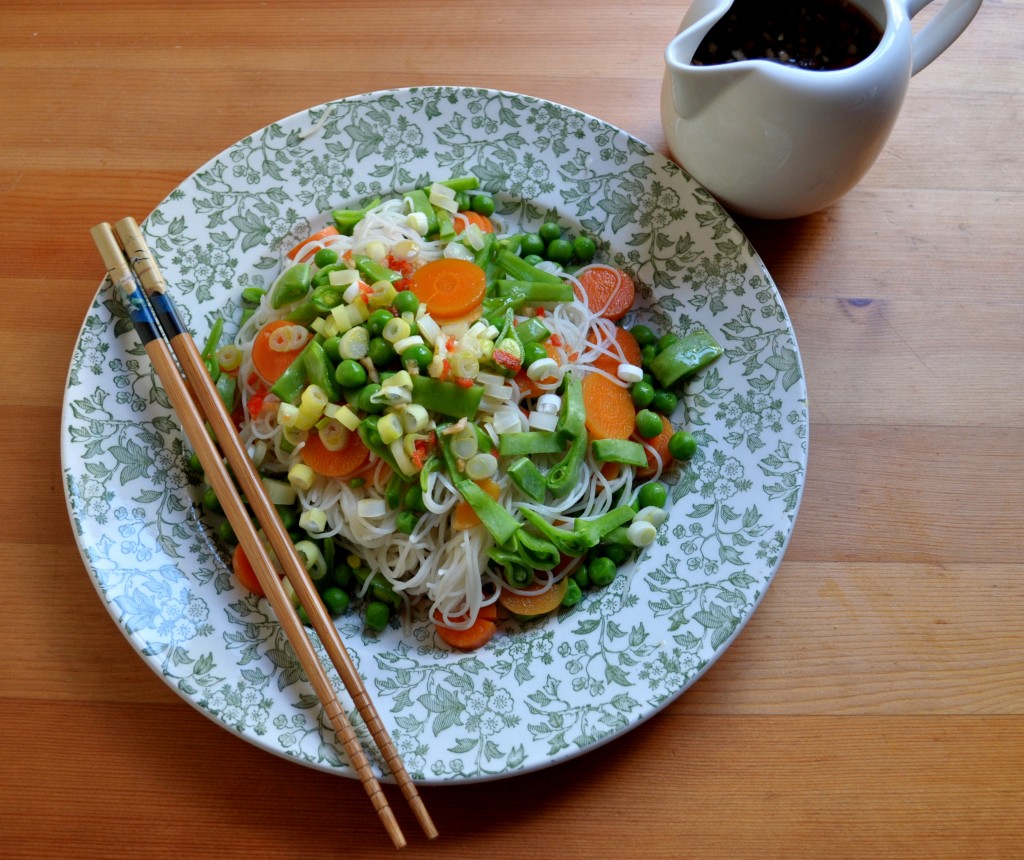 Those are my foolproof tips for cooking perfect rice noodle vermicelli. But because I know so many of you love a real, quantifiable recipe with, like, measurements and stuff… I've given you one below. You might want to make the Nuoc mam cham first though!
Perfect Vermicelli 'Stir Fry' with Nuoc mam cham
Prep time:
Cook time:
Total time:
An incredible easy and foolproof way to cook your rice vermicelli.
Ingredients
1.5L water
150g frozen peas
1 carrot, thinly sliced
100g rice noodles
2 Tbsp sesame oil
100g snow peas, chopped
2-3 spring onions, thinly sliced
Nuoc mam cham, to serve
Instructions
Weigh 1.5L water into your Thermomix jug and insert the rice basket.
Weigh peas and carrots into rice basket in Thermomix bowl. Cook for 12-14 minutes, 100 degrees, speed 2. Note: The important bit here is that the water reaches 100 degrees AND continues cooking at 100 degrees for a couple of minutes BEFORE the rice noodles go in.
Add rice noodles and cook a further 2 mins and 30 seconds, on 100 degrees, speed 2.
Once timer goes off, use the hook on your Thermomix spatula to lift out the rice basket. Immediately rinse noodles and veg well with cold water.
Tip noodles and veg into a bowl, and drizzle with 2 Tbsp sesame oil. Mix well, then cover bowl with a plate or lid while you prepare anything else or set the table.
Right before serving, stir through the raw snow peas and spring onions. Serve with a healthy drizzle of Nuoc mam cham (or a good quality Tamari, for kids who don't like spice).
 What is your favourite rice vermicelli recipe?
(This post contains affiliate links. I don't endorse products unless I believe they are fantastic, and I will always link to the actual brand of that ingredient that I buy and use myself. If I can find an affiliate link to a product that I use and love, I will use that link. If I can't find an affiliate link to a product that I use and love from a company that I support, I WILL NOT choose to promote another brand or company instead just so I can make some money. Rather, I'll find a regular old link to the brand that I love. It's nice to earn a tiny bit of money for what I do, but integrity and honesty is more important to me. Affiliate links don't hurt, they're not scary or spammy, they don't try to sell you enlargements of certain body parts, and they don't cost you anything. If you click an affiliate link and you like what you see and decide to buy something, I get a tiny little bonus at no extra cost to you. Affiliate links keep food on my table so that I can keep posting awesome recipes for you.)