I finally have the chance to post some pictures and recipes from Thanksgiving dinner! But keep in mind that these recipes are not at all limited to serving just once a year, and they're so yummy you won't want to limit them to once a year.
From left to right: Beetroot Salad, Baked Beans, Merguez-Spiced Slow-Cooked Lamb, Sweet Potato Souffle, Green Bean Salad. Everything was so yummy, and of course we all ate far too much.
The sweet potato souffle was just about the only traditional dish on the table, with lamb and both salads intended to give the meal a more Australian, summery feel. The green bean salad took inspiration from the traditional green bean casserole. The baked beans was a lighter take on the southern American bacon-y, molasses-y baked beans.
Baked Beans
Ingredients:
290g dried borlotti beans
900g tomatoes, quartered
1 large brown onion, quartered
2 cloves garlic, peeled
15g olive oil
2 tablespoons rapadura sugar
1-2 tablespoons TM veg stock
350g water
Method:
1) Soak beans overnight and pre-cook. (I put the beans in the rice basket, cover with water, and cook for about an hour on 90 degrees.) Take beans out, dispose of cooking water.
2) Put tomatoes in TM bowl. Puree on speed 8 for 10 seconds. Cook for 20 minutes on 100 degrees, speed 2. Set aside.
3) Preheat oven to 200 degrees celsius.
4) Put onion and garlic in TM bowl. Chop on speed 7 for 10-15 seconds.
5) Add oil. Cook for 3 minutes on 100 degrees, speed 1. Add cooked tomatoes, sugar, veg stock, water and beans. Cook for 15 minutes, Varoma, reverse, speed soft.
6) Transfer to a baking dish. Bake uncovered in the oven for 40 minutes to 1 hour until sauce reduces.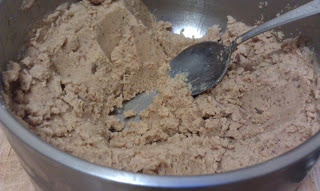 Then came dessert! We had Pecan-Maple-Vanilla Bean ice cream, a Frozen Mojito Cheesecake, and a Pumpkin Flan with Pecan Toffee.
Pumpkin Flan with Pecan Toffee
Ingredients:
700g pumpkin (this is the weight of the pumpkin after being peeled and seeds removed)
2 eggs
1.5 tablespoons cornflour/arrowroot
1/2 teaspoon cinnamon
1/2 teaspoon nutmeg
60g butter
1/2 cup rapadura sugar
1/4 cup honey/maple syrup
1/3 cup pecan pieces (or whole pecans, chopped)
Flan Method:
1) Preheat oven to 180 degrees.
2) Chop pumpkin into 2cm pieces and arrange in Varoma dish and tray. Put 1L water in TM bowl, steam on Varoma, speed 2, for 15-20 minutes.
3) Tip out cooking water, and put pumpkin in TM bowl. Mash on speed 5 until smooth (about 30 secs).
4) Add condensed milk, eggs, cornflour and spices. Mix on speed 4 for 20-30 secs until mixed and smooth.
5) Pour into a greased 20cm round pan (preferably springform) and bake in oven for 25-30 minutes until set. Leave in the tin on a rack to cool a little. Cover, and put in fridge to cool completely.
Toffee Method:
1) Put butter, sugar and honey/maple syrup in a saucepan. Stir over heat without boiling. Once sugar is dissolved, increase to high heat and boil rapidly until mixture is golden brown (about 10 minutes). Put baking paper on an oven tray, and spread pecan pieces onto baking paper. Pour toffee over pecans and cool. When ready to serve, crack toffee and sprinkle over flan.
This pumpkin flan is a nice, summery variation on the traditional pumpkin pie. Not too sweet, but so yummy!
I hope everyone is having a fantastic week and doing lots of delicious cooking! 🙂