I love Brussels sprouts. I think they are the cutest of vegetables – like teeny tiny little baby cabbages! And they're also delicious.
But not everyone would agree with me on that! Some have a burning hatred for Brussels sprouts. Probably those people whose mamas or papas served them up platefuls of boiled-til-they-can-be-boiled-no-more soggy, stinky sprouts… whose mamas or papas said they had to stay at the table eating their ever-colder, ever-stinkier over-boiled sprouts until their plate was clean. Totally get how that could set you up for a lifetime of carrying a Brussels sprout grudge with you.
I'm here to change that. These sprouts are nothing like the over-boiled sprout of your childhood. These are cheesy, buttery, salty, sometimes crunchy, always delicious smashed sprouts.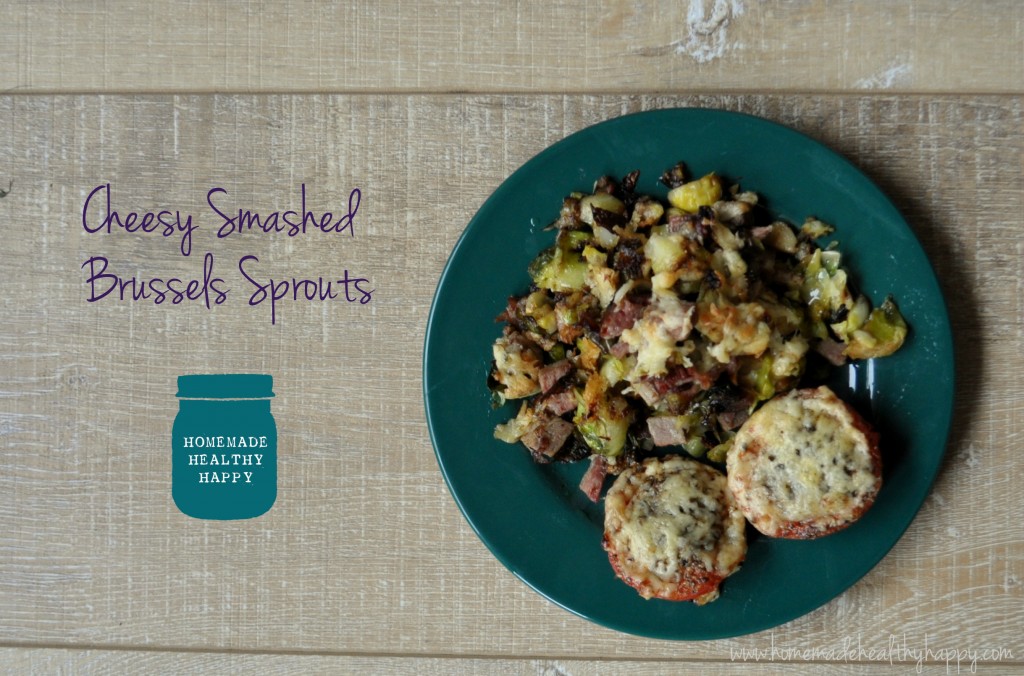 Sometimes a snack, sometimes a side dish, sometimes a meal in their own right… these sprouts are quick to prepare and require hardly any ingredients. You can improvise too – use bacon instead of leftover roast meat, or omit the meat completely! Add some halved cherry tomatoes right before sprinkling the cheese on top. Add some chopped up leftover roast sweet potato. Add some dried herbs. Go with the flow, things are hardly ever cooked the same way twice in this kitchen!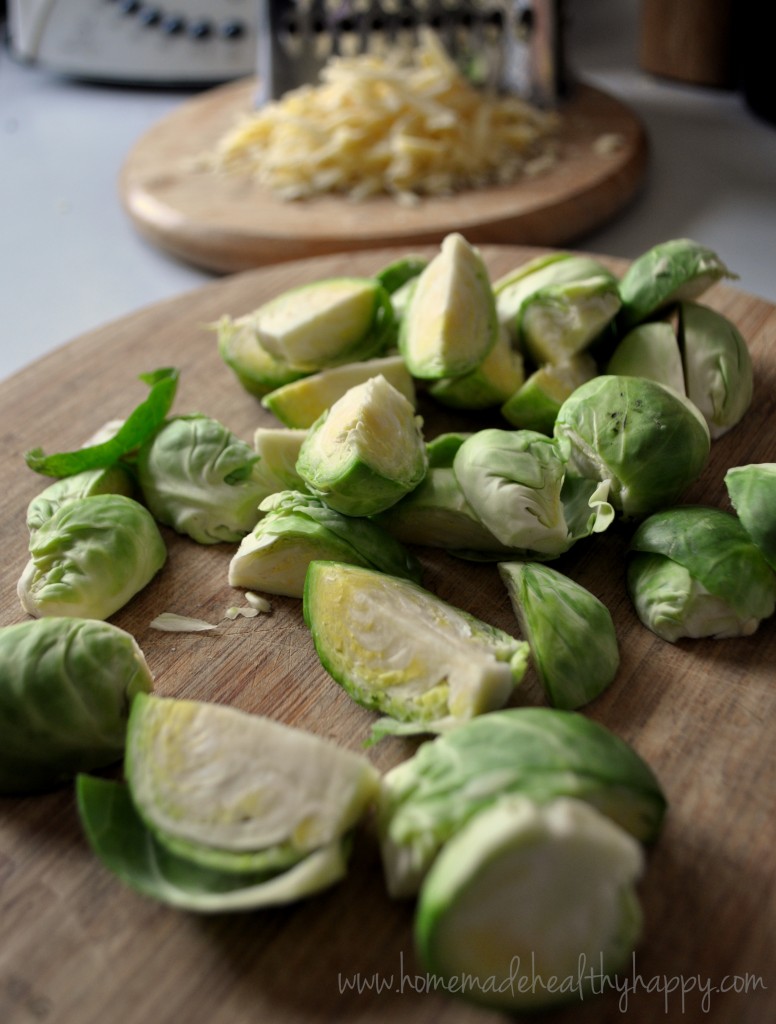 If you're lucky, you can even get the kids cooking this one. It's SO easy and straightforward, not to mention plenty of fun when it comes time to smash them sprouts!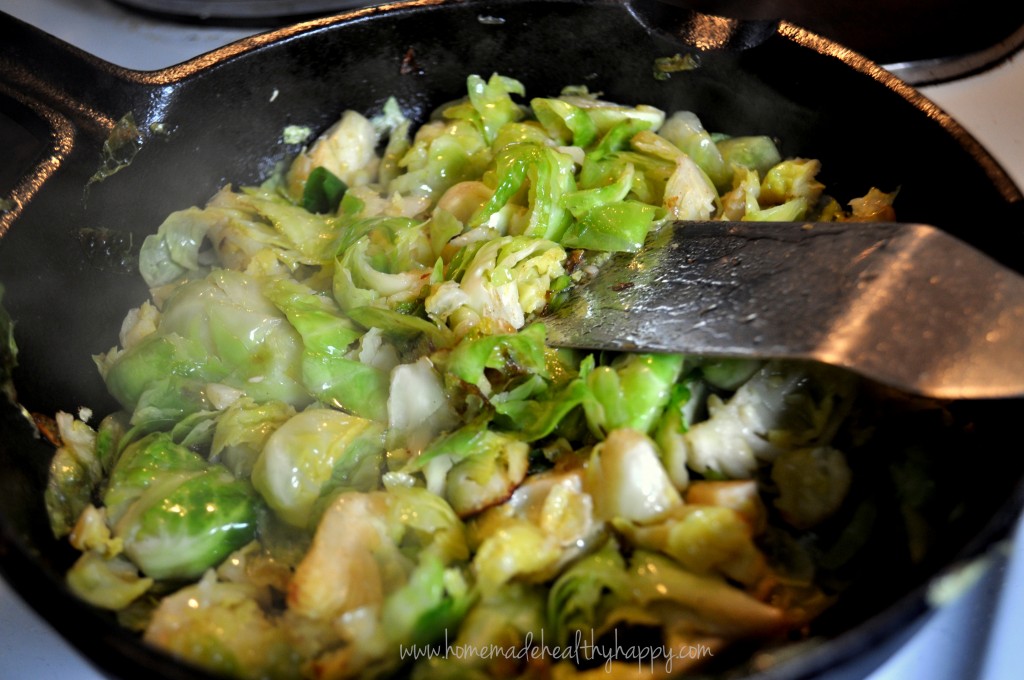 Or a great way to safely release any of your own frustrations. Not saying that's the case here, but, you know… just sayin'…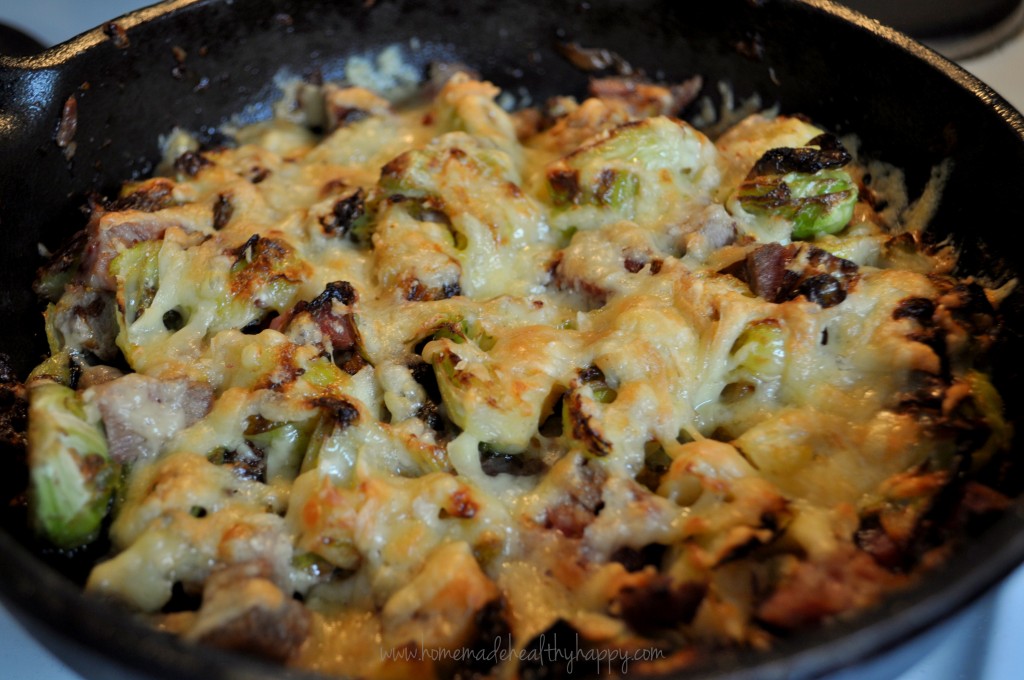 The outer leaves of the sprouts start to go brown and crispy (yummmm), and become almost reminiscent of the delightful kale chip. I think that's what really sold this dish to my 6 yr old. Well, that and the grilled cheese on top. Maybe both. But the sauteeing (rather than boiling or steaming) of the sprout definitely helps avoid that over-boiled issue that some of us know all too well. Lightly cooked and lightly browned then smashed, they're like a different species of vegetable altogether.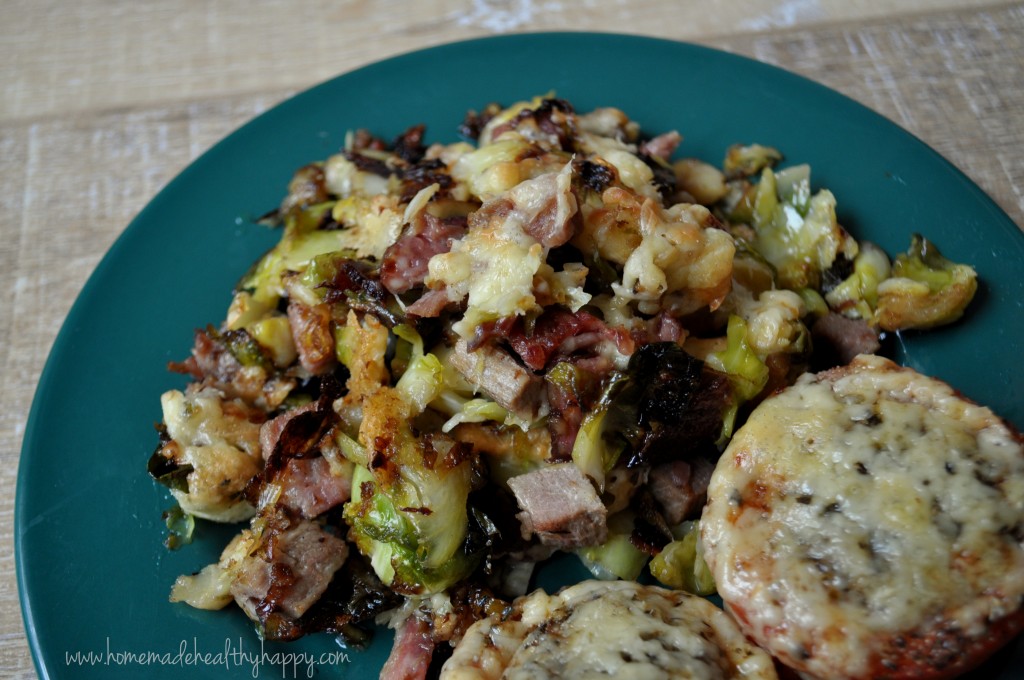 Try them. Face a fear today. You'll be a new person, a sprout lover, by the end of the meal!
Cheesy Smashed Brussels Sprouts
Prep time:
Cook time:
Total time:
Ingredients
12-15 Brussels sprouts
1 Tbsp butter
¼ tsp garlic powder
½ cup chopped up leftover roast meat
½ cup grated cheese (we like a combo of vintage cheddar and parmesan)
Instructions
Turn your oven on to the ideal cheese-melting-and-browning grill setting (I find this is so variable across so many ovens, and some only have one grill setting anyway - on or off!).
Trim the stem end off the sprouts and peel away any bruised and battered outer leaves. Halve the smaller sprouts and quarter the larger ones.
Heat the butter in a pan (on low-medium heat for cast iron, or medium for stainless steel), then add the Brussels sprouts and garlic powder. Cook, stirring occasionally, for approx. 5 minutes until the sprouts start to brown lightly.
Take a stainless steel egg flipper and use the edge to smash (and partially cut) the sprouts in the pan. There is no rhyme or rhythm to this part - just don't smash them too much. Smashed, not chopped or mushed!
Add the leftover roast meat and give it a quick stir, cooking for half a minute to warm the meat through.
Sprinkle your grated cheese on top, and pop your pan in the oven under the grill until the cheese is bubbly and browned.