Tyler received a special package in the mail a little while ago. He was SO excited to see his name on the front.
One of my customers and friends had sent him a little gift. Sarah runs an amazing business called Belles Familles, and she stocks a great range of amazing kids, parents & eco items. Head over there and check out her stuff… But we are here today to discuss just one awesome item in her shop. The KiddiKutter.
The KiddiKutter is not sharp – it works like a saw, rather than a blade. So kids can cut through produce without ever cutting their fingers.
Now, I have to be honest – I heard about these quite some time ago and didn't think much of them. And ironically, it's now, when Tyler has started learning to use sharp knives and I have started trusting him with sharp knives, that I view this as an essential kitchen tool for kids.
That sounds a bit upside down and back to front, right? I'm here saying I let my 5yo use sharp knives, but I'm actually telling you that a blunt knife like the KiddiKutter is essential. Whaaat?
The biggest reason is – because I'm not always right there.
I absolutely think that kids need to learn to use sharp knives and use them safely from a young age. Which is why I let my 5yo use sharp knives with very, very close supervision and assistance.
But I can't be there every moment. And most of the time sometimes, I'm in far too much of a rush to get dinner on, and I can't stand right next to him watching him like a hawk because he is using a sharp knife. I'm also the most terrifying monster you have ever seen in the mornings not really a morning person. T usually bounds out of bed with all the magical, ridiculous energy that children possess… and I hit the snooze button and hope for just five.minutes.more.
In these scenarios, I usually don't get my five minutes more. Tyler, ever energetic, is also ever hungry. His first sentence was, "I'm still hungry." He would wake up in the morning at 2 years old and the first thing he would say was, "I'm still hungry."
The KiddiKutter helps me get my five minutes more – and sometimes even more than that! While I nod back off to sleep for another sacred minute of sleep, Tyler heads into the kitchen. He pulls out his KiddiKutter and slices a banana into a bowl of yoghurt, or cuts up some kiwifruit or stone fruits. He cuts up a pear or an apple. He slices himself some cheese….  Ordinarily he would expect I jump out of bed with the same boundless energy he has, to do it for him at some early and ungodly hour. Not anymore. Liberation! Freedom! (Yes, that is precisely what 5 minutes of extra sleep feels like to me.)
And if I am in a hurry cooking dinner – I peel a sweet potato and hand it to him to chop with his KiddiKutter while I peel the next one or move onto the next thing. It means that I don't always have to be right there; it means that he can help chop things and I don't have to stop everything to watch.
(Tyler, chopping cheese and kiwi – yes, he loves his kiwifruit with the skin on *shudders*)
Does it replace knives for your kids? If you really don't want them to use sharp things, then definitely yes. If you're like me, and you believe kids should learn to use knives safely and respectfully, then also yes – because you can't be right there every single time they want to be involved in the kitchen.
I love for T to get involved, and if he asks to cut something, I love that I don't ever have to say no now – because if I can't devote every ounce of my energy to supervising him completely at that particular moment, he can just use his KiddiKutter instead. Gold!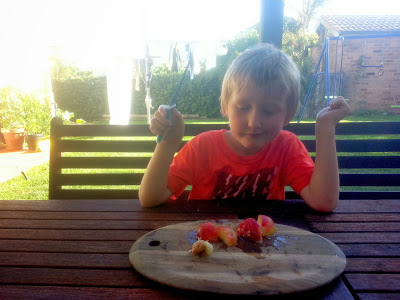 (Tyler, checking out his sweet chopping skills)
So, enough rambling from me now.
The good news for you is – you can win one! Sarah has so graciously offered to send a FREE KiddiKutter, in the colour of your choice, to SIX lucky readers! Wow.
And even better – I've designed this giveaway so you can really maximise your entries. Check out the rafflecopter below to see how you can get more than one entry into this awesome giveaway, just in time for Christmas!
*Aussies only, sorry!*
Happy entering! I will announce winners in the comments of this blog and on facebook also. Winners will need to contact me via email within 24 hours of winners being announced, to organise delivery of their prize. We are hoping to get your prize to you before Christmas!
Don't forget to comment below and tell us which colour your kids would love.
xoxo