In the midst of kitchen chaos this afternoon, I had a little lightbulb moment… Aha! This would be a really good thing to share with my lovely readers!
So tonight, I'm here to show you how I organise my fridge and my head around the sudden onset of fruit and veg galore that is my beautiful CSA box.
Not familiar with CSA? It stands for Community Supported Agriculture. And it's amazing. I love it because:
*we get organic/chemical free food CHEAP
*we eat seasonal
*we are directly supporting the farmers – Coles and Woolies do a fantastic job of doing the opposite of supporting Aussie farmers, so I'm glad to be able to let my money do the talking and support the farmers in a more stable and direct manner
*we are eating LOCALLY – fresher food, and less food miles
*the women in our CSA group are just amazingly beautiful souls, and it's always nice to catch up
*sometimes we get stuff we don't usually eat much of (and yes, this is a benefit, as it pushes you to eat a wider range of fresh produce!)
*less packaging – it comes in a cardboard box, items are only put in individual plastic bags if necessary, and we leave the boxes there to be reused
There are many more benefits, I'm sure, but those are the main ones for us. There is a lot to be said, in my opinion, for the 'life force' of our foods. Finding a way to increase that life force by eating fresher, seasonal foods that haven't been sprayed and haven't travelled goodness-knows-how-far is crucial for the body and the soul. But now I'm just wandering off on a tangent and getting just a little too hippy on all of you. 😉
Let's get back to business!
Every Wednesday, we pick up our CSA. It consists of a fruit and veg box (a choice of 3 sizes, I get the middle size), as well as dairy and some extras (i.e. herbs, rhubarb, bag'o'greens etc) if ordered. Tyler jumps around on the trampoline and has a blast while I chat and unpack the box into my insulated carry bags. Eventually we manage to leave. We get home with two very heavy bags, excited by all the fresh produce within.
We walk in the door, and chaos ensues. Momentary chaos, mind you. A big part of organising is to first unorganise.
I pull out the vegetable crisper drawer from the fridge. I empty it onto the hopefully clean floor (haha, a clean floor in a kitchen… does that even exist?!?). Then I empty the two bags of new fruit and veg onto the floor.
At this point, my kitchen looks something like this:
And a close up of all that stunning produce:
You'll notice two piles. On the left we have the perky new stuff. And on the right we have the less-than-perky old stuff. This is hugely important. If you come home with new fruit and veg and dump it in the crisper straight away, several things will happen:
1) you will forget what you already had in there
2) you will use the new stuff first, because that's on top and that's what you see and reach for first when planning dinner
3) if you do #2, then the old stuff lurking in the bottom of the crisper gets older still, and it gets too bad to even put into stock, and you chuck waste it
And let's not talk about wasting food. Didn't your mother ever threaten you with starving children in Africa?!? 😉
Anyway, then I pull out any remaining fruit and veg floating around in the fridge and add it to the pile of old stuff. We always have floaters. I could use one of those fridges with two vegetable crispers. Or a fridge that is just ALL vegetable crispers!
Some of you may have keen eyes. Some of you may have noticed in the first picture (go on, scroll up and have another look)… the chair. The chair with the paper and pen on it! Also hugely important.
As I pull out the old stuff, I write it all down on a piece of paper. As I unpack the bags of new stuff, I write down what I've got on the same piece of paper. In two sections, oh so eloquently titled "New Stuff" and "Old Stuff". Then I proceed to put the new stuff into the vegetable crisper first. New stuff at the bottom, so you use it last. Then add the old stuff in on top, so it gets used first. Anything that doesn't fit in the crisper gets shoved (methodically!) on a shelf somewhere.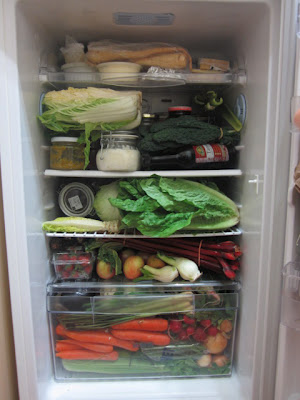 This is what we end up with. It looks like chaos, but it is actually very organised! In the crisper, we have new veg at the bottom and older veg at the top. The next shelf up has lots of apples (new at the back, old at the front) and other things which are too bulky to fit in the crisper (rhubarb, strawberries). The next shelf up has a big 3L glass jar of medjool dates, a tiny jar of umeboshi plums somewhere at the back, and a couple of heads of lettuce (including an older, scrawnier one which is at the front to be used first!). The top shelf has jars of sauerkraut and other things I have pickled, as well as stock paste, tikka paste, acai powder, whey, raw 'cream cheese' (homemade!), tamari, and a couple of other things that didn't fit in the crisper. Then the 'meat tray' has… not a lot of meat. I freeze our meat and get it out the night before to defrost. So in the meat tray we have homemade hommus, raw cream, a selection of raw cheeses, some oh-my-goodness-amazing organic prosciutto, and some parsnips(?).
Just for your interest, on the door I have: eggs, raw butter, miso, homemade mustard, raw milk, some more raw cream, an open jar of sauerkraut, sesame oil, and mushrooms.
But this next picture is the most important part!!!
At the end, you're left with a wonderfully thorough list of your fridge contents, and ideas buzzing around your brain! Perfect to start menu planning, no?!? You might find that you think of meals to use up your fruit and veg as you unpack it. By getting intimate with our purchases via unpacking them in such a methodical fashion, it forces us to really take note of what is going into our fridges, leaving us much less likely to forget what is in there and much more conscious of using everything up.I find that, by following this system, I waste less. It's also much easier to plan things, which in turn makes dinner so much less stressful.
To some, my fridge may still look like chaos after unpacking. To me, it's perfection. It is crammed to the brim with beautiful fresh produce instead of packaged junk. It's full of ingredients with which to make the most tempting of foods, not stuff wrapped in plastic masquerading as 'foods'.
Yes, I need a bigger fridge. Or yes, I could order a smaller box – but for us, the next size down just isn't enough. We go through A LOT of fruit and veg for two people. And besides, a bigger box keeps me on my toes, thinking of ways to use all my fruit and veg. I love a good challenge! And believe me, we do use all of it. If it doesn't get put into a meal, it gets pickled. That big chinese cabbage? Will be pickled. The bunch of beetroot that is in the crisper for now? Will be pickled. There are some purple carrots hiding on top of the punnets of strawberries, and they too will be pickled. Everything else will end up in our bellies over the next week somehow. I haven't officially started menu planning on paper yet, but my head is buzzing with the meals that await us.Oh, but wait! There's more! Did I mention we go through a lot of fruit and veg? Here's my fruit
bowl
counter: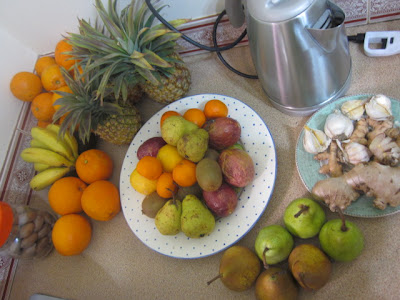 The oranges are split in two groups – one lot for juicing (at the back) and one lot for snacking. The fruit bowl in the middle always has a big mesh dome over it to keep the fruit flies away, so the older fruits (riper and more appealing to fruit flies) go under there as well as all stone fruits in summer (fruit flies loooove stone fruits), and we eat from under the dome first. Bananas either go on top of the dome or on top of some ripe avocados (that's what's going on here today), to speed ripening. The plate on the right has garlic, ginger and turmeric. The rest goes somewhere around everything. The pineapples will get juiced. When the pears on the countertop are ripe and some of the pears in the bowl have been eaten, then they will make their way under the dome too.My system works really well for me, because it pushes me to be even more conscious of not wasting foods. It ensures that nothing gets wasted. It makes menu planning so much easier, because I can sit down on a Wednesday evening with my list of produce and my head full of ideas.
I'm not blogging this to say 'you must all organise your lives and your fridge exactly this way, now!!'
I'm blogging this to share how I organise my life and my fridge, in the hopes that you may take even just one thing away tonight and apply it in your kitchen to reduce waste. Reducing waste keeps the earth happy, and it keeps our wallets and bellies happy. Which, ultimately, keeps us happy. 🙂
If you have tips on fridge and fruit bowl (haha, or fruit counter!) organisation, please share in the comments below! We can all benefit from your input!
P.S. For those participating in the 20 Day Challenge over at
The Organised Housewife,
CSA or shopping day is a
fantastic
day to do the fridge challenge! We did it today, while unpacking and rotating our produce etc. I pulled EVERYTHING out of the fridge this week, and T got to work washing all the shelves etc in the bathtub. 🙂