So, a while ago I posted these amazing (if I do say so myself) raw chocolate truffles… but they do require a bit of forethought to allow for soaking and setting time. I also make my own raw chocolate using a slightly adapted version of Jo's almost-raw chocolate recipe on Quirky Cooking – but if you want perfectly smooth, gorgeous chocolate, you have to allow for the fact that the Thermomix will be busily stirring and melting for about an hour. Plus setting time.
And let's face it… Sometimes we women just can't wait that long for a chocolate fix. So when my beautiful best friend proudly emailed me her first recipe-free, chuck-stuff-in experimental Thermomix recipe and it was these easy chocolate truffles, I just had to make them myself!! Erin and I have been friends for… 10 years? 11 years? Who's counting?!? And with around 5 years of that time being spent a world apart, but never missing a beat. We have made some awesome memories together over the years, and she was a very huge part of my support network when I began my journey as a young, single mother. I am so very lucky to have her in my life (and not just because of these yummy truffles!!). I was going to post a photo of the two of us up here, but the most recent one I can find was taken at least two years ago!!! So my newest mission is to take a photo together so I can post it up here. Or I'm sure I can dig up something embarassing from our youth. 😉
I had to make something for Tyler to take to a friend's birthday party today so he could have something yummy when the cake came out, but it needed to be something quick. Making a Sarah-approved, Tyler-edible cake was NOT going to happen in the very little time I had. So I made these truffles, and yuuuuummmmm! Tyler didn't feel as though he 'missed out' on the cake at all.
So I present to you: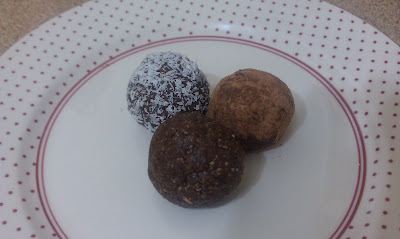 Erin's Easy Chocolate Truffles
Ingredients:
200g raw almonds (or 100g sunflower seeds and 100g pumpkin seeds, for a nut-free version)
200g pitted medjool dates
50g organic dessicated coconut
1 T organic cacao powder (I do have to admit – I doubled this, because I like very dark chocolate!)
1 T water
Method:
1) Grind almonds to almond meal (or seeds to seed meal), 10 secs speed 8.
2) Add dates, coconut, cacao powder.
3) Mix 10 secs, speed 8 or until combined.  The mixture should stick together when pressed and dates are fully processed (i.e. no chunks of dates)  If not, add water and mix for a further 10 secs, speed 8.
4) Roll into bite sized balls (my batch made about 16) then roll into some extra coconut, cacao powder or whatever takes your fancy.
5) Refrigerate for half an hour
6) Devour!
These are really easy, and really good! I made them this morning just in the nick of time, and sent Tyler off to the party with some. I had a couple for a quick energy boost before my demo. I've since had a couple more… and a couple more… Make these for a reason, make sure you have other people around to eat them, because you will eat them. All of them. And quickly.

Get creative with these, you could add in loads of things. Some roughly chopped incaberries mixed in would absolutely hit the spot, but I am a little incaberry-obsessed at the moment!
I hope you enjoy these… I sure am!  🙂