I couldn't really decide what to call this… Date spread sounds more healthy, but a bit boring. Raw 'caramel' dip sounds junky (even though this is actually quite a healthy treat!), but so much more fun! So, it is both. And really, it is. Just make it with less liquid and it's more of a spread. Either way, it is AMAZING.
Is anyone else in love with Medjool dates? I cannot get enough of them. I don't even bother with the stock-standard dried dates anymore – they just don't compare! I am a bit funny with certain textures anyway, but now when I eat a regular date it feels like nails on a chalkboard. That sounds a bit extreme, but it's just me. Certain sensory experiences just really get to me (and, interestingly enough, instead of foods that would turn my stomach when I was pregnant, I had textures that would turn my stomach). Anyway. What I am trying to tell you is how fantastic Medjool dates are. They are plump, moist and delicious. Whenever I need something more powerfully sweet than a piece of fruit, I grab a date. They taste like caramel, hence they make the perfect medium for this raw caramel dip!
I had been wanting to try something like this for a while – as I said, I loooove Medjool dates! But I got the final kick in the bum the other day when a lovely woman I met at a demo asked if I had a recipe for date spread in the Thermomix. This is a huge part of why I love my job as a consultant… I meet so many amazing, wonderful people and we all bounce ideas off each other and come away with inspiration and ideas!
As I said before, this can be made like a dip or a spread. Just add a bit more of the soaking water to have it more dippy than spready. The spread is ideal on a piece of toast, whilst the dip is great to add a bit of flair to some cut up fruit. Somewhere in between dip and spread, this would make an awesome icing for a cake!!! On the end of a wedge of apple, it's very 'caramel apple'. With bananas, it's very 'banoffee pie'. We happily dug (or dipped) into this for dessert tonight, but I would happily serve small portions next to lots of fresh fruit as a snack. If you have fussy kids, what a great way to encourage them to eat more fruit! Think of it like the sweet version of dip and veggie sticks. Yuuuummy!
We had 'caramel apples' and 'banoffees' tonight!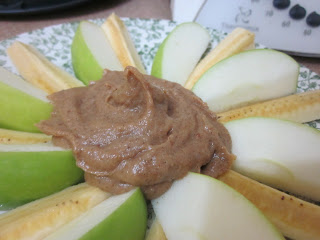 Raw 'Caramel' Dip/Date Spread
Ingredients:
400g medjool dates, seeds removed
water, to cover
90g raw (cold-pressed) tahini or nut butter
juice of 1/2 a lime
2 vanilla beans
1/2 tsp sea salt (coarse or fine)
Method:
1) Weigh medjool dates (with the seeds removed) into a bowl, add water to cover, and soak for 3-4 hours.
2) Drain the medjool dates, reserving the soaking liquid.
3) Put dates, tahini (or nut butter) and sea salt into TM bowl. Scrape the seeds out of 2 vanilla beans and add seeds to TM bowl. Squeeze the juice of half a lime into TM bowl. Puree on speed 8, adding a little of the soaking liquid every 5 secs or so through the hole in the lid until you are happy with the consistency (about 30-45seconds). Check the consistency between each addition of soaking water, as there is a very fine line between spread and dip.
4) Put it in a jar, store in the fridge, and put a padlock on it! This is gooooood stuff.
Let me know if you have any recipe requests! As you can see, I am more than happy to be the guinea pig. 🙂