Eeep. It has been far too long since I have posted a recipe, sorry guys and gals. I have a few up my sleeve (and some works in progress) that will work their way on to the blog in the next few weeks. Here's a little teaser of what's to come: pork belly, ratatouille, GF shortbread, lamb shank goulash, salami and corn soup plus a salami and corn risotto inspired by said soup… And probably more will crop up before I get a chance to post most of these!!! Just know that of course I am still cooking up a storm and thinking about all my lovely readers and lovely followers on my
HHH facebook page,
and will be posting recipes as soon as I can.We are still in our temporary (doesn't seem very temporary at the moment!) state of chaos. Still living out of suitcases, I just can't find the time to pack the final things away (mostly just all our clothes!). Even on my 'days off', random things have just been cropping up all over the place, and there have been several times that I have had to drop everything and rush off somewhere. Such is life. The chaos will all come to pass eventually.
But enough about chaos. Let's talk about rhubarb. And ratatouille. No, I'm not talking about rhubarb ratatouille. But the two do have something in common. Or, at least, in my kitchen over the last couple of weeks they have had something in common. Something simple. Something savoury. Something sweet. Something spectacular.
Crumble. Okay, crumble is pretty standard stuff. But how about a crumble that you can make ahead of time, keep in the fridge for a good few days, and sprinkle willy nilly on whatever you desire – main meals and desserts alike?
This past week we have had rhubarb crumble (actually, we've had several doses of rhubarb crumble!) and a ratatouille bake, both topped with this wonderfully versatile little crumble. Every little crumble crumb disappeared. There's no real recipe, in terms of quantities. I will give you method and rough proportions, but it is all going to depend on how much you need and what you are going to use it for. Feel free to just do bigger handfuls or one-and-a-half handfuls of everything if you need more crumble.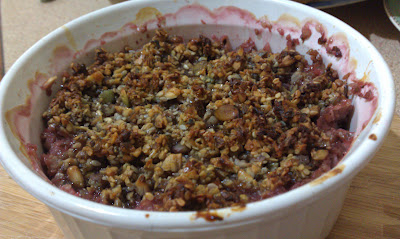 Ingredients:
1 handful cashews
1 handful almonds (actually, you can do 2 handfuls of any nuts you want, really)
1 handful sunflower seeds
1 handful pumpkin seeds
1/2 handful sesame seeds (optional)
enough water to cover by a good 5cm
1 teaspoon raw, unfiltered ACV (apple cider vinegar)
Method:
1) Place nuts and seeds in a big glass jar and cover with water (more than cover – approx 5cm above the top of the nut/seed mix). Add the ACV, seal the jar, and give it a shake.
2) Set it on your counter and soak overnight (maximum of 7 hours if using cashews, so it may work better for you to start the soak in the morning, depends on your routine). Always soak at room temperature.
3) After soaking, drain the mix and rinse thoroughly.
4) Tip into TM bowl and turbo about 2-4 times until finely chopped – check after each pulse so you don't end up with a paste.
5) Use immediately or store in a jar in the fridge for a few days.
The photo above is this crumble in a rhubarb crumble. To do this I simply mix some chopped rhubarb with a tablespoon or so of honey, pop it in the oven on 160 degrees until soft. Then sprinkle with crumble and drizzle with more honey, and pop it back in the oven on 180 degrees until it starts getting crispy and golden.
You can also use it to top savoury dishes:
This is my two-way crumble on top of ratatouille. I made the ratatouille in the TM (recipe coming soon!), plopped it in a casserole dish, sprinkled with crumble then sprinkled with parmesan cheese and baked until golden. The addition of parmesan cheese instead of honey completely changed this crumble – you'd never guess it was the same recipe!I hope you are all having a healthy, happy week! 🙂