Hello hello! I can't even begin to describe how ridiculous this past week has been, but things are looking up. Although, I am still car-less and will be so for two weeks! But trying to focus on the brighter aspects of the coming weeks.
Sorry the menu plan is late again. I've been struggling to get my act together, but onwards and upwards!
Before I launch into this week's menu plan, I just want to share a couple of things.
1) I am officially a 'vlogger'. I created my first video blog! I wanted to show everyone how I do my spaetzle. Here is the video:
2) This week is Coeliac Awareness Week! There's a lot of great info to be found on the web about Coeliac Disease, including here, but basically it is an autoimmune disease triggered by consuming gluten. It is different to a gluten intolerance, but both should be treated with compassion and understanding. Anyhow, Thermomix in Australia are doing GF recipes of the day all week on the recipe community in celebration of Coeliac Awareness Week and to show support for those who can't have gluten and…. drum roll please…….. to kick off the week, they chose one of my recipes for recipe of the day! I am quite excited by this! It was my GF, DF, EF Vegetable Fritters. They're fantastic as a vegetarian main meal, a side dish, a snack or in lunchboxes. I freeze them individually, then pack one into Tyler's lunchbox and it is thawed by the time lunch rolls around.
Anyway, let's get down to business! Here is this week's menu plan.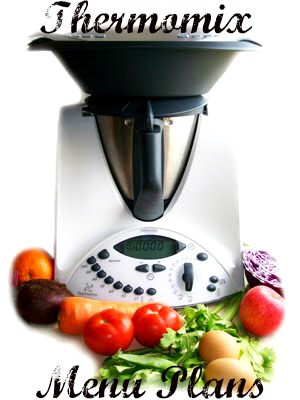 breakfast: pancakes
lunch: milk rolls (from Travelling with Thermomix, in the Greece section) with salami and veggie sticks; try the milk rolls as soon as you can, they are diviiiiiiine (I ate about four of them in one go, oops!)
dinner: steamed pumpkin and spinach frittata
breakfast: green smoothie with watermelon slices
lunch: milk rolls with veggie sticks
dinner: pizza: one type had asparagus, onion and cheese on a mushroom bechamel sauce base, the other type had salami and cheese with dots of mushroom bechamel sauce on a tomato and parsley sauce base
breakfast: CADA with sheep's milk yoghurt and fresh juice (perhaps grapefruit and parsley)
lunch: we are meeting my beautiful best friend for lunch in the park on her lunch break tomorrow. T and I will have leftover pizza and a raw veg salad, but we're making a dessert to spoil her with – raspberry and vanilla lemon curd tart (recipe will be up sometime this week…ish)
breakfast: CADA with sheep's milk yoghurt and green smoothies
lunch: zucchini slice and veggie sticks, plus leftover raw veg salad
dinner: caramelized onion and bean flatbread with a raw veg salad
breakfast: banana 'ice cream' smoothies with fresh fruit
lunch: leftovers of some description (surprise lunchbox!)
breakfast: bacon, poached eggs and southern-style shredded hash browns (hopefully, anyway… everytime I plan this, it doesn't end up getting done!)
dinner: kaffir lime 'stir fry' with sesame-crusted tofu 'steaks'
breakfast: CADA with sheep's milk yoghurt and green smoothies
lunch: portobello mushroom bunless 'burgers'
dinner: leftovers from the demo I'm doing at my place, unless I get my act together and do fish pies with GF pastry
I hope you all have a faaaaabulous week. Don't forget to head over to Quirky Cooking for more inspiration for your own amazing menu plans! 🙂