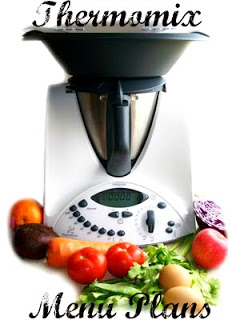 Morning all!
Exciting developments overnight – Jo over at Quirky Cooking has come up with a wonderful idea. A bunch of us thermomixers are going to post our menu plans each week and link up to Jo's blog so they can be found all in one place, for everyone to use as inspiration for their own concoctions!
What is menu planning, and why do it?
Menu planning is exactly what it sounds like – you sit down on one day each week (Sunday for me, after the big market shop) and plan all of your dinners for that week. You can also plan out lunches, breakfasts, snacks, basics, anything you might need to cook in that week. It will save you money, time, stress… the list of benefits go on and on.
I have been extremely slack about menu planning over these last few months, so this is just the kick in the pants I need to get back on track! I will plan all dinners, plus some baked goods in there somewhere, some snacks (although we tend to just grab a piece of fruit to snack on most of the time), and of course all the "pantry/fridge essentials" that I make from scratch. I probably won't plan lunches, just because we tend to eat simple lunches of tomato, cucumber, capsicum etc plus a pretty simple sandwich. Same for breakfasts, although you will see the occasional planned brekky slip in.
Another note: you don't necessarily need to own a thermomix. We thermomixers still roast, fry, barbecue, bake… Everyone can get something out of the weekly menu plans.
So look out for my next post (appearing shortly), for this week's menu plan! And don't forget to visit Jo's site to see all of the menu plans. Enjoy! 🙂