It's been a while since I've posted any recipes on here. I've just been rambling about eating, and taunting you all with drool-inducing pictures. But now for the good stuff!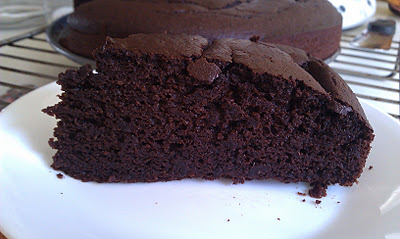 I have had so many requests for the GF choc cake I made recently (the one with red kidney beans), so here is the link to the recipe. One of my favourite things about this cake (apart from the secret ingredient) is that it calls for cocoa powder rather than chocolate. We don't eat chocolate because it all too often has emuslifiers added and with the loopholes for labels, I just can't trust the stuff. But cocoa powder is fine if you get a good brand. We use organic, and obviously unsweetened. Check the label anyway, as lots of companies add extra unnecessary "stuff".
Mmmmmm, makes me want to make another one of those scrumptious cakes!!! It's Halloween here tomorrow, so who knows what we'll end up doing. I'm seriously unorganised this year and haven't planned anything. Ooops! We might go and "borrow" the decorations from my parents' place anyway, so that we can get into it a little bit. But since I'm no longer shopping at the supermarket, I also didn't get a pumpkin this year! Uh oh! Mr T will be upset when he connects the dots, so we might be off on a pumpkin hunt tomorrow!
Anyway, here are some things we've enjoyed this last week:
Homemade mayonnaise! We just don't eat mayonnaise often enough to justify making it very often – REAL mayonnaise will only last two or three weeks in the fridge, and we typically can't get through it that fast. A few things with making mayo:
1) Be prepared for a flop. It's tricky business, and you will have some lots that end up runny.
2) If you have a flop, don't throw it out!!! Reuse or recycle!
3) Reuse – try again! Start the process with a new egg. Beat the new egg longer to begin with than you did the first time around. Then instead of more oil, use the "flopped" mayo. Add it more steadily and gradually. (If it flops a second time, don't use it to try and make mayo again… See next tip!)
4) Recycle – just use it anyway! Use it as a salad dressing. It will still taste like mayo, but it's runnier – perfect for a salad.
5) Smile, and don't be afraid to try it again and again because it is so worth the occasional flop!
GF Dukkah-crumbed chicken schnitzel, with our homemade mayo and balsamic veg.
And tonight's dinner – Creamy Turmeric Chicken
This is my new favourite meal! It was so quick to make, and had bags upon bags of flavour. Using fresh turmeric instead of ground absolutely makes a huge difference. The thermomix recipe I used is
here
, but I tweaked it a bit. I didn't have coconut cream or coconut cream powder (anything that comes in a milky/creamy form should NEVER come in a powder, yuck!), nor did I have ginger or tamarind. I used cream as a sub for the coconut cream, didn't bother substituting for the powder or the ginger, and substituted lemon juice for tamarind juice (lime juice is a better substitute, but didn't have any limes). I also substituted half the chicken for some chopped veg (carrot and beans). I think I'll make it my tweaked way in the future anyway, we both couldn't get enough of it! Yummmmmmy! Thermomixers – the temps aren't mentioned in the recipe. I did 100 degrees. Non-thermomixers, the meal was too good for me not to give you a converted recipe, so here goes:
Ingredients:
1 tablespoon of extra virgin olive oil (preferably cold-pressed)
3cm piece of fresh turmeric, finely chopped or crushed
2 tomatoes, diced
5 cloves of garlic, crushed
250g chicken breast
250g chopped veg
200g cream (full fat, of course!)
1 generous tablespoon of freshly-squeezed lemon or lime juice
2 tablespoons of stock paste, or 1 stock cube dissolved in a teeny bit of warm water (but I have a big problem with stock cubes, so I'd rather you found/made some good quality stock paste)
1/4 cup water, or more if you want it runnier/soupier
Method:
Heat the oil in a large frying pan over medium heat. Saute turmeric, garlic and diced tomatoes for about 5 mins. Add remaining ingredients, reduce heat and simmer for 30-35 mins, sitrring occasionally. Serve with rice or cous cous.
Yum yum yum!!!
Finding fresh turmeric isn't always easy (we stumbled upon some at the markets this morning!). Until today, neither my dad nor myself had seen fresh turmeric before. It resembles ginger, but usually smaller. When you peel it, the flesh inside is brilliant yellow. Be careful, it will stain! Rinse your chopping board and knife straight away, and wipe down anything that gets any beautiful yellow splatter on it.
I hope you all try and enjoy these recipes! We sure did! 🙂