Well, I finally decided to do it! I've been toying with this idea of starting a food blog for quite a while now, but never had the time. I decided that I won't ever have the time, so I might as well make time!
In my blogging dreams, I had envisioned I would start this blog with a bang – perhaps impress the world with a meal fit for a king, or tackle some dish worthy of an appearance on masterchef. Instead, I give you…. PRETZELS!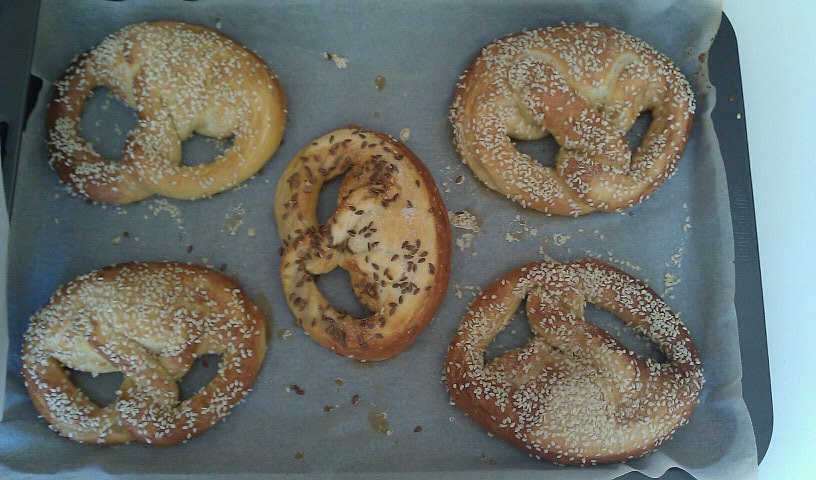 *Sigh*
I had to take the plunge and start this blog when I was in the mood, otherwise I would have spent another year thinking about how much fun it could be. Of course, I happen to be in the mood on a Thursday – the busiest day of my week. Hence, I have eaten leftovers, fruit and veggies all day and not cooked a thing (except porridge for breakfast). But yesterday Mr T (my 3 year old) and I made pretzels for the first time!
It was lots of fun, and they were absolutely delicious. We sprinkled them with sesame seeds, linseed, and sunflower seeds (not pictured). For those thermomixers out there, I used the pretzel recipe from the My Way of Cooking cookbook (can also be found in the thermomix app). A little hint: change the water and bicarb soda that you boil them in halfway through, if not after every three or four pretzels. If you let the water boil away too much, you are left with a very bicarb soda-y liquid and the last half of the batch will taste horrible.
Now, I'm off to bed to dream about the various dipping sauces I could make to go with these next time. I'm thinking hollandaise, or a honey mustard with poppyseeds, or some kind of creamy and cheesy deliciousness, or……… Goodnight! 🙂