Oh, I just can't stay away!
We went out fishing in the motorboat this morning. This is why I love Yamba so much, the relaxed fishing/swimming lifestyle. I'm so proud of myself – out of the five fish caught today, I caught four of them! Only one came home with us though (one of mine). So Aunty L (my sister visiting from Germany) and Mr T were the lucky ones to share the fish. It was a nice bream, just a couple of centimetres over legal size. I baked it in the oven, in al foil, stuffed with garlic and smothered in freshly squeezed lemon juice. Yum, yum!
I forgot to take a photo though. But we're fishing again in the morning, so hopefully we'll catch some more meals!
We had a quick dinner tonight, as we were all pooped from the big morning of fishing and a walk this arvo. Cutlets are always the thing I fall back on if I have absolutely no time to cook and we've had a big day. Easy, and Mr T will devour them no matter how tired he is.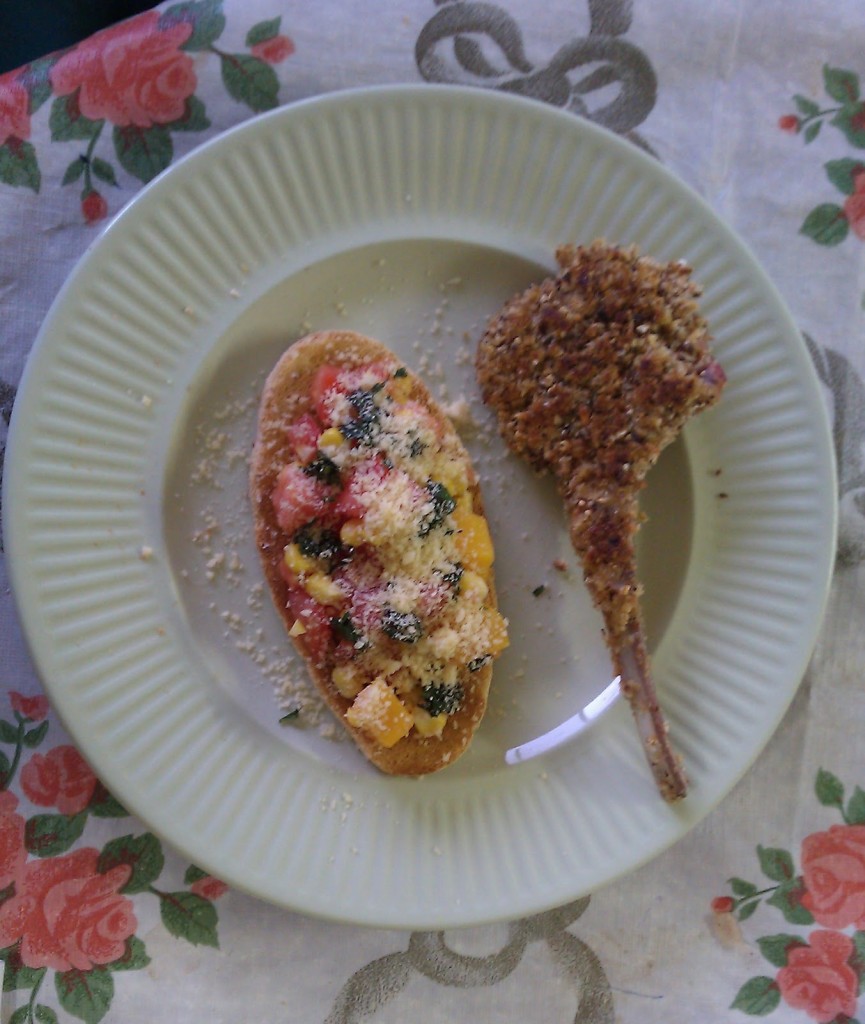 Crumbed lamb cutlets with pumpkin, corn and tomato bruschetta.
Cutlets:
Dip cutlets in a beaten egg, then dip in fresh breadcrumbs. Either fry in a buttered/oiled frying pan, or bake in the oven at 180 celsius (350 fahrenheit) until cooked through and golden.
Bruschetta:
Chop pumpkin into 1cm cubes. Cut corn kernels from a cob of corn. Steam pumpkin and corn kernels until pumpkin is just cooked through (not too squishy). Chop tomato into 1cm pieces. Mix tomato with cooled pumpking and corn. (Use as much as you can eat, about 1 part pumpkin to 1 part corn to 2 parts tomato).
Finely chop some basil, and grate some parmesan. I put these two in small bowls on the table so everyone could assemble their own. Also put a small bowl of olive oil out, so people can drizzle it over their bruschetta if they so desire.
Toast some bread, and serve!
Then we finished off the meal with mango milkshakes made with my very own homemade vanilla ice cream! Delicious!!!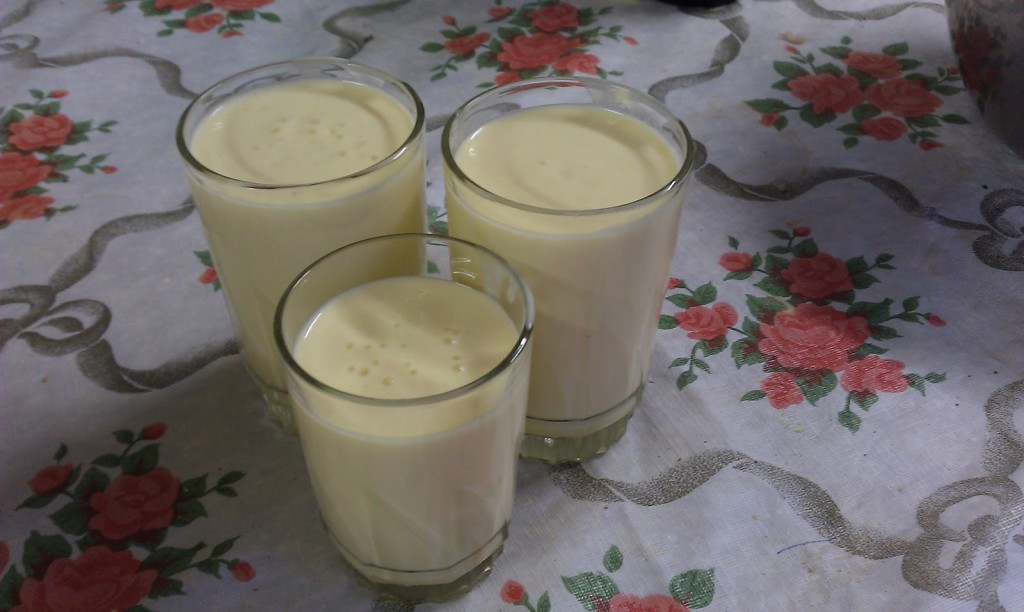 Mango Milkshakes:
Using a blender/food processor/thermomix, puree about 200g fresh mango. Add 400-500g milk and about four or five scoops of vanilla ice cream. Blend all this together, and try not to drink it all yourself!!! This made two grown up servings with half-glass second helpings, and one kid-size serving with a half-glass for seconds. So it would probably serve about four people.
As you can see, Mr T and I do not deprive ourselves of yummy "treats". I just choose to make them using high quality ingredients, and everything is made in my house so I know exactly what is going into it. Mr T made sure to tell Aunty L that the milkshakes were homemade and only a sometimes food, so they were okay. My sister had a bit of a chuckle and reckons he's the only three year old who is concerned of where his food comes from and how it is made. Job well done, I think!
Since being up here with my own mother, I've also discovered something else Mr T enjoys that I bet most other 3 yr olds wouldn't dare eat – oysters!!! I was a horrible eater as a kid. Picky as anything, and wouldn't touch seafood. When I was about 4, I caught my first fish – a big flathead, which I wasted no time in naming Naomi. Needless to say, I was devastated when Naomi ended up on our dinner plates and I didn't touch fish again for a long while. I do eat seafood now, and not just fish (I will eat mussels and other things that I wouldn't have dreamt of eating). I still can't eat oysters, though. But apparently, my three year old son can, and he absolutely devours them! This puts me to shame, so I have made it my mission to try an oyster, either tomorrow or the next day. I will report back on my oyster experience soon!
I hope everyone is having a wonderful week, cooking and eating wonderful food! 🙂